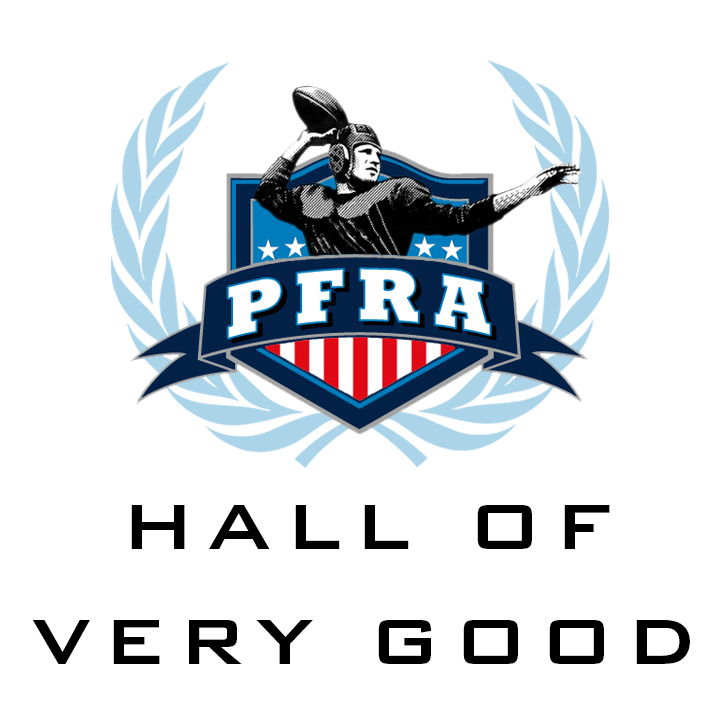 CLASS OF 2003
Begun in 2002, the Hall of Very Good seeks to honor outstanding players and coaches who are not in the Hall of Fame.
Gino Cappelletti
Statistics
Position: End, Kicker
Teams: Boston Patriots 1960-1970
Bio: Gino Cappelletti went undrafted by the NFL and played in Canada in 1955 and part of 1956 before being drafted by the U.S. military in mid-season. Out of football in 1959, Cappelletti was tending bar for his brother in Minneapolis when the AFL's Boston Patriots came calling. Starting as a defensive back and kicker, Cappelletti intercepted four passes before moving to wide receiver. As a receiver Cappelletti paired with quarterback Babe Parilli to become the Patriots' first stars, nicknamed "the Grand Opera Twins" because of their Italian surnames. On September 9, 1960 Gino scored the first points in AFL history, kicking a 34 yard field goal versus the Denver Broncos. As a receiver, Cappelletti averaged 40 receptions and 622 yards per year during his seven peak seasons. Before he was done he became the AFL's all-time scoring leader with 1,100 points on 170 field goals, 330 extra points and four two point conversions to go along with the 42 touchdowns. Cappelletti led the AFL in scoring five times, field goals three times and field goal percentage once. He was selected to five AFL All Star Games and was named the league's MVP in 1964 by both the AP and UPI. He had a total of 292 career receptions for 4,589 yards. Cappelletti was one of only twenty players to play all ten years of the league's existence and one of just three to play in every AFL game his team played. He has the distinction of having the two highest scoring seasons in AFL history with 155 points in 1964 and 147 in 1961. Cappelletti was part of the second class of the Patriots Hall of Fame and the franchise also retired his number.
Carl Eller*
Statistics
Position: Defensive End
Teams: Minnesota Vikings 1964-1978, Seattle Seahawks 1979
Bio: The Vikings' selection of Carl Eller in the first round in 1964 was a major step in building the defense that dominated the NFL in the late 1960s and 1970s. The 6'6" intimidating Eller was a mainstay at left defensive end for 15 years, teaming with long-time linemates Alan Page and Jim Marshall to form one of the best defensive fronts of all time. By 1968, the Vikings were perennial contenders for a decade behind Eller and Page. Eller made the Pro Bowl for the first of six times that year. The Vikings established an NFL record for fewest points in a 14-game season with 133 in 1969, the first of three straight seasons in which Minnesota led the NFL. They allowed fewer than ten points per game in that three year stretch. The Vikings led the NFC in fewest points in two other seasons during Eller's career and also led the NFL twice in fewest total yards allowed and five times in fewest passing yards. Sacks were not an official statistic when Eller played but he is unofficially credited with 133.5 in his career. His season high was 15 in both 1969 and 1977, both 14-game seasons, and he had 10 or more a total of seven times, according to football historian John Turney. Eller had memorable battles with Bob Brown when Brown played for the Rams. In addition to his Pro Bowl honors, Eller was named to the first team on a majority of the all-pro teams five times (1968-71 and 1973) and was second team and all-conference in several other seasons. He was named to the NFL's all-decade team of the 1970s and to the Vikings Ring of Honor in 2002. Eller was enshrined in the Pro Football Hall of Fame in 2004 one year after he was elected to the Hall of Very Good.
Pat Fischer
Statistics
Scouting Report
Position: Defensive Back
Teams: St. Louis Cardinals 1961-1967, Washington Redskins 1968-1977
Bio: Standing at just five foot, eight inches tall, Pat Fischer was told by many he would never make it to the NFL. Fischer grew up in Omaha, Nebraska, in a competitive sports family, where he was an All-State football player. He continued his game at the University of Nebraska, where he starred at safety, tailback, and quarterback. The St. Louis Cardinals called Fischer's name in the 17th round of the 1961 draft. During his first two seasons, he primarily returned punts and kickoffs. Fischer started at cornerback in 1963, helping the Cardinals win nine games, their most since 1948, for three of the next six seasons. Fischer was consistently praised for his football fundamentals, particularly his solid tackling form, and ball-hawking instinct. He seldom allowed yards after the catch. Fischer consistently blanketed receivers who were significantly taller than him and his most memorable match-ups were against Philadelphia Eagles' receiver Harold Carmichael. He led the Cardinals in interceptions from 1963 thru 1965. Fischer earned first-team All Pro (1964) and Pro Bowl (1964, 1965) honors, before he signed as a free agent with the Redskins in 1968. Fischer made an immediate impact on the Washington defense, as he was a first-team All Pro and Pro Bowler in 1969. The Redskins defeated the Dallas Cowboys in the 1972 NFC Championship Game, limiting Roger Staubach to 69 net yards passing, and went on to the Super Bowl where they lost to 17-0 Miami Dolphins. At the time of his retirement in 1978, Fischer had played in 213 NFL games, then a record for a cornerback. He finished his career with 56 interceptions, was named as one of the 70 Greatest Redskins, and was inducted into the Washington Redskins Ring of Fame.
Benny Friedman*
Statistics
Position: Tailback
Teams: Cleveland Bulldogs 1927, Detroit Wolverines 1928, New York Giants 1929-1931, Brooklyn Dodgers 1932-1934
Bio: Benny Friedman was, in many ways, pro football's first great passer. A multifaceted star at Michigan, he continued his exploits in the NFL. Statistics are incomplete but Friedman posted passing numbers that were head and shoulders above his contemporaries at each stop of a rather nomadic 8-year career. In his first pro season, Friedman led the NFL with 12 touchdown passes and 1,721 passing yards (the second best totals were 7 and 1,362) as his Cleveland Bulldogs had the highest scoring offense in the league. With the Detroit Wolverines in 1928, Friedman again finished first in the NFL with 10 touchdown passes (the second best totals was 5) and 1,120 passing yards while also leading the league in points and again guiding his team to the highest average points per game. Joining the Giants in 1929, it was more of the same the next two years for Friedman. He led the NFL in touchdown passes and passing yards both seasons and New York was the highest scoring team both years, so Friedman led in both categories and his team was the highest scoring per game in all of his first four seasons. His 20 touchdown passes in 1929 stood as a record until 1942. He was selected to the first team of every all-pro team named in those four years. Friedman began a long coaching career in 1931. He was lured out of retirement but never again played a full season. He still managed to finish fifth in passing yards in 1932 and fourth in 1933 when his 85 yards per game was best in the league. He got some 3rd team all-pro recognition in 1931 and 2nd team in 1933. Friedman was enshrined in the Pro Football Hall of Fame in 2005 two years after he was elected to the Hall of Very Good.
Gene Hickerson*
Statistics
Position: Guard
Teams: Cleveland Browns 1958-1960, 1962-1973
Bio: Gene Hickerson was an all-SEC tackle at Mississippi but Paul Brown moved him to guard in 1958 when he saw how fast he was. Brown, unfortunately, never fully utilized Hickerson, deploying him as a messenger guard in a system where Hickerson rotated every other play. That changed when Blanton Collier became head coach in 1963. There were questions galore with Cleveland's offensive line in 1963 as Hall of Fame tackle Mike McCormack retired, perennial all-pro guard Jim Ray Smith was traded and Hickerson was finally elevated to full-time starter. The results were electrifying as Jim Brown won the rushing title after missing for the only time in 1962, and he and the Browns' rushing attack set numerous records including one – the team's 5.74 yards per carry – that still stands. In 1964, Cleveland won the NFL championship, Brown won another rushing title and Hickerson earned the first of many all-pro honors. Cleveland went back to the Championship Game in 1965, Brown and the team again led the NFL in rushing and Hickerson was named second team all-pro by the AP and UPI. There were major challenges again in 1966 as Brown retired unexpectedly but the Browns didn't miss a beat behind Hickerson, who was named first team all-pro by the NEA. Cleveland again led in rushing and Leroy Kelly just missed the individual title. Kelly finished first in 1967 and 1968, Cleveland led the league in rushing in 1967 and Hickerson earned first team all-pro honors in 1967, 1968 and 1969 from all outlets. Hickerson played in six Pro Bowls and was named to the all-1960s team. The Browns never had a losing season during his career and were regulars in the playoffs during his time as a starter. Hickerson was enshrined in the Pro Football Hall of Fame in 2007 four years after he was elected to the Hall of Very Good.
Jerry Kramer*
Statistics
Scouting Report
Position: Guard
Teams: Green Bay Packers 1958-1968
Bio: Jerry Kramer starred at linebacker at the University of Idaho before switching to guard after being drafted in 1958 by the Green Bay Packers. A standout on Green Bay's offensive line for 11 seasons, Kramer teamed with left guard Fuzzy Thurston as the duo laid the foundation for the famed Packers Sweep, clearing lanes for Jim Taylor and Paul Hornung. He was fast enough to lead the sweep and tough enough in the trenches in twice yearly battles with Merlin Olsen and Alex Karras, among others. By 1961, the Packers rushing attack was tops in the league, and they maintained that ranking three of the next four seasons. The success led the Packers to the 1961 and 1962 NFL titles. Kramer enjoyed Pro Bowl honors in those years and in 1967. He also filled in as Green Bay's kicker including in 1962 when the 13-1 Packers had one of the most dominant seasons in NFL history. Green Bay led the league in scoring that year and Kramer's 10 points that included three field goals were the difference in their 16-7 win over the Giants in the Championship Game. The Packers won three more NFL titles in 1965, 1966, and 1967 and Kramer made the key block for Bart Starr in the legendary Ice Bowl that vaulted Green Bay to the second of back-to-back Super Bowl championships. Kramer suffered many injuries in his career, missed nearly all of the 1964 season and had 22 surgeries in his 11 seasons. That did not stop him from receiving first team All-Pro honors in 1960, 1962, 1963, 1966, and 1967. He was named to the NFL 1960s All-Decade Team and elected to the Packers Hall of Fame. Kramer was enshrined in the Pro Football Hall of Fame in 2018 fifteen years after he was elected to the Hall of Very Good.
Johnny Robinson*
Statistics
Scouting Report
Position: Defensive Back
Teams: Dallas Texans 1960-1962, Kansas City Chiefs 1963-1971
Bio: Johnny Robinson was one of the common threads of the three AFL championships and the Super Bowl IV title won by the Dallas/Kansas City franchise. Bobby Bell, Buck Buchanan and Willie Lanier were among the other key players on the Chiefs' great defenses but it was Robinson who was there on all three title-winning teams. Robinson played the first two years of his pro career on offense. Over those two seasons, he averaged 4.4 yards per rush, caught 76 passes good for an average of 15.9 per reception and scored 15 touchdowns. He might very well have become one of the AFL's elite offensive players but he thrived when he was moved to safety in 1962, the year the Dallas/Kansas City franchise won its first championship. At safety, Robinson was first team all-AFL five times in a row from 1965-69 and made all of the all-pro teams in 1970 after the merger. He also received a second team mention in 1963 and all-AFC honors in 1971. Robinson tied for the AFL lead in interceptions in 1966 with 10, led the NFL in 1970 with 10, and was first in interception return yards in the AFL in 1969 with 158. His 57 career interceptions were fourth all time when he retired. One of Robinson's biggest picks, one that he returned 72 yards, turned the tide in Kansas City's victory over Buffalo in the 1966 AFL Championship Game. He also had an interception in Super Bowl IV against Minnesota. Robinson was named to the all-time AFL team, and if one were to pick a combined all-NFL/AFL team for the 1960s, Robinson would at least be a second team selection and very possibly a first teamer. Robinson was enshrined in the Pro Football Hall of Fame in 2019 sixteen years after he was elected to the Hall of Very Good.
Mac Speedie*
Statistics
Position: End
Teams: Cleveland Browns 1946-1952
Bio: Mac Speedie overcame Perthes disease, a childhood affliction that required him to wear a leg brace for four years while being largely inactive, to become perhaps the premier receiver of his era. He was a well-rounded player who first caught the eye of Paul Brown for his defensive prowess while playing for an army team against Brown's navy team. Speedie was also widely recognized for his excellent blocking ability. After four years in the army, Speedie was past 26 when he began his pro career. He shone right from the beginning as a first team all-AAFC selection as a rookie and for the next three years of that league's existence. He led the AAFC in reception in 1947, 1948 and 1949, finished first in receiving yards twice and third twice. In addition to his all-AAFC honors, Speedie made virtually every combined all-AAFC/NFL team and AAFC historians Ken Crippen and Matt Reaser have him on their all-time AAFC team. Tom Landry, an excellent cornerback before his legendary career as Dallas's coach, is one of many who raved about Speedie, saying that trying to cover him was his most embarrassing experience in football. Speedie's greatness continued after the 1950 merger as he was a consensus first team all-pro twice in three NFL seasons. Cleveland finished in first place every year of his career and won five straight championships. Speedie's 49.9 receptions and 800 yards per season were records for a career that stood 25 and 20 years. He angered Paul Brown by signing to play in Canada for significantly more money and Brown aggressively opposed Speedie for the Hall of Fame. He was named to the all-1940s team and is a Browns Legend, Cleveland's equivalent of a Ring of Honor. Speedie was elected to the Pro Football Hall of Fame in 2020 seventeen years after he was elected to the Hall of Very Good.
Mick Tingelhoff*
Statistics
Scouting Report
Position: Center
Teams: Minnesota Vikings 1962-1978
Bio: For much of his 17-year career, center Mick Tingelhoff anchored one of the best offensive lines of his era. Tingelhoff teamed with Hall of Fame tackle Ron Yary, six-time Pro Bowl tackle Grady Alderman and three-time Pro Bowl guard Ed White during Minnesota's great run of success from 1968 through 1978. Behind their great line, the Vikings scored the most points in either the NFL or AFL in 1969, led the NFC in points in 1975 and consistently ranked near the top in other offensive categories. Tingelhoff established himself as the premier center in the NFL in 1964, just his third year in the league. He was a consensus first team all-pro that year and was named to the first of six consecutive Pro Bowls. He followed that up by being named first team all-pro every year, either consensus and often unanimous, through 1970. Tingelhoff was edged out at center on the all-1960s team by Jim Ringo even though his credentials for the decade were superior. The Vikings won 10 division titles in 11 years, played in five NFC Championship Games and advanced to four Super Bowls during Tingelhoff's career. Their winning percentage during those 11 seasons was .727. In addition to being a great player, Tingelhoff was an iron man as he started every single one of Minnesota's 240 games during his career. That streak was the second highest when he retired, behind only long-time teammate Jim Marshall, and is still third best all time behind Marshall and Brett Favre. He was named as one of the 25, 40 and 50 greatest Vikings on the occasion of the team's 25th, 40th and 50th anniversaries and was the seventh player inducted into the Vikings Ring of Honor. Tingelhoff was enshrined in the Pro Football Hall of Fame in 2015 twelve years after he was elected to the Hall of Very Good.
Al Wistert
Statistics
Scouting Report
Position: Tackle
Teams: Philadelphia Eagles 1943-1951
Bio: The Eagles were a mostly hard-luck franchise until the arrival in 1943 of Al Wistert and in 1944 of Steve van Buren. Van Buren is remembered as the premier running back of his era but time has not been as kind to Wistert even though he was an elite offensive linemen for most of his career and an essential component of van Buren's success. Wistert played most of his career in the one platoon system, was excellent on defense and probably the best offensive tackle during his five prime years (1944-48). In their film study of Wistert, football historians Ken Crippen and Matt Reaser noted a number of the qualities that made him great: excellent quickness and lateral movement; explosion off the snap; great instincts, agility and balance; outstanding pulling; and consistently making second and third blocks downfield. Wistert did all this despite being somewhat undersized even for the 1940s at 6'1" and 215 pounds. Wistert made first team on virtually every all-pro and combined all-AAFC/NFL team named from 1944 through 1948. He played at almost the same level over the final three years of his career, garnering additional all-pro honors. Whenever he was needed at offensive guard, he was every bit as good as at tackle. Running behind him, van Buren won four rushing titles, twice set records for most yards in a season, and retired the same time Wistert did as the all-time rushing leader. The Eagles led the NFL in a number of rushing categories during this time, averaged over 200 yards rushing per game over three years (1948-50), and won three division titles and two NFL championships. Wister was named to the all-1940s team and is enshrined in the Eagles Hall of Fame.
Entire Hall of Very Good
Class of:
2022, 2021, 2020, 2019, 2018, 2017, 2016, 2015, 2014, 2013, 2012, 2011, 2010, 2009, 2008, 2007, 2006, 2005, 2004, 2003
*Voted into the Pro Football Hall of Fame after induction into the Hall of Very Good.