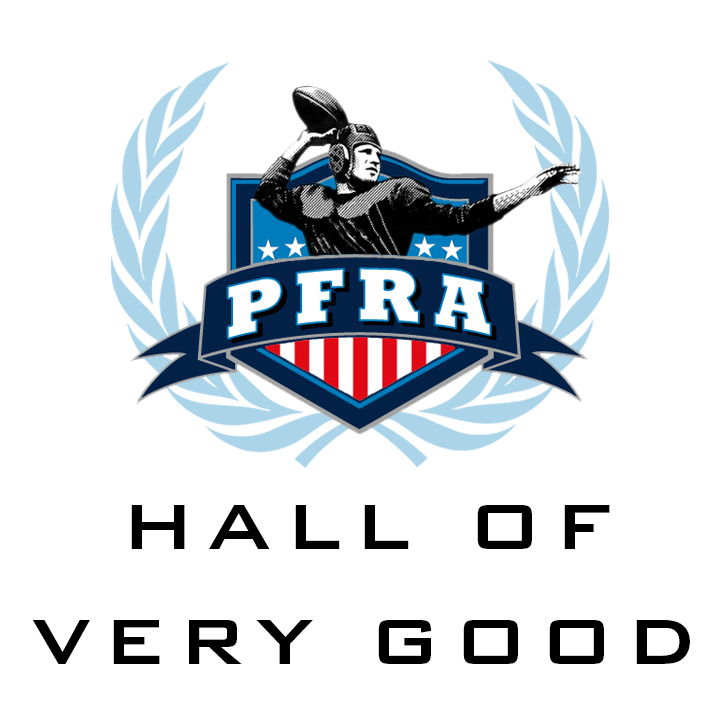 CLASS OF 2004
Begun in 2002, the Hall of Very Good seeks to honor outstanding players and coaches who are not in the Hall of Fame.
Gene Brito
Statistics
Position: Defensive End
Teams: Washington Redskins 1951-1958, Los Angeles Rams 1959-1960
Bio: Though overshadowed by contemporaries Gino Marchetti, Len Ford and Andy Robustelli, Gene Brito was nonetheless one of the great defensive ends of his time. He was an unheralded 17th round pick by Washington in 1951 out of small Loyola University (now Loyola Marymount). Brito went straight from high school to the U.S. Army and served four years as a paratrooper, one result being that he was just one month shy of his 26th birthday when he made his NFL debut. Brito's rise to greatness was also delayed by playing his first two years on offense. In his very first season at defensive end in 1953, he was named to the Pro Bowl for the first of five occasions. Lured to Canada by better pay, he was all conference with the Calgary Stampeders in 1954. He rejoined the Redskins in 1955 and had four consecutive seasons when he was a consensus first team all-pro. Smaller at 6'1" and 225 pounds than most defensive ends of his era, Brito utilized great technique, quickness and strength against opponents who were often much larger. Hall of Fame offensive tackle Mike McCormack played two games a year against Brito and singled him out for praise. After a trade to the Rams, Brito missed most of 1959 to injury but bounced back to make UPI's second team all-pro in 1960. In 1961, Brito showed the first symptoms of the ALS-like disease that forced him to retire and from which he died at age 39. He has been named to a number of Redskins' all-time anniversary teams and is arguably the greatest defensive lineman in the franchise's history. He is also a member of the team's Ring of Honor.
John Brodie
Statistics
Position: Quarterback
Teams: San Francisco 49ers 1957-1973
Bio: John Brodie joined the 49ers as a highly touted first round draft choice in 1957. He was mostly stuck behind Hall of Famer Y.A. Tittle until his fifth season when he finished fourth in the NFL in passing including a league-best 9.14 yards per attempt. Playing for mostly losing teams, Brodie had ups and downs for the rest of the 1960s. He was especially good in 1965 when he led the NFL in virtually every passing category: 242 completions, 3,112 yards, 30 touchdowns and an outstanding 61.9 completion percentage. He had another noteworthy season in 1968 when he again finished first in completions (234) and yards (3,020) to go with a completion percentage of 57.9 that was excellent for the era. The NFL West featured John Unitas, Bart Starr and Roman Gabriel so even all-conference honors were tough to come by but Brodie was second team all-pro and a Pro Bowl selection in 1965. San Francisco won the NFC West in 1970 as Brodie had his finest season as a unanimous first team all-pro and NFL MVP off league best totals in completions (223), yards (2,941) and touchdowns (24). His career predates the passer rating system but his marks of 95.3 in 1965 and 93.8 in 1970 were among the best of the era. Brodie played well in 1971 and 1972 as the 49ers again won their division, though they suffered close playoff losses to Dallas three straight years. Brodie was third all-time in passing yards when he retired and the 49ers have retired his number and inducted him into the team's Hall of Fame. He also played golf for many years on the PGA Tour and the Senior Tour.
Jack Butler*
Statistics
Position: Defensive Back
Teams: Pittsburgh Steelers 1951-1959
Bio: Pittsburgh native Jack Butler joined the Steelers as an undrafted free agent out of St. Bonaventure. He established himself as a cornerback with a nose for the ball in his very first year when he intercepted five passes good for a whopping 142 yards that was third best in the NFL. He followed that up with seven interceptions and 168 return yards in 1952 and nine picks and 147 yards in 1953, all of which were among the league leaders. Along the way, Butler tied a record that still stands when he became the seventh player to intercept four passes in a game. He also led the league in picks one year with ten. Butler was much more than a prolific ball hawk; he was aggressive against the run and a solid tackler. Butler was named to four Pro Bowls in his career. Competition for all-pro honors in the defensive backfield was stiff in the 1950s and it wasn't until 1956 that he earned some second team recognition off six interceptions and 113 yards that again were among the league leaders. Butler was a unanimous first team all-pro in 1957 and 1958 and a consensus first teamer in 1959, the year he was forced to retire after a major knee injury. In nine seasons and 103 career games, Butler intercepted 52 passes or one every two games, a rate that is third best among players with 50 or more interceptions behind Bobby Dillon and Jack Christiansen. He was tied for second on the career list with Dillon at the time he retired. Butler was named to all-time Steelers teams in conjunction with the franchise's 50th and 75th anniversaries and was also named to the all-decade team of the 1950s. Butler was enshrined in the Pro Football Hall of Fame in 2012 eight years after he was elected to the Hall of Very Good.
Chris Hanburger*
Statistics
Position: Linebacker
Teams: Washington Redskins 1965-1978
Bio: Chris Hanburger was one of the fiercest linebackers in football during his 14-year career with the Washington Redskins. He was also a prime example of a late round draft choice having a great pro career. Known for his rough, clotheslining hits, Hanburger struck the utmost fear into opponents, earning him the nickname "The Hangman." A versatile athlete at the University of North Carolina, he played center and middle linebacker for the Tar Heels and was all-ACC during his junior and senior seasons after spending two years in the army. He was selected in the 17th round of the 1965 NFL draft. Hanburger became a Pro Bowler in just his second year, the first of nine times he would earn that honor, a Redskins franchise record. The Redskins struggled until 1969 when the team had their first winning season since 1955 and Hanburger was named first-team all-pro. George Allen was named head coach in 1971 and tabbed Hanburger as the defensive general to call the plays. The Redskins were a playoff team from 1971-74 and Hanburger had his best season in 1972 when Washington advanced to the Super Bowl, where they lost to the 17-0 Dolphins. Hanburger was first team all-pro as well as NFC Defensive Player of the Year by the Kansas City Committee of 101. Hanburger was a first-team all-pro again in 1973 and 1975 and he had a streak of playing in 135 consecutive games that lasted until 1977 when he had surgery for appendicitis. He retired following the 1978 season. Hanburger was selected to the Redskins Ring of Fame, and in 2002 he was named one of the 70 Greatest Redskins. He totaled 19 career interceptions, 17 fumbles recovered, and five total defensive touchdowns. Hanburger was enshrined in the Pro Football Hall of Fame in 2011 seven years after he was elected to the Hall of Very Good.
Bob Hayes*
Statistics
Position: Split End, Wide Receiver
Teams: Dallas Cowboys 1965-1974, San Francisco 49ers 1975
Bio: "Bob Hayes, the World's Fastest Human, won two gold medals at the 1964 Summer Olympics and became one of the great deep receivers in football after joining the Cowboys in 1965. He made an immediate impact as a rookie when he led the NFL with 21.6 yards per catch, tied for first with 12 touchdown receptions and finished fourth with 1,003 receiving yards. Hayes made all-conference and was named to the Pro Bowl. Dallas had their first great season in 1966 behind Hayes and the most explosive offense in the NFL. Hayes again was first in touchdown grabs with 13, finished second with 1,232 yards and fourth with a 19.3 average. He was first team on all of the all-pro teams and was again named to the Pro Bowl. Hayes's numbers slipped in the years that followed in part because of conflicts with Tom Landry and Dallas management that inexplicably resulted in reduced playing time, but he remained one of the best wide receivers in football. He posted gaudy 26.1 and 24.0 average yards per catch in 1970 and 1971 on his way to a 20.0 mark for his career. He was named to three Pro Bowls in all and was named to some first team all-pro teams in 1967 and 1968. Hayes put tremendous pressure on defenses and made other aspects of the Dallas offense better because of constant double teaming. He was also an elite punt returner for several years, leading the NFL once with a 20.8 average and two touchdowns, and had a tremendous playoff game in 1967 against Cleveland. That was one of eight consecutive seasons when the Cowboys made the playoffs (1966-73) during Hayes' career including a Super Bowl championship in 1971. Hayes was enshrined in the Pro Football Hall of Fame in 2009 five years after he was elected to the Hall of Very Good.
Billy Howton
Position: End
Teams: Green Bay Packers 1952-1958, Cleveland Browns 1959, Dallas Cowboys 1960-1963
Bio: Billy Howton burst onto the NFL scene in 1952 with a rookie season like few have ever had. He led the league with 1,231 receiving yards, a stellar 23.2 yards per catch and 13 touchdowns receptions in a 12-game season. He was rewarded with the first of four Pro Bowl selections and first team all-pro honors from the New York Daily News. The Packers had few offensive weapons in the 1950s and Howton achieved his substantial production despite frequent double-teaming. He missed significant time in 1953 because of injuries but bounced back in 1954 and 1955, finishing fourth and third in the NFL in receptions and earning some second team all-pro honors the latter year. Howton had another great season in 1956 when he again led the NFL in receiving yards with 1,188 good for a league best 12 touchdowns and 21.6 yards per catch. He also set a record with 257 receiving yards in a game and was named first team on all of the all-pro teams, a feat he repeated in 1957. He remained one of the NFL's better receivers thereafter and passed Don Hutson as the all-time receptions and receiving yardage leader in his final season. Howton was a strong players rights' advocate and that likely led to his being traded by both Green Bay and Cleveland. Paul Brown, one of the staunchest foes of the NFLPA of which Howton was president, was especially outspoken in badmouthing Howton. His negative experiences with Brown and Vince Lombardi undoubtedly hampered Howton's chances for the Hall of Fame, though he is in the Packers Hall of Fame. He was also bypassed for the all-1950s team despite having vastly superior credentials to three of the four receivers chosen.
Jim Marshall
Statistics
Position: Defensive End
Teams: Cleveland Browns 1960, Minnesota Vikings 1961-1979
Bio: After starring on Ohio State's 1957 national co-champions, Jim Marshall played one year in Canada and one with Cleveland before finding his niche with the expansion Vikings in 1961. He spent 19 seasons with Minnesota, played until he was 42 and established longevity records that still stand. He also teamed for years with Hall of Famers Carl Eller and Alan Page as one of the best and best-known defensive lines in football history. Marshall had a range of interests like skydiving that drew the attention of magazine writers, NFL Films and others. He will also long be remembered for his "wrong way" run in a 1964 game against the 49ers. But it was his performance at right defensive end as part of the Purple People Eaters during Minnesota's great 1968-78 run that is most noteworthy. The Vikings won ten division titles and went to four Super Bowls during Marshall's career. Their defense was often overpowering and led the NFL in numerous categories during the Purple People Eaters heyday. Perhaps most impressive was a three year run (1969-71) when they allowed less than ten points per game and led the league all three years in fewest points. Marshall once held NFL records for most consecutive games played and started, and still holds records for most opponent fumbles recovered in a career (29) and most consecutive games played by a defensive end (282). He is third in Vikings history in sacks behind Eller and Page, earned some second team all-pro honors three times and was named to two Pro Bowls. He had his number retired by the Vikings, was named to several Minnesota anniversary teams and was in the second class inducted into the team's Ring of Honor.
Al Nesser
Statistics
Position: Guard
Teams: Akron Pros 1920-1925, Cleveland Bulldogs 1925, Akron Indians 1926, New York Giants 1926-1928, Cleveland Indians 1931
Bio: He hailed from a family of 13 children, and blue-collar, hard-working parents: Alfred Louis Nesser was one of the famed seven Nesser Brothers who were early football stars in Ohio. Al, like his brothers, was stout and athletic, standing 6'0" tall and weighing 195 pounds. He began playing football in his teens, then followed his brothers to the semi-pro Columbus Panhandles of the Ohio League in 1910 at the age of 17. He started off as an end but switched to guard during his ten pre-NFL seasons. In 1920 he joined the Akron Pros, charter members of the American Professional Football Association, forerunner of the NFL. The Pros turned in an 8-0-3, unbeaten 1920 season, allowing just seven points, fewest in the league. They were awarded the championship courtesy of their perfect winning percentage. Nesser routinely matched up with some of the league's strongest players including Charlie Copley, Fritz Pollard, and Jim Thorpe. He was a first-team all-APFA honoree in 1921 while the team finished in third place with an 8-3-1 mark and a second-team selection in 1922. Nesser moved to the New York Giants in 1926 and was a member of their 1927 championship team. The Giants posted a stellar 11-1-1 record that year, they yielded just 20 points and they had the largest point differential at +177. Nesser played his final season with the Cleveland Indians in 1931, marking the end of his two decade-long career. He was the last football player to have played without a mandatory helmet. Nesser was named to the professional branch of the Helms Foundation Hall in 1952.
Dave Robinson*
Statistics
Position: Linebacker
Teams: Green Bay Packers 1963-1972, Washington Redskins 1973-1974
Bio: Dave Robinson joined the two-time defending champion Packers in 1963 as Green Bay's first round draft choice. Robinson was a defensive end at Penn State but was moved to left outside linebacker by Green Bay coach Vince Lombardi. After backing up incumbent Dan Currie as a rookie, Robinson became the starter in 1964 where he teamed with Ray Nitschke and Lee Roy Caffey to form one of the best linebacking trios in NFL history. He had excellent speed in addition to being bigger than most linebackers at 6' 3" and 245 pounds, and those attributes made him an outstanding against both run and pass. Green Bay reclaimed the NFL championship in 1965 and won it again in 1966 and 1967, along with Super Bowls I and II. Robinson made two key plays in the drive to the 1966 championship, first when he recovered a John Unitas fumble to clinch the conference-deciding victory over the Colts and then when he pressured Don Meredith into throwing an end zone interception as Dallas was attempting to tie the title game in the final seconds. Robinson was named to the Pro Bowl in 1966 and 1967 and as a first teamer on all the major all-pro teams in 1967. He was Green Bay's best player in their post-dynasty years as he was a 1st team all-pro in 1968 and 1969 and named to the Pro Bowl again in 1969. Robinson was traded to the Redskins in 1973 and was part of a linebacking unit with Chris Hanburger that was a key component of Washington teams that made the playoffs in his two final seasons. Robinson was named to the 1960's all-decade team and inducted into the Packers Hall of Fame in 1982. Robinson was enshrined in the Pro Football Hall of Fame in 2013 nine years after he was elected to the Hall of Very Good.
Duke Slater*
Statistics
Position: Tackle
Teams: Milwaukee Badgers 1922, Rock Island Independents 1922-1925, Chicago Cardinals 1926-1931
Bio: Frederick "Duke" Slater was an outstanding tackle and a pioneer on the football field. In college at Iowa, he was a first-team All-American in 1921, leading the Hawkeyes to a perfect 7-0 record and the national championship. Notre Dame's Knute Rockne said of Slater, following a 10-7 defeat to Iowa, "Realizing the great strength of Slater and the fact that he knew how to use that strength to intelligent advantage, I had four of my players massed around Slater throughout the game." He joined the NFL's Milwaukee Badgers in 1922 and became the league's first black lineman. Slater was a force on both offense and defense in that two-way era, often drawing the attention of two or three defenders and blockers. He was named first team all-pro five times and second team twice even though the Rock Island Independents and Chicago Cardinals teams he played on were generally quite weak. He was the most decorated black player, as far all-pro honors, for many years. With the Cardinals in 1929, fullback Ernie Nevers set an NFL scoring record of 40 points which still stands today, and he pointed to Slater for opening the running lanes for him. Slater was also one of the key blockers in a 1922 game when Rock Island rushed for nine touchdowns, another NFL record that still stands. Following football, he pursued a career as an attorney after earning his law degree from Iowa. Slater became the second black judge in the history of Chicago and served two six-year terms on the Municipal Court. He was elected to the College Football Hall of Fame's inaugural class in 1951 and was elected as a tackle on Iowa's all-time centennial team in a vote of Hawkeye fans in 1989. Slater was enshrined in the Pro Football Hall of Fame in 2020 sixteen years after he was elected to the Hall of Very Good.
Entire Hall of Very Good
Class of:
2022, 2021, 2020, 2019, 2018, 2017, 2016, 2015, 2014, 2013, 2012, 2011, 2010, 2009, 2008, 2007, 2006, 2005, 2004, 2003
*Voted into the Pro Football Hall of Fame after induction into the Hall of Very Good.