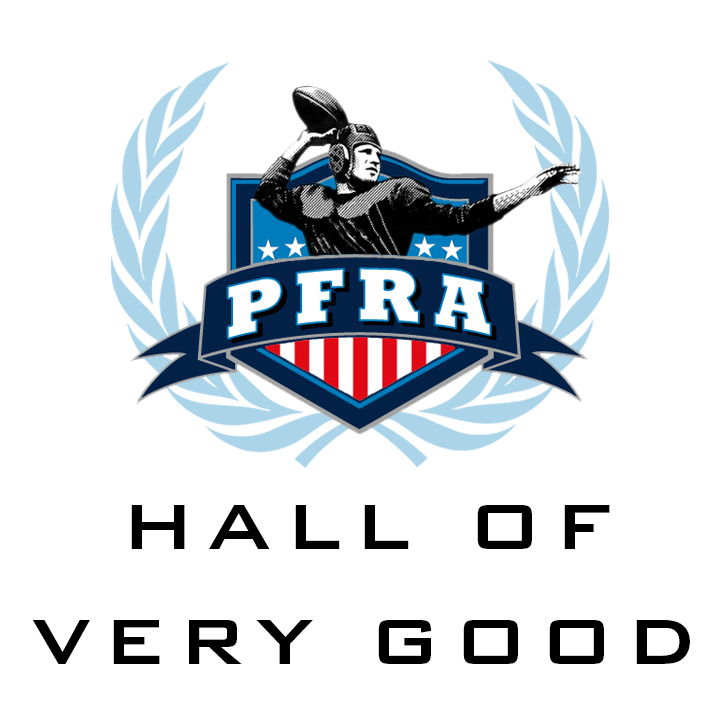 CLASS OF 2005
Begun in 2002, the Hall of Very Good seeks to honor outstanding players and coaches who are not in the Hall of Fame.
Maxie Baughan
Statistics
Position: Linebacker
Teams: Philadelphia Eagles 1960-1965, Los Angeles Rams 1966-1970, Washington Redskins 1974
Bio: Maxie Baughan was a standout center and linebacker at Georgia Tech where he set a single-season school record with 124 tackles in 1959 and was a consensus All-American. Selected by the Eagles with the 20th pick in the 1960 NFL draft, he became a prominent anchor in the middle of the Philadelphia defense. Baughan was named to the Pro Bowl for the first of nine times (1960, 1961, 1963-1969) as the Eagles won the NFL title over Lombardi's Packers. The Eagles went into decline after a 10-4 season in 1961, but Baughan was a constant standout, good especially at diagnosing opposing offenses. He earned his first first-team all-pro recognition from the New York Daily News in 1961, was a consensus first-team all-pro in 1964 and was then traded to Los Angeles in 1966. First-year head coach George Allen named him defensive captain, impressed in particular by Baughan's intelligence. The Rams improved dramatically in 1967 from 4-10 to 8-6 while Baughan was named a first teamer on the NEA's all-pro team. The Rams had one of the NFL's best defenses and best teams for the rest of Baughan's time in Los Angeles as they went 11-1-2, 10-3-1, 11-3 and 9-4-1 while winning two division titles. They had the league's best defense in 1967 and Baughan was a consensus first team all-pro while picking off a career-high four passes, a feat he duplicated in 1968. He retired after an injury-plagued 1970 season, though George Allen lured him back in 1974 to play two games for the Redskins. Baughan had a long career as an assistant coach in college and the NFL and six years as the head coach of Cornell. He was inducted into the Eagles Hall of Fame in 2012.
Jim Benton
Statistics
Position: End
Teams: Cleveland Rams 1938-1942, Chicago Bears 1943, Cleveland Rams 1944-1945, Los Angeles Rams 1946-47
Bio: Don Hutson was the undisputed best pass receiver of the World War 2 years and Jim Benton was second. In fact, when Benton retired, he ranked second behind only Hutson in career pass receptions. His best statistical seasons came during the three years he was teamed with quarterback Bob Waterfield. His numbers before that in the run-dominated NFL that was still transitioning to the pass-oriented T-formation don't look impressive by later standards but nonetheless were among the best in the league. Benton joined the fledgling Rams as a two-way end and paid immediate dividends as he led the league with 19.9 yards per catch while finishing fifth in receptions. He was fourth again in receptions in 1940 and 1942 and was part of the 1943 Bears championship team when the Rams suspended operations because of World War II. Returning to the Rams in 1944, he finished second to Hutson in catches, receiving yards and touchdown receptions. Benton led the NFL in receiving yards in both 1945 and 1946 while also leading in receptions the latter year. His eight touchdowns and 23.7 yards per catch in 1945 were among the best in the league and the best of his career, and he also set a single game NFL record with 303 receiving yards that stood for 40 years. He starred in Cleveland's 1945 title game victory in brutally cold, icy conditions, accounting for 125 of the Rams' 192 passing yard on a game-high 9 receptions that tied a Championship Game record. Benton was a second team all-pro in 1944, a consensus first team selection in 1945 and a unanimous first teamer in 1946. He was named to the all-decade team for the 1940s.
Lavvie Dilweg
Statistics
Scouting Report
Position: End
Teams: Milwaukee Badgers 1926, Green Bay Packers 1927-1934
Bio: Lavvie Dilweg was considered one of the best all-around ends in pro football prior to Don Hutson, the man who replaced Dilweg on the Green Bay Packers when Dilweg retired after the 1934 season. He started with the Milwaukee Badgers in 1926, but signed with the Green Bay Packers the following year. Over his nine-year career, Dilweg help with three NFL Championships and made at least one all-pro team every year except his final season. Dilweg was named consensus all-pro for six consecutive years, with four of those years being unanimous all-pro. From 1920 through 1950, only one other player at that position was able to exceed that accomplishment: Don Hutson with ten. Mac Speedie had four consecutive consensus all-pro selections and Bill Hewitt had three. The remainder of ends who played during that timeframe had no more than two consecutive consensus all-pro selections. He was named to the Pro Football Hall of Fame's All-Decade team of the 1920s. His scouting report states that on defense, Dilweg was extremely quick off the ball and was able to shed blocks to easily get into the offensive backfield. He had very good to excellent straight-line speed. Dilweg could close the distance between himself and the passer/runner very quickly. He didn't always chase plays to the opposite side of the field, but when the play was in front of him, he reacted extremely quickly and was able to close on the play fast. He typically lined up between the seven-technique and nine-technique positions on the left side of the defensive line. On offense, he was an efficient blocker, but tended to screen the defender more than block the defender. However, he did have the ability to push the defender back and turned him away from the play. He showed very good route-running abilities, and quickly made cuts with excellent footwork.
Pat Harder
Statistics
Position: Fullback
Teams: Chicago Cardinals 1946-1950, Detroit Lions 1951-1953
Bio: Pat Harder was the fullback of the Cardinals' famed Dream Backfield, or Million Dollar Backfield, of the late 1940s. In addition to being a bruising runner, Harder was one of the better placekickers of his era. He played on championship teams with the Cardinals (their most recent) and two with the Lions as well as in the 1948 title game when Chicago lost to the Eagles. Harder joined the Cardinals in 1946 after an outstanding career at Wisconsin and three years in the Marines. He was second in the NFL in rushing yards as a rookie with a stellar 5.1 average and was second team on Pro Football Illustrated's all-pro team. He was a consensus first team all-pro the next three years (1947-49) and the UP's second team selection in 1950. Sharing the rushing load with Elmer Angsman and Hall of Famer Charlie Trippi, Harder never again ranked as high in rushing as in 1946 but he posted steady numbers and was a reliable receiver out of the backfield. He led the NFL in field goals once, extra points twice and total points twice, and his 50.7% career field goal rate was well above average for the era. His all-around play was so impressive that he received the UP's Most Valuable Player award in 1948. Harder scored two touchdowns and kicked a field goal in Detroit's 1952 playoff victory over the Rams, and kicked a clinching field goal a week later in the Championship Game victory over Cleveland. Detroit teammates credited his professionalism and championship experience with aiding the rapid development of the young Lions into a team that won titles in 1952 and 1953. Harder was one of the three fullbacks named to the all-1940s team.
Floyd Little*
Statistics
Position: Running Back
Teams: Denver Broncos 1967-1975
Bio: Floyd Little was a fleet-footed running back who spent his entire nine-year professional career with the Denver Broncos. Little played college ball at Syracuse where he was a three-time All American from 1964 to 1966, the only such player in school history. He amassed 2,750 career rushing yards, averaging 5.4 yards per rush, finishing fifth in the Heisman Trophy voting in both his junior and senior seasons. He was selected sixth overall in the first common AFL-NFL draft in 1967 and was the first ever first-round pick to sign with Denver. Little provided an immediate boost on special teams in his rookie year, as he led the AFL with a punt return average of 16.9 yards and finished second in kick return average at 26.9 yards. He was named to play in the AFL All-Star Game for the first of two times in 1968 and was named to the Pro Bowl three times after the 1970 merger. In 1969, Little was selected first-team All-AFL as he led the AFL in yards per game played with 81.0 and 5.0 yards per rush. He became the first Bronco to win the rushing title in 1971 with 1,133 yards. From 1968 to 1973, he had the most rushing yards and yards from scrimmage in football. He retired following the 1975 season as the NFL's seventh all-time rusher with 6,323 yards and 55 total touchdowns. Nicknamed "The Franchise," Little served as Broncos team captain in all nine of his seasons. He was inducted into the College Football Hall of Fame in 1983 and the Broncos Ring of Fame's inaugural class in 1984. His number 44 has been retired by both the Broncos and Syracuse University. Little was enshrined in the Pro Football Hall of Fame in 2010 five years after he was elected to the Hall of Very Good.
Tommy Nobis
Statistics
Position: Linebacker
Teams: Atlanta Falcons 1966-1976
Bio: Tommy Nobis was one of the most heralded college players of the 1960s as a member of Texas's 1963 national champions, an all-American Outland Trophy winner in 1965 and "the finest two-way player I have ever seen" as a linebacker and guard, in the words of Texas head coach Darrell Royal. Drafted by both the Atlanta Falcons and the Houston Oilers in the last drafts before the NFL-AFL merger, Nobis signed with Atlanta and soon became known as Mr. Falcon. He made an immediate impact, winning NFL Rookie of the Year honors, earning a Pro Bowl selection, and totaling an unofficial team record 294 combined tackles. Nobis was a contemporary of two of the best middle linebackers ever, Dick Butkus and Willie Lanier, and all-pro honors were hard to come by. Still, Nobis was a first team all-pro in 1967 and a second teamer in 1968 while also being named to five Pro Bowls. Nobis was handicapped by playing with mostly expansion-caliber teammates but still stood out because of his intelligence at reading offenses, his strength and his pursuit. Nobis also played for mostly poor teams. Though the expansion Falcons improved enough to post a 9-5 record in 1973, their overall record during his career was 50-100-4. Nobis was further handicapped by recurring serious knee injuries that kept him out of most of the 1969 and 1971 seasons, and which thereafter impaired his mobility. He rebounded to play well enough in 1972 to earn Pro Bowl honors for the fifth time. Nobis is a member of the Falcons Ring of Honor and had his number 60 retired by the team, the first number retired in franchise history. He was named to the NFL's all-decade team of the 1960s.
Pete Retzlaff
Statistics
Position: Halfback, End
Teams: Philadelphia Eagles 1956-1966
Bio: Sure-handed as can be, Pete Retzlaff caught touchdown passes from six different quarterbacks during his 11-year career with the Philadelphia Eagles. Known as "Pistol Pete," he was all over the field, hauling in passes and paving the way for Eagles running backs. He was a true athlete, starring in track-and-field and in football at South Dakota State College. In his senior season in 1952, he rushed for over 1,000 yards. Drafted by the Detroit Lions in 1953, he failed to make the team and was cut. He joined the US Army for two years, then fired back into professional football with the Eagles in 1956. Mired in a rut of losing during the mid-50s, the Eagles utilized Retzlaff's versatility, lining him up at halfback, wide receiver, and tight end. He had an outstanding year in 1958, tying for the league lead with 56 receptions. The Eagles improved to 7-5 in 1959 and won the NFL title in 1960 as Retzlaff led the team in receptions and receiving yards and combined with Pro Bowler Tommy McDonald and all-pro and MVP quarterback Norm Van Brocklin to give the Eagles one of the NFL's top offenses. Retzlaff's best season was 1965 when he caught 66 passes for 1,190 yards, setting franchise records and earning his only first-team all-pro selection. Retzlaff retired following the 1966 season as the Eagles all-time receiving leader with 7,412 yards on 452 receptions and 47 touchdowns. He made five Pro Bowls and won the Bert Bell Award in 1965. His number 44 was retired by the Eagles and he was inducted into the team's Hall of Fame in 1989. Retzlaff served as the Eagles' general manager from 1969-72 and remains second all-time on the team's receiving list.
Tobin Rote
Statistics
Position: Quarterback
Teams: Green Bay Packers 1950-1956, Detroit Lions 1957-1959, San Diego Chargers 1963-1964, Denver Broncos 1966
Bio: No matter the situation, Tobin Cornelius Rote always found a way to succeed throughout his 13- year pro career. That came after Rote led Rice to comeback victories in consecutive weeks against SMU and Texas in 1949 as the Owls went posted a school record 10-1 mark. Rote joined the Green Bay Packers in 1950 as the 17th pick in the NFL draft. Green Bay never finished better than 6-6 but Rote shined, leading the team in rushing three times (1951, 1952, 1956) and the NFL in passing touchdowns twice (1955, 1956). Rote's pinnacle season was in 1956 when he topped the league in passing across the board, rushed for 11 touchdowns and was named to the Pro Bowl. Rote was traded to Detroit in 1957 and his success continued as he stepped in down the stretch for the injured Bobby Layne and the Lions went 3-1. Rote then led Detroit to a 31-27 comeback victory over the 49ers in a conference playoff and a 59-14 win over the Browns in the Championship Game. Rote threw for 280 yards and four touchdowns while added a fifth on the ground. He was released after the 1959 campaign, joined the CFL's Toronto Argonauts, passed for a record 38 touchdowns in 1960 and became the second quarterback to pass for over 4,000 yards. Rote joined the San Diego Chargers of the AFL in 1963 and his veteran leadership powered the Bolts to an 11-3 season that was capped by a 51-10 win over the Boston Patriots for the AFL title. Rote was named the league's MVP and to the AFL All-Star team. He retired following the 1964 season returned in 1966 to play three games for the Denver Broncos.
Lou Rymkus
Statistics
Scouting Report
Position: Tackle
Teams: Washington Redskins 1943, Cleveland Browns 1946-1951
Bio: Big 6'4" Lou Rymkus joined the Redskins in 1943 out of Notre Dame. Taller than most tackles of the 1940s, he was excellent both ways in the final years of the one platoon system. Very difficult to knock off his feet, Rymkus was especially good on offense because of his size, strength and balance as the outermost piece of the famous Cleveland "Cup" that protected Otto Graham so well. According to football historians Ken Crippen and Matt Reaser in their film study project, the Browns used Rymkus "to block on the opposite side of the field on sweeps and screens" because he was fast enough "to cross the field in time to make a block." The Redskins and Browns had nothing but success with Rymkus as Washington won their conference in his one year with the team while the Browns finished first every year of his career and won four AAFC championships and one NFL title. He received plenty of notice on all-AAFC as well as combined all-AAFC/FL teams, especially in 1948 and 1949. Paul Brown was effusive with praise for his ability and grit, noting that Rymkus played almost a whole season on a seriously injured knee that required extensive surgery in the offseason. In their AAFC history, Crippen and Reaser have Rymkus as one of the offensive tackles on their all-AAFC team all four years and on their all-time AAFC team. Rymkus was a line coach for several teams and then became head coach of the Oilers when Houston won the first AFL championship in 1960. He was a stern taskmaster, however, and was fired after a poor start in 1961. He went back to being a line coach and never got another head coaching offer.
Del Shofner
Statistics
Scouting Report
Position: End
Teams: Los Angeles Rams 1957-1960, New York Giants 1961-1967
Bio: Lanky, lightning fast Del Shofner was the most dangerous deep receiving threat of the late 1950s and early 1960s. After playing defensive back as a rookie, he was an immediate sensation in 1958 after moving to offense as he led the NFL in receiving yards with 1,097, finished third in receptions and posted a flashy 21.5 average. Shofner made the first of five Pro Bowls that year and was first team on every major all-pro team for the first of a remarkable five times. Shofner was second in receptions and receiving yards in 1959 and was again a unanimous all-pro. A subpar 1960 due to a leg injury and a conflict with Rams' management resulted in a trade to the Giants. Healthy and teamed with Y.A. Tittle, Shofner enjoyed three straight great seasons as New York won the Eastern Conference each year. He finished second in receiving yards and third in receptions with 11 touchdowns in 1961. For the first of three straight occasions, Shofner did little in the Championship Game against Green Bay as in all three games he and New York's pass-oriented offense were hampered by brutally cold temperatures, strong winds and/or icy field conditions. He continued to shine for two more seasons, finishing fourth in receiving yards in 1962, second in touchdown catches with 12 and again posting a sparkling 21.4 average. It was more of the same in 1963: 64 catches (4th), 1,181 receiving yards (3rd), an 18.5 average and 9 touchdowns. Shofner struggled with injuries and ulcers thereafter and his production dropped, though he still finished with an excellent career mark of 18.5 yards per catch. He was voted to the NFL's all-1960s team.
Entire Hall of Very Good
Class of:
2022, 2021, 2020, 2019, 2018, 2017, 2016, 2015, 2014, 2013, 2012, 2011, 2010, 2009, 2008, 2007, 2006, 2005, 2004, 2003
*Voted into the Pro Football Hall of Fame after induction into the Hall of Very Good.