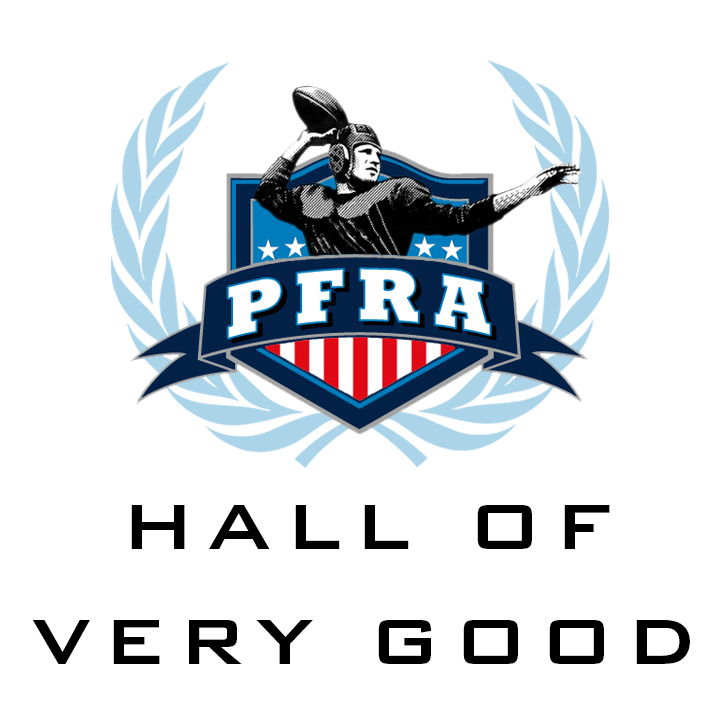 CLASS OF 2007
Begun in 2002, the Hall of Very Good seeks to honor outstanding players and coaches who are not in the Hall of Fame.
Frankie Albert
Statistics
Scouting Report
Position: Quarterback
Teams: San Francisco 49ers 1946-1952
Bio: Frankie Albert rose to prominence as one of the first great T-formation quarterbacks, studying under the legendary Clark Shaughnessy at Stanford. He quarterbacked the Stanford "Wow Boys" that went undefeated in 1940 and defeated Nebraska in the Rose Bowl. A two-time All-American, Albert served in the Navy for three years and played one season in the Pacific Coast Football League before joining the San Francisco 49ers of the brand new All-America Football Conference in 1946. The 49ers were 38-14-2 in four AAFC seasons but finished second in the West behind the powerhouse Browns each year. Albert was an expert ball hander who specialized in the bootleg. He also did the team's punting, averaging as high as 48.2 in 1949, and regularly ran on successful fake punts. He was a regular on both the all-AAFC teams and the combined all-NFL/AAFC teams selected by some media outlets, with a mix of first and second team honors. His best season was 1948 when he shared MVP honors with Otto Graham and led the AAFC in completion percentage and touchdown passes with 29 on just 264 attempts. He led the league again in touchdown passes in 1949 with 27 as the 49ers' powerful offense averaged 35 points over those two seasons. Albert was named to the Pro Bowl in 1950 in San Francisco's first NFL season. He began sharing quarterbacking duties in 1951 with Y.A. Tittle as the 49ers rebounded from 3-9 in 1950 to 7-4-1, though they again finished in second place. In 1952, they started 5-0 in Albert's last season but faded after a rash of injuries. He played one season in Canada and was the 49ers head coach for three years including in 1957 when they lost a conference playoff.
Roger Brown
Statistics
Position: Defensive Tackle
Teams: Detroit Lions 1960-1966, Los Angeles Rams 1967-1969
Bio: Roger Brown was an integral part of two great defensive lines. The Fearsome Foursome of the Rams is much better known but the line Brown was a part of in Detroit, which featured Brown, Hall of Fame tackle Alex Karras and ends Darris McCord and Sam Williams, was also one of the best of its time. After being second team all-pro in 1961, Brown's first great year was 1962 when the Lions went 11-3 and fought a terrific Packers' team for supremacy in the NFL's Western Conference. The high point for Detroit was a dominant win over then-undefeated Green Bay that has been known ever since as the Thanksgiving Day Massacre because Brown and his mates sacked Bart Starr 11 times. Brown made first team on every all-pro team that year and the Los Angeles Times named him Lineman of the Year. He was also named to the Pro Bowl for the first of six consecutive seasons. Detroit finished second to Green Bay in Brown's first three seasons and gave the Packers their stiffest competition by winning three of the six games between them. Despite facing regular double team blocking in 1963 because Karras was suspended, Brown was a first team all-pro again. After three more rock solid seasons in Detroit, Brown was traded to the Rams in 1967. He teamed most notably with Deacon Jones and Merlin Olsen and finally got to be a part of a playoff team as the Los Angeles defensive line keyed a one-sided win over the Colts in the division-deciding season finale. The Rams made the playoffs again in 1969, Brown's last year. He was inducted into the Pride of the Lions, the Lion's equivalent of a Ring of Honor, in 2018.
Timmy Brown
Statistics
Position: Running Back
Teams: Green Bay Packers 1959, Philadelphia Eagles 1960-1967, Baltimore Colts 1968
Bio: Timmy Brown was an explosive, talented running back who earned three Pro Bowl selections (1962, 1963, 1965) and three second-team all-pro honors (1963, 1965, 1966) in ten seasons. Brown attended Ball State University and was selected in the 27th round of the 1959 NFL draft by Green Bay. After playing in only a single game with the Packers, Brown signed with the Philadelphia Eagles in 1960 and was part of their 10-2 championship season. The Eagles finished 10-3-1 in 1961, a half-game behind first-place New York. During the opening game against Cleveland that year, Brown ran the opening kickoff back a team-record 105 yards for a touchdown as he led the NFL in kickoff return yards. Brown continued to shine over the next four seasons as the Eagles floundered. He led the league a second time in kickoff return yards in 1963 and was first in all-purpose yards in 1962 and 1963. He also netted the NFL's top rushing average at 5.4 yards per carry in 1965. On November 6, 1966 against Dallas, Brown ran two kickoffs back for scores of 90 and 93 yards, establishing himself as the only Eagles player to do so as Philadelphia improved dramatically to 9-5. The Eagles regressed to 6-7-1 in 1967 and Brown was traded to the Colts. He appeared in 11 games as Baltimore won the 1968 NFL championship but lost in Super Bowl III to the Jets. Brown had 63 total touchdowns in 108 games when he retired after the 1968 season and his 12,684 all-purpose yards ranked him near the top of the all-time career list. He was named to the Eagles 75th Anniversary Team and was inducted into the Philadelphia Eagles Hall of Fame in 1990.
Marshall Goldberg
Statistics
Position: Back
Teams: Chicago Cardinals 1939-1943, 1946-1948
Bio: Marshall Goldberg starred for eight seasons as a versatile two-way back and kick returner with the Chicago Cardinals and was part of two Dream Backfields. At the University of Pittsburgh, Goldberg led the Panthers to two national championships while twice being named All-American and finishing second in the Heisman voting in 1938. He was part of the "Dream Backfield" alongside Dick Cassiano, John Chickerneo, and Curly Stebbins. He began his career with the Cardinals as the twelfth overall pick in the 1939 NFL draft. Goldberg showed his versatility in 1941 when he earned second team honors on some of the all-pro teams and led the league in three distinct categories: interceptions with seven, kickoff return yards with 290 and all-purpose yards with 1,236. He was selected to play in an all-star game that season against the champion Bears. He led the NFL in kickoff return yards again in 1942 with 393 and finished third and second, respectively, in 1941 and 1942 in kickoff return average. After Goldberg served three years as a Navy SEAL, the Cardinals in 1946 put together the first version of their "Dream Backfield": Goldberg, Pat Harder, Paul Christman and Elmer Angsman. Goldberg moved to playing mostly defense in 1947 when the Cards added Charlie Trippi, and they won their most recent NFL championship. Goldberg was named to the first team defensive unit on several all-pro teams that year. The Cardinals finished with the best record in their 100-year history in 1948 at 11-1 but missed out on a repeat championship when they lost to the Eagles in the title game. Goldberg was named to the Cardinals Ring of Honor and had his number retired by both the Cards and Pitt.
Jim Lee Howell
Statistics
Position: End, Head Coach
Teams: New York Giants 1937-1942, 1946-1947, 1954-1960
Bio: Jim Lee Howell was a solid contributor to the New York Giants for eight years as a player and for seven more as head coach, winning championships as both. Howell joined the Giants as a two-way end in 1937 where he was known primarily as a defender, though he did catch seven touchdown passes in his career. The Giants won the Eastern crown in four of his eight seasons, posted a .638 winning percentage in that time and won the NFL championship in 1938. Howell earned second team all-pro honors from the International News Service in 1939 and the AP in 1941. He missed three seasons to military service during World War 2 and, after seven years as a college coach, replaced the legendary Steve Owen as New York's head coach in 1954. He discarded the antiquated A-formation favored by Owen and the Giants' record improved from 3-9 to 7-5 in his first year. In 1956, they won the NFL championship. New York won the East again in 1958 and 1959 but lost to the Colts both times in the Championship Game. Howell retired after the 1960 season with a 53-27-4 record. It was sometimes said that he left the heavy lifting to assistants Tom Landry and Vince Lombardi but his .663 winning percentage is the best in Giants' history among coaches who coached at least three seasons. The Giants had one of their best seasons ever in 1959 after Lombardi left when they posted a 10-2 record. Howell was also instrumental in drafting players like Sam Huff, Jimmy Patton, Jim Katcavage and other major contributors to New York's prolonged success. The team he bequeathed to successor Allie Sherman won three consecutive Eastern Conference titles.
Glenn Presnell
Statistics
Position: Back
Teams: Portsmouth Spartans 1931-1933, Detroit Lions 1934-1936
Bio: Carved from wrought iron and blessed with speed, Glenn Presnell was an all-conference halfback at the University of Nebraska in 1926 and 1927 and an All-American in 1927. Presnell then joined the semi-pro Ironton Tanks in 1930, playing halfback and defensive back. He also saw time under center and on special teams. That year, the Tanks shockingly beat the NFL's powerhouse New York Giants and Chicago Bears. Presnell tossed the game-winning touchdown over the Giants, securing a dramatic 13-12 triumph. Against the Bears, he ran for two scores in a 26-13 decision. Presnell moved on to the NFL's Portsmouth Spartans in 1931 and had a historic season in 1933 as the team's starting quarterback. He led the league in total offense, amassing 1,296 yards from scrimmage (774 passing, 522 rushing) as the Spartans led the league in total yards gained. He also set an NFL league record with 64 points on five field goals, 13 extra points, and a league-leading six rushing touchdowns and was selected to the first team of all the all-pro teams. He had previously earned second team honors in 1931 and was named to the first team of one of the all-pro teams in 1932. After the franchise moved to Detroit in 1934, the renamed Lions went 10-3 in 1934 and finished second to the Bears. Highlights of the season were seven consecutive shutouts by the defense and a 54-yard field goal by Presnell that set an NFL record. Presnell teamed with Ace Gutkowsky, Dutch Clark and Ernie Caddel to give Detroit an outstanding backfield that led the Lions to the NFL championship in 1935. Presnell retired after the 1936 season. He passed away in 2004, the last surviving player of the Lions' 1934 inaugural team.
Dick Schafrath
Statistics
Scouting Report
Position: Tackle
Teams: Cleveland Browns 1959-1971
Bio: Ohio State's Dick Schafrath took over Cleveland's starting left tackle job in 1960 and held it for the rest of his career. Along the way, he was selected to six Pro Bowls, was a consensus first team all-pro three times and a second team or all-conference selection several other times. From 1963 through 1969, the Browns featured one of the most potent running games in history, with Schafrath and Gene Hickerson leading the way. All told, Schafrath blocked for three Hall of Fame running backs: Jim Brown, Bobby Mitchell and Leroy Kelly. The Browns led the NFL in rushing yards four times and in numerous other rushing categories during Schafrath's tenure while Brown won six rushing titles and Kelly two. Schafrath held his own against Hall of Fame end Andy Robustelli twice a year for five seasons and played particularly well against Hall of Famer Doug Atkins in a memorable game in 1969 in New Orleans. Despite stiff competition at tackle from Hall of Famers Roosevelt Brown, Forrest Gregg and Bob Brown, Schafrath earned his first-team all-pro honors in 1963, 1964 and 1965. He was a tireless worker, a long-time team captain and known for his ability to get downfield and make multiple blocks on one play. Cleveland was a contending team throughout Schafrath's career, posting a .671 winning percentage in his 12 years as a starter, and his contributions were no small part. The Browns won one championship, played in three other NFL title games, made two additional playoff appearances and posted a .670 winning percentage during his career. Schafrath was a member of the third ever class of the Browns Legend Club, Cleveland's equivalent of the Ring of Honor.
Jake Scott
Statistics
Position: Defensive Back
Teams: Miami Dolphins 1970-1975, Washington Redskins 1976-1978
Bio: Jake Scott always had a knack for finding the football. In nine NFL seasons, he picked off 49 passes as a standout safety. After a stint in the Marines, he attended the University of Georgia where he led the team in interceptions in 1967 with six and in 1968 with ten and where he still shares the school career record of 16. Scott played for the British Columbia Lions before joining the Miami Dolphins in 1970, who drafted him that year in the seventh round. He won a starting job as a rookie on an up and coming Miami team that made the playoffs five years in a row, played in three straight Super Bowls, winning two, the first of which capped their perfect 1972 season. Scott was both a ball hawking safety and an outstanding punt returner who ranked as high as third in punt return average in 1971 when he was first in the NFL in punt return yards. He posted a career mark of 10.4 yards. He had 49 career interceptions, an average of 5.5 a season, with a high of 8 in 1974. A standout on the Dolphins' league-leading defenses in 1972 and 1973, Scott intercepted two passes and won MVP honors in the Super Bowl VII victory over Washington. In Miami's blowout win over Minnesota in Super Bowl VIII, he recovered two fumbles. He received first team all-pro honors from at least one major media outlet four times (1971-74), was named to the Pro Bowl five times (1971-75) and was named by the Football Digest as the Defensive Back of the Year in 1974. Scott is a member of the Dolphins Honor Roll and the College Football Hall of Fame.
Ed Sprinkle*
Statistics
Position: Defensive End
Teams: Chicago Bears 1944-1955
Bio: Ed Sprinkle set the measure for hard-hitting, tenacious defense. A member of the hard-nosed Bears teams of the 1940s, Sprinkle ripped through opposing offenses with his physical play, earning the moniker "The Claw." Sprinkle signed with the Bears in 1944, undrafted, out of Navy. He was an All-East collegiate player during his senior year in 1943. He garnered the reputation as "The Meanest Man in Pro Football" due to his clotheslining hits and aggressive style of play. George Halas referred to him as "the best pass-rusher I've ever seen." The Bears won the 1946 NFL title behind Sprinkle's ferocious pass rush. They also finished in second place seven times, losing out on the final day of the 1947, 1948, 1949, 1951 and 1955 seasons. In 1950, Chicago tied for first in the National Conference but fell to the Los Angeles Rams in a playoff. The Bears led the NFL in numerous defensive categories in during his prime years: fewest points in 1948, fewest yards in 1948, fewest passing yards in 1944, fewest rushing yards in 1946 and 1949, lowest completion percentage in 1944 and fewest yards per rush in 1949. Spinkle also saw action on offense when needed and hauled in 32 passes good for 451 yards and seven touchdowns. His decorated career consisted of four Pro Bowl selections (1950-52; 1954), a two-time first-team all-pro by the International News Service (1949) and New York Daily News (1950) and second-team all-pro honors three times. In 1962, he served as the defensive coordinator for the New York Titans. He was named to the NFL's 1940s all-decade team and as one of the 100 Greatest Chicago Bears of all-time in 2019 in the franchise's 100th year. Sprinkle was enshrined in the Pro Football Hall of Fame in 2020 thirteen years after he was elected to the Hall of Very Good.
Tank Younger
Statistics
Position: Halfback, Fullback
Teams: Los Angeles Rams 1949-1957, Pittsburgh Steelers 1958
Bio: Paul "Tank" Younger was a standout at both fullback and linebacker at Grambling College under legendary coach Eddie Robinson. His 60 touchdowns at Grambling was an NCAA record and earned him 1948's Black College Football's Player of the Year honors and a free agent contract in 1949 with the Los Angeles Rams. The first NFL player from a historically black college, Younger teamed with "Deacon" Dan Towler and Dick Hoerner to form the Bull Elephant backfield on one of the greatest offenses in NFL history. The Rams improved from 6-5-1 in 1948 to 8-2-2 and first place in Younger's rookie season. During Younger's time with the team, the Rams played in three consecutive NFL Championship Games, winning in 1951, made it to a conference playoff in 1952 and another Championship Game in 1955. Younger made his mark on both offense and defense throughout his career as he earned first team all-pro honors at linebacker from the New York Daily News in 1951 and second team honors from the United Press in 1952. At fullback, though carries were hard to come by, he averaged 6.2 yards per rush in 1951, 6.7 in 1954 and 4.7 for his career. He finished third in rushing yards in 1954 while only playing eight games and was named to the second team of both the AP's and the UP's all-pro teams. He was seventh in rushing yards in 1955 with 644 despite again playing only eight games and his 80.5 yards per games played was the best in the league. Younger played in four Pro Bowls. He was the first black assistant general manager, working for the San Diego Chargers in that position from 1975 until 1987.
Entire Hall of Very Good
Class of:
2022, 2021, 2020, 2019, 2018, 2017, 2016, 2015, 2014, 2013, 2012, 2011, 2010, 2009, 2008, 2007, 2006, 2005, 2004, 2003
*Voted into the Pro Football Hall of Fame after induction into the Hall of Very Good.