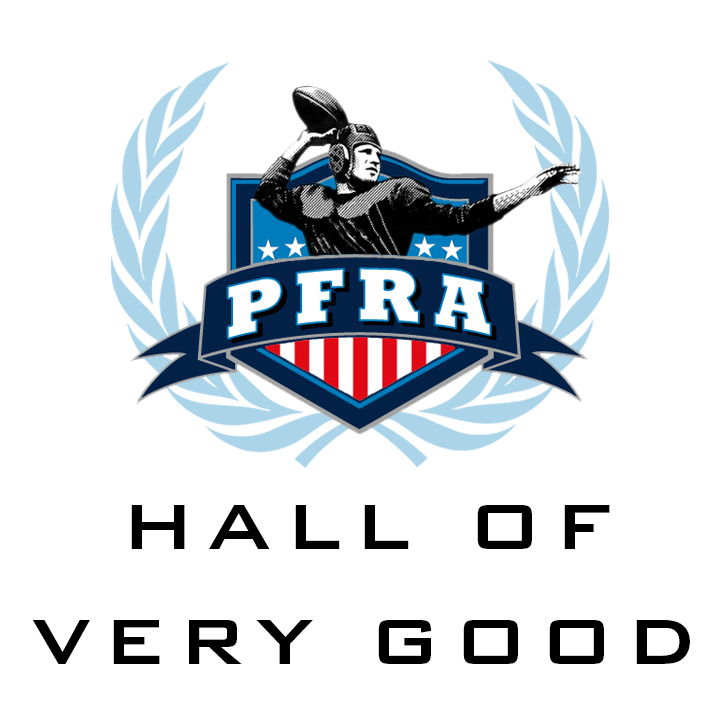 CLASS OF 2008
Begun in 2002, the Hall of Very Good seeks to honor outstanding players and coaches who are not in the Hall of Fame.
Dick Barwegen
Statistics
Scouting Report
Position: Guard
Teams: New York Yankees 1947, Baltimore Colts 1948-1949, Chicago Bears 1950-1952, Baltimore Colts 1953-1954
Bio: After two years in the military, Dick Barwegan immediately became one of the best guards in pro football in 1947. Also an excellent defender early in his career in the final years of the one platoon system, he was a two-way starter as rookie for a New York Yankees team that posted an 11-2-1 record. He earned the first of many years' worth of all-pro honors. Barwegan relied on quickness, balance, agility and excellent technique. He was arguably the best offensive lineman in football the next four years (1948-51) and Hall of Famer Dick Stanfel said Barwegan set the standard that other guards in the league aspired to. He did so after being traded from the Yankees to the Colts and he did so with the powerful Bears after another trade and the AAFC-NFL merger in 1950. He teamed with Bulldog Turner and Ray Bray to form one of the best offensive lines in the NFL as the Bears tied for first place in 1950 and missed by half a game in 1951. All the while, he was first team all-pro five times (1947-51), first team on virtually all of the combined all-AAFC/NFL teams in 1947, 1948 and 1949, a second team all-pro in 1952 and a first teamer on the Pro Football Digest's team in 1953. He was also named to the starting team in the first four Pro Bowls. Barwegan was injured in 1954, played only nine games and retired. AAFC historians Ken Crippen and Matt Reaser have him as a first team selection in all three of his seasons in the AAFC as well as on the all-time all-AAFC team. He was also one of three guards named to the 1950s all-decade team.
Randy Gradishar
Statistics
Position: Linebacker
Teams: Denver Broncos 1974-1983
Bio: After an outstanding career at Ohio State, Randy Gradishar joined the Denver Broncos in 1974 as a first round draft pick. He became a key component of the Orange Crush defense as one of the best middle linebackers in the game. He was solid against both the run and pass and utilized above average speed for an MLB to cover a tremendous amount of ground. The Orange Crush led Denver to its first-ever playoff appearance in 1977. With Gradishar earning first team all-pro honors for the first time, the Broncos won the AFC and advanced to the Super Bowl, where they lost to Dallas. Gradishar was even better in 1978 when Denver again won the AFC West. He was first team all-pro again and earned NFL Defensive Player of the Year from all major media outlets that issued such an awarded (AP, NEA and the Pro Football Writers of America) as well as AFC Defensive Player of the Year by the UPI. He continued to garner a mix of first and second team all-pro honors, along with being all-AFC many times, in every year except one for the rest of his career. He was also named linebacker of the year in 1978 and 1979 by Football Digest and the NFL Players Association and was selected to the Pro Bowl seven times. The Broncos led the NFL in numerous defensive categories in Gradishar's peak years and they made the playoffs for a third straight season in 1979. He intercepted 20 passes and scored four touchdowns in his career while never missing a game during his ten years in the NFL. Gradishar was named to the Broncos 50th anniversary team in 2009 and the team's Ring of Fame in 1989.
Bob Hoernschemeyer
Statistics
Position: Halfback
Teams: Chicago Rockets 1946-1947, Brooklyn Dodgers 1947-1948, Chicago Hornets 1949, Detroit Lions 1950-1955
Bio: Bob Hoernschmeyer played for mostly poor teams in his first four seasons but he established himself as a multi-faceted player who could pass, run, punt and catch the football while also playing fair defense. He played those four seasons in the All-America Football Conference as a single wing tailback. He finished among the AAFC leaders in passing in 1946 and 1949 and in rushing in 1947 and 1949. He was a 2nd team all-AAFC selection in 1946 and 1949 and the AAFC's all-time leader in combined yards passing and rushing. Selected by the Lions in the AAFC dispersal draft, Hoernschmeyer became an integral part of what was soon an NFL champion. Backfield mate Doak Walker got more publicity but it was Hoernschmeyer who led Detroit in rushing four of the six seasons they played together. He posted rushing averages of 5.6 in 1950, 5.1 in 1951 and 4.8 in 1953 while totaling as many as 941 yards from scrimmage in 1951. He was a Pro Bowler in 1951 and 1952 and scored the clinching touchdown in Detroit's 1952 playoff win over the Rams. In the four years from 1951-54, the Lions went 38-12-3 including the postseason, won the West three times and the NFL championship twice. Hoernschmeyer was named 1st team all-pro by the New York Daily News in 1952 and 1953 and a 2nd team choice by other media outlets both of those years as well as 1951.
Cecil Isbell
Statistics
Position: Tailback
Teams: Green Bay Packers 1938-1942
Bio: Cecil Isbell played five NFL seasons for the Green Bay Packers and was at least a second team all-pro in each of them. Selected seventh overall in the 1938 NFL draft, he led the NFL's top-ranked offense as a rookie with 659 passing yards and 445 rushing yards. Isbell teamed with incumbent back, all-pro Arnie Herber, and Green Bay won the NFL West in 1938 and 1939, prevailing over the New York Giants the latter year in the Championship Game, 27-0, behind touchdown passes by Herber and Isbell. The Packers also posted a stellar 10-1 record in 1941 but lost to the Bears in a playoff. Isbell took over the primary passing duties in 1940 and found his favorite target, Don Hutson, with great frequency. He set an NFL record with 1,479 passing yards in 1941 and did so again the next year with 2,021 yards, the first time anyone had surpassed the 2,000 mark. Isbell similarly set passing records for touchdown passes with 15 in 1941, then 24 in 1942. Over this two-year period, Isbell found Hutson on 27 of his 39 touchdown passes. Isbell threw a touchdown pass in his final 22 games, a record that stood until 1958. He also briefly shared the record of five touchdown passes in a game. Isbell's accomplishments earned him a spot on the NFL 1930s All-Decade Team. He played in four All-Star games of that era (1938, 1939, 1941, 1942) between the NFL champs and standout players from other teams, and was inducted into the Packers Hall of Fame in 1972. Isbell was the head football coach of Purdue University, his alma mater, and the Baltimore Colts, Chicago Cardinals and Dallas Texans.
Buddy Parker
Statistics
Position: Head Coach
Teams: Chicago Cardinals 1949, Detroit Lions 1951-1956, Pittsburgh Steelers 1957-1964
Bio: Buddy Parker played nine years in the NFL including on Detroit's 1935 champions but is best remembered as a coach who turned both the Lions and Steelers around and led Detroit to two championships. Parker took on assistant coaching duties in his last few years with the Cardinals and shared the head coaching job in 1949. Parker was dissatisfied with the co-coaching arrangement and, in a theme that would recur, quit abruptly in 1950. After one year as an assistant in Detroit, he became the head coach of the Lions in 1951. The Lions went 7-4-1 and were edged out of the conference title on the last day of the season. The Lions improved in 1952 to 9-3, defeated the defending champion Rams in a playoff and beat the dynastic Browns for the league title. Parker led the Lions to a 10-2 record and a repeat title in 1953 over Cleveland. In the two title games and a regular season victory in 1952, Detroit held the powerhouse Browns to two touchdowns and a mere 29 points in the three games. Detroit was defeated by Cleveland in the 1954 title game and then barely missed another conference crown after a controversial loss in the 1956 finale to the Bears. Parker resigned suddenly on the eve of the 1957 season and brought improvement to the downtrodden Steelers while the Lions won another championship. Pittsburgh got as high as second in 1962 at 9-5 and third in 1963 at 7-4-3 but Parker resigned with short notice in 1965 and never coached again. His .671 winning percentage is the best in Lions' history and the .520 percentage he posted in Pittsburgh was the best in Steelers' history when he retired.
Spec Sanders
Statistics
Scouting Report
Position: Tailback
Teams: New York Yankees 1946-1948, New York Yanks 1950
Bio: A name can say it all: watching Orban Eugene "Spec" Sanders play was a pure spectacle. He was a graceful yet powerful runner on offense and a speedy, athletic defender. The Oklahoma-born Sanders was drafted sixth overall out of the University of Texas by the Washington Redskins but spent most of the next four years in the US Navy. When he returned, Sanders signed with the New York Yankees of the All-America Football Conference. As a rookie in 1946, he led the league with 709 rushing yards good for six touchdowns and was named first team to some all-AAFC teams as well as the AP's combined all-AAFC/NFL team. He was first team on all the all-AAFC and all-AAFC/NFL teams again in 1947 as he set pro records with 1,432 rushing yards and 18 rushing touchdowns that stood for 11 and 15 years, respectively. The Yankees improved to 11-2-1 but again lost to Cleveland in the AAFC Championship Game. Knee injuries limited him in 1948 and Sanders then retired to pursue his continued love of business. In 1950, he was coaxed out of retirement and was selected by the New York Yanks in the AAFC dispersal draft. Switching to defensive back full-time, he shone, nabbing a record 13 interceptions. He was named first team to the New York Daily News' all-pro team on defense as well as to the Pro Bowl. Sanders finished as the AAFC's second all-time leading rusher and all-time leader in rushing touchdowns. His greatest game came on October 24, 1947, when he ran for 250 yards on 24 carries against the Chicago Rockets despite only playing three quarters. After football, Sanders continued his career focusing on his Oklahoma business until he passed away in 2003.
Jim Ray Smith
Statistics
Scouting Report
Position: Guard
Teams: Cleveland Browns 1956-1962, Dallas Cowboys 1963-1964
Bio: Of all the great offensive linemen who have played for the Browns, Jim Ray Smith may be the very best. After a two-year stint in the army, Smith joined Cleveland in 1956 as a defensive end. Just as he did with Gene Hickerson a year later, Paul Brown switched Smith to guard in 1957 because of his tremendous speed. Brown was especially impressed that Smith bulked up by 20 pounds during the offseason without sacrificing speed or quickness. Smith teamed with a group of outstanding linemates and Jim Brown to give Cleveland a topnotch running game. They led the league in rushing in 1958 behind Brown's record-setting total and again in 1959. Smith made the Pro Bowl five straight times (1958-62), was a first team all-pro four times (unanimously in 1959-61, consensus in 1962) and all-conference six years in a row (1957-62). Smith's speed was legendary and key to the Cleveland sweep that also featured Bobby Mitchell but he was also a powerful force in the trenches. He had several games where he dominated Hall of Famer Ernie Stautner and one in 1959 where he thoroughly outplayed Gene Lipscomb as Jim Brown scored five rushing touchdowns. Linemates Hickerson and Dick Schrafath are among those who have heaped praise on Smith. His chances for the Hall of Fame were seriously set back by the two years he lost to military service. His effectiveness and career were also cut short by two devastating knee injuries he suffered in 1963 and 1964 after a requested trade to his native Dallas where he could better run his prosperous real estate business. He is part of the Browns Legend Club, Cleveland's equivalent of the Ring of Honor.
Billy Wilson
Statistics
Scouting Report
Position: Wide Receiver
Teams: San Francisco 49ers 1951-1960
Bio: Three times Billy Wilson led the NFL in receptions and he finished second another time. He was a big part of the powerful San Francisco offense of the 1950s that included three Hall of Fame running backs, and having to share the ball for many years with Joe Perry and Hugh McElhenny, not to mention Gordie Soltau and John Henry Johnson, may have kept his production down. Still, Wilson caught more passes in the 1950s than anyone else and was a close third in yards behind only Billy Howton and Elroy Hirsch. While not exceptionally fast, Wilson was tall and shifty. One play that is a staple of 1950s highlight reels is of him hurdling several defenders at midfield en route to a long touchdown. Bill Walsh, who followed Wilson at San Jose State, raved about Wilson's blocking. Wilson had his first solid NFL season in 1953 when he finished sixth in receptions and first in touchdown catches with 10. He led the league in receptions in 1954, 1956 and 1957 and was runner-up in 1955. He made the Pro Bowl all four years as well as in 1958 and 1959 for a total of six. Wilson received second team all-pro honors in three of those seasons, was a consensus first teamer in 1955 and a first team selection by all media outlets in 1957. When he retired, Wilson ranked second all-time in the NFL in career receptions and touchdown catches behind Don Hutson as well as fourth in receiving yards. His credentials for the all-decade team of the 1950s were much better than those of Raymond Berry, Tom Fears and Bobby Walston, yet he was bypassed in favor of all three.
Entire Hall of Very Good
Class of:
2022, 2021, 2020, 2019, 2018, 2017, 2016, 2015, 2014, 2013, 2012, 2011, 2010, 2009, 2008, 2007, 2006, 2005, 2004, 2003
*Voted into the Pro Football Hall of Fame after induction into the Hall of Very Good.