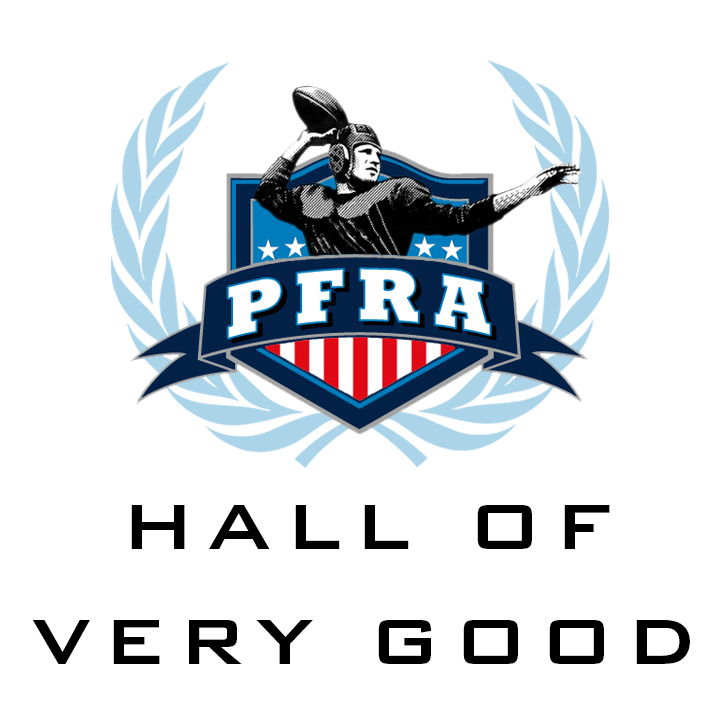 CLASS OF 2009
Begun in 2002, the Hall of Very Good seeks to honor outstanding players and coaches who are not in the Hall of Fame.
Bruno Banducci
Statistics
Scouting Report
Position: Guard
Teams: Philadelphia Eagles 1944-1945, San Francisco 49ers 1946-1954
Bio: Guard Bruno Banducci was a key part of the high-powered San Francisco 49ers offense of the 1940s and 1950s. At Stanford, he played for the famed Wow Boys team that featured quarterback Frankie Albert, a future 49ers teammate. Banducci was drafted by the Eagles in 1943 and joined them in 1944, the same year as Steve van Buren. Van Buren won the first of his four NFL rushing titles in 1945 running behind an outstanding line that featured Banducci and Al Wistert. Banducci was somewhat undersized at 215 pounds and relied primarily on quickness and technique to become one of the best guards of his time. In their game film evaluation project, football historians Ken Crippen and Matt Reaser rated Banducci as "very good pulling and in trap blocking." They also cited his competitiveness and that he "always fought throughout the play." Banducci jumped to the 49ers in the new All-America Football Conference in 1946. The 49ers went 38-14-2 in the AAFC behind a powerful running game that, beginning in 1948, featured Joe Perry. Perry won one AAFC rushing title plus two in the NFL running behind Banducci. The teams Banducci played on won seven team rushing titles, he blocked for four individual rushing champions and for four Hall of Fame running backs: van Buren, Perry, Hugh McElhenny and John Henry Jonson. He never played on a champion but his teams won two-thirds of their games and finished second seven times. Banducci was both first team all-AAFC and all-NFL/AAFC in 1946 and 1947. After the 49ers joined the NFL, he was named to at least one all-pro first team in three seasons and second team all-pro once. He was also named to the all-decade team of the 1940s.
Harold Carmichael*
Statistics
Position: Wide Receiver
Teams: Philadelphia Eagles 1971-1983, Dallas Cowboys 1984
Bio: Standing at six feet, eight inches tall, Lee Harold Carmichael was a pass catching phenomenon. His stride was graceful, akin to the jazzy tunes he played on the trombone in the high school band. He was always very athletic, starring in basketball, football and track and field as a walk-on at Southern University and being named to the all-SWAC football team as a senior in 1970. He was selected in the seventh round of the 1971 NFL draft and emerged as the NFL's premier receiver in 1973, leading the league with 67 receptions and in receiving yards with 1,116. He was named to the Pro Bowl that year and three other times (1978-80). He was a consensus first team all-pro in 1973, made the New York Daily News' first team in 1978 and the AP's second team in 1979. Ron Jaworski was named the Eagles' starting quarterback in 1977, creating an instant chemistry with Carmichael. He was the team's top receiver in 1977, hauling in seven touchdowns on 655 yards receiving. He was third in the NFL with 1,072 receiving yards in 1978 and second in touchdown catches with 11 in 1979. The Eagles won the NFC championship in 1980, losing the Super Bowl to the Oakland Raiders, and made the playoffs four consecutive years (1978-81). Carmichael caught at least one pass in an NFL record 127 consecutive games. For his career, he totaled 8,985 receiving yards and 79 touchdowns in 182 games. Carmichael was named to the second team of the NFL 1970s All-Decade Team and to both the Eagles 75th Anniversary Team and the Eagles Hall of Fame. Carmichael served as the Director of Player Development for the Eagles from 1998 until 2014. Carmichael was enshrined in the Pro Football Hall of Fame in 2020 eleven years after he was elected to the Hall of Very Good.
Blanton Collier
Statistics
Position: Assistant Coach 1946-53 and 1962, and Head Coach 1963-70
Teams: Cleveland Browns
Bio: Blanton Collier was a major contributor to the early success of the Cleveland Browns in his first stint as an assistant to Paul Brown. A high school mathematics teacher interested in the fine details, Collier brought that trait to football. Among other things, he excelled at analyzing game film, and his work contributed greatly to Cleveland playing in their league championship game in all eight seasons of his first tenure. They won five of those in a row from 1946 through 1950 (four AAFC, one NFL). Collier replaced Bear Bryant as the head coach of the University of Kentucky in 1954 and was named the SEC Coach of the Year that season. After eight years at Kentucky, he returned to the Browns as an assistant in 1962 and was named head coach in 1963 when Brown was fired. Cleveland improved to 10-4 from 7-6-1 that year and then won the 1964 NFL championship in his second. The Browns posted the NFL's best record the following year but lost the NFL Championship Game to Green Bay. The Browns made the playoffs three more times including 1968 and 1969 when they lost the NFL title game. Collier suffered from hearing problems contracted from three years' service in the Navy that grew so severe that he had to retire after the 1970 season. His head coaching record with the Browns was 76-34-2 good for a .691 winning percentage, and Cleveland did not have a losing record in any of his eight seasons. Mild-mannered and well-liked, Collier shared his vast football knowledge with players of all positions. The NFL Players Association established the Blanton Collier Award in 2007 for the player who excels both on and off the field.
Boyd Dowler
Statistics
Position: Wide Receiver
Teams: Green Bay Packers 1959-1969, Washington Redskins 1971
Bio: After playing quarterback, end and punter and orchestrating the Colorado Wing-T offense so well that he was named to the Buffaloes' all-20th Century team, Boyd Dowler was named Rookie of the Year with the Green Bay Packers after being selected in the third round of the 1959 NFL draft. He soon became an integral part of the Packers' dynasty of the Lombardi era when Green Bay won six conference titles, five NFL championships and the first two Super Bowls. Overshadowed some by his 13 teammates who have been elected to the Pro Football Hall of Fame, Dowler nonetheless was a valuable contributor, most notably in some of the Packers' biggest victories. He finished among the NFL's top ten in receptions three times on a primarily running team and was named to the Pro Bowl in 1965 and 1967. He never missed a game in his 11 years with Green Bay, averaged 15.3 yards per reception in his career and 43 yards per kick in his three seasons as Green Bay's punter. In big games, Dowler was Green Bay's leading receiver in their victories in the 1962, 1965 and 1967 NFL Championship Games. The 1967 title game – the Ice Bowl – was especially noteworthy as he caught two touchdown passes that gave the Packers an early 14-0 lead. In Super Bowl II two weeks later, he took a Bart Starr pass 62 yards for a score that gave Green Bay a 13-0 lead en route to a 33-14 rout of the Oakland Raiders. After retiring, Dowler worked as an assistant coach for four NFL teams in the 1970s and 1980s. He was elected to the NFL's All-Decade team of the 1960s and to Packers Hall of Fame in 1978.
Claude Humphrey*
Statistics
Position: Defensive End
Teams: Atlanta Falcons 1968-1978, Philadelphia Eagles 1979-1981
Bio: Humble off the field but taking no prisoners on it, Claude Humphrey was a dominant, physical force who made life miserable for opposing offenses. He decimated running plays and collapsed pockets with his brute strength, quickness, and superior pass rushing capabilities. After starring on Tennessee A&I (now Tennessee State) teams that went undefeated in both 1965 and 1966 and won the black national championship the latter year, Humphrey was drafted third overall in 1968 by the Atlanta Falcons. Atlanta won just two games in his rookie year but Humphrey was named Defensive Rookie of the Year Award by the Associated Press and second team all-NFL by the Football News. The tandem of Humphrey and all-pro linebacker Tommy Nobis improved the Falcons defense to a top ten unit through 1973. A few years later, Humphrey anchored the Falcons' famed "Gritz Blitz" defense that set a record for fewest points allowed in a 14-game season in 1977 with 129. The Falcons that year also led the league in fewest passing yards allowed by a wide margin. Traded to Philadelphia in 1979 following a temporary retirement, Humphrey was part of Eagles' teams that made the playoffs three years in a row including 1980 when they won the NFC championship. Humphrey played his entire career before sacks were an official stat and he finished with an unofficial total of 126.5, with personal highs of 15 and 14.5 in 1976 and 1980, respectively. All told, he was named first team all-NFL by at least one major media outlet five times (1971-74, 1977 and second team three times (1968-70). Humphrey was also named to the Pro Bowl six times (1970-1974, 1977). In 2008, Humphrey was inducted to the Falcons Ring of Honor. Humphrey was enshrined in the Pro Football Hall of Fame in 2014 five years after he was elected to the Hall of Very Good.
Ken Kavanaugh
Statistics
Position: End
Teams: Chicago Bears 1940-1941 and 1945-1950
Bio: pro football's most dangerous deep receiving threats of the 1940s. Drafted by the Bears in the third round in 1940, he passed on a minor league baseball contract offer to sign with Chicago. He had an immediate impact in 1940-41 with a combined nine touchdown grabs on just 23 receptions and an average of 25.7 per catch as Chicago won back-to-back NFL titles. Kavanaugh caught a touchdown pass in both Championship Games. After three years in the Air Force, he returned to football in 1945 and caught another touchdown pass in the Bears' 1946 NFL title game victory. Kavanaugh had his best season in 1947 when he averaged 25.6 yards per catch, led the league with 13 receiving touchdowns and set a personal best with 818 receiving yards. He also led the league in receiving touchdowns in 1949. Kavanaugh was a first team selection on several all-NFL teams in 1946 and was a consensus all-NFL first teamer in 1947 when he was also named first team on one of the combined all-AAFC/NFL teams. In 1948, he was a second team all-NFL choice. For his career, Kavanaugh scored touchdowns on a remarkable 31 percent of his receptions. He averaged 22.4 yards per catch, one of the highest marks in NFL history though not a record because Kavanaugh had fewer than the required number of receptions. His 50 touchdown receptions is still the Bears' franchise record. Kavanaugh was an assistant coach with the Giants during their glory years of the late 1950s and early 1960s. He was voted to the 1940s all-decade team and in 2019 as one of the 100 Greatest Bears of all-time.
Verne Lewellen
Statistics
Position: Halfback
Teams: Green Bay Packers 1924-1927, New York Yankees 1927, Green Bay Packers 1928-1932
Bio: One of the greatest scorers and all-around players of the 1920s, Verne Lewellen was a versatile standout on Curly Lambeau's Green Bay Packers. Lewellen was a rusher, receiver, passer, and star punter who helped Green Bay post a .752 winning percentage (79-26-10) in his nine seasons with the team. Lewellen played college football at Nebraska and Jim Crowley, one of Notre Dame's Four Horsemen, encouraged Lambeau to sign him. A scoring machine, Lewellen racked up 307 career points, most at the time. His league record of 50 touchdowns was not surpassed until 1941. By 1929, the Packers were the NFL's best team and they won the league championship that year as well as in 1930 and 1931. They are one of only two teams in NFL history to win three league titles in a row. Lewellen and teammates Lavvie Dilweg, Mike Michalske, and Johnny Blood gave the Packers the best offense in the league. One of Lewellen's signature moments was in a 20-6 victory over the New York Giants in 1929 when he rotated from quarterback to halfback. His all-around play and sharp punting skills were significant factors in the win. Lewellen was unofficially credited with 681 career punts for an average of 39.5 yards. Former teammate Charlie Mathys said of him, "Defensively, offensively – of the players we had in the old days, he [Lewellen] was number one." Lewellen twice led the NFL in both touchdowns and rushing touchdowns. He was a second team all-pro in 1925 and a consensus first teamer all four years from 1926 through 1929. He worked in the Green Bay front office for many years including during the 1960s dynasty and was inducted into the Packers Hall of Fame in 1970.
Walt Sweeney
Statistics
Position: Guard
Teams: San Diego Chargers 1963-1973, Washington Redskins 1974-1975
Bio: Walt Sweeney demonstrated versatility and strength as an offensive lineman for 13 seasons in the AFL and NFL. He was a good enough end and guard at Syracuse to be named to the Orange's all-20th Century team and was selected by the San Diego Chargers in the eighth round of the 1963 AFL draft. In his rookie year he played on what arguably is the best team in Chargers history as San Diego went 11-3 and beat the Boston Patriots, 51-10, for the AFL title. San Diego also played in the next two AFL Championship Games in 1964 and 1965, losing both times to Buffalo. Sweeney and tackle Ron Mix anchored the line on high-octane offenses that also featured Lance Alworth, John Hadl, and Keith Lincoln. Sweeney was an intimidating presence at 6'4", 256 pounds and Hall of Fame defensive tackle lineman Merlin Olsen once stated he'd "rather sell used cars" than line up against Sweeney every play. The Chargers led the AFL in many offensive categories during his prime including most points (1963 and 1965), total yards (1963, 1965), rushing yards (1963, 1965), passing yards (1965, 1968) and yards per rush (1963, 1969). He was a first team all-AFL selection in 1967, 1968 and 1969, all-AFL second team in 1965, earned some first team all-NFL honors in 1970 after the merger and some second team honors in 1971 and 1972. Sweeney played in six straight AFL All-Star Games (1964-69) followed by three consecutive Pro Bowls (1970-72). He was also named to the all-time AFL second team. The Chargers elected him to their Hall of Fame in 1981 and to their 50th Anniversary Team in 2009. After football, Sweeney became a drug counselor in San Diego in the 1980s.
Entire Hall of Very Good
Class of:
2022, 2021, 2020, 2019, 2018, 2017, 2016, 2015, 2014, 2013, 2012, 2011, 2010, 2009, 2008, 2007, 2006, 2005, 2004, 2003
*Voted into the Pro Football Hall of Fame after induction into the Hall of Very Good.