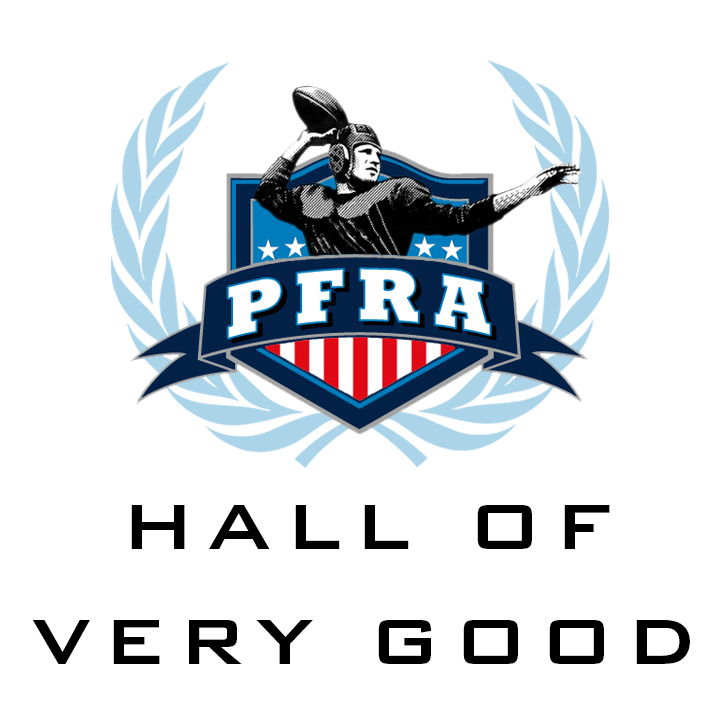 CLASS OF 2012
Begun in 2002, the Hall of Very Good seeks to honor outstanding players and coaches who are not in the Hall of Fame.
Bill Bergey
Statistics
Position: Linebacker
Teams: Cincinnati Bengals 1969-1973, Philadelphia Eagles 1974-1980
Bio: Bill Bergey started his career in the AFL with the second year Bengals. He made an immediate impact, earning a spot in the AFL All-Star Game as a rookie. He became one of the top middle linebackers in the game during his five seasons in Cincinnati. In 1974, Bergey signed a three year "future contract" with Virginia of the World Football League that was to begin in 1976. His signing caused the NFL's first lawsuit against the WFL and the fallout led to the Bengals trading him to the Eagles. With the Eagles, Bergey earned four trips to the Pro Bowl, was named a 1st-team All-Pro by at least one major selector four times and was named the Eagles MVP three times. He helped the Eagles make the playoffs in each of his final three seasons, earning a trip to Super Bowl XV, his final NFL game. He had 233 tackles one year and once held the record for interceptions in a season by a linebacker with five. He is regarded as one of the best defensive players in team history by both the Bengals and Eagles.
Curley Culp*
Statistics
Position: Defensive Tackle
Teams: Chiefs, Oilers, Lions 1968-81
Bio: Curley Culp was a college wrestling champion who utilized his great strength and quickness as one of the first modern era nose tackles and perhaps the greatest 3-4 tackle ever. The effectiveness of lining up directly over center was never more apparent than in his dominating performance in Super Bowl 4 when the Chiefs overpowered the Vikings. At the end of that 1969 season, Culp was named to play in the AFL All-Star Game. Culp continued as a standout in Kansas City but was traded to Houston in 1974 after he signed to play in the World Football League beginning in 1975. When the WFL folded, Culp remained in Houston and earned Pro Bowl and regular all-pro and all-AFC honors five straight years (1975-79) as the Oilers made it to two straight AFC Championship Games. Especially noteworthy was his 1975 season when he was a unanimous first team all-pro and NEA's Defensive Player of the Year. In 2000, The Sporting News named Culp to both the Chief and Oiler all-century teams.
Kenny Easley*
Statistics
Position: Safety
Teams: Seattle Seahawks 1981-87
Bio: Kenny Easley made an immediate impact in Seattle in 1981 as the AFC Defensive Rookie of the Year. Two years later, he was named AFC Defensive Player of the Year as the Seahawks advanced to the AFC Championship Game in their first-ever playoff season. He was NFL Defensive Player of the Year and again led the Seahawks to the playoffs in 1984. Easley led the NFL with 10 interceptions that year including three in one game and followed up a week later with a pick-six, one of an incredible four Seattle INT touchdown returns in a 45-0 defensive manhandling of the Chiefs. Easley was a first team all-pro four times (1982-85) and was named to the NFL's 1980's all-decade team. The first of the injuries that curtailed his career occurred in 1986 and he retired in 1988 even though he was all-AFC and a Pro Bowler for the fifth time in 1987. Easley finished with 32 interceptions in seven seasons. He was inducted into the Seahawks Ring of Honor and was named to the Seahawks all-time team in 2010.
Lester Hayes
Statistics
Position: Defensive Back
Teams: Oakland/Los Angeles Raiders 1977-86
Bio:Lester Hayes was "the quintessential corner," according to longtime NFL executive Ron Wolf. "He had size, speed, competitiveness, quickness, awareness and a burning desire to succeed. A gifted athlete. Strong. Loved to play the game." Hayes's ability to shut down top receivers one-on-one was a key to the Raiders defensive success during his ten-year career. One of his most noteworthy performances was in Super Bowl 18 when he and fellow corner Mike Haynes stifled Washington's high-powered passing attack in a Raiders' rout. The Raiders won two Super Bowls and finished with the best record in the AFC in two other seasons during Hayes' career. He intercepted 18 passes in 1980 – 13 in the regular season (the second highest total in pro football history) and five in the postseason. He was a unanimous all-pro selection that year, a consensus choice in 1983 and was named to at least one all-pro team several other times. Hayes was named to five consecutive Pro Bowls after the 1980-84 seasons and his eight career postseason INTs are the second highest all-time total.
Jack Kemp
Statistics
Position: Quarterback
Teams: Pittsburgh Steelers (1957); Los Angeles/San Diego Chargers (1960-62); Buffalo Bills (1962-69)
Bio:Until 1962, the Buffalo Bills were a ship without a sail. In their first three years in the American Football League, they had failed to make the playoffs. That all changed after Jack Kemp was acquired during the '62 season. From 1963 through 1966, the strong-armed quarterback guided the Bills to four straight post-season appearances and two league titles, Buffalo's only championships to date. He also quarterbacked the Chargers to back-to-back division titles in 1960-61. Kemp was a four-time all-AFL selection, appeared in seven AFL All-Star games, and was named the league's Most Valuable Player in 1965. He was one of only twenty men who played in the AFL for its entire ten-year existence Kemp was also instrumental in forming the AFL Players' Association, and was elected the organization's president five times, where he gained valuable experience that served him well in his second career on the national political stage.
Eddie Meador
Statistics
Scouting Report
Position: Defensive Back
Teams: Los Angeles Rams 1959-70
Bio: Widely unheralded during his collegiate career at tiny Arkansas Tech, defensive back Eddie Meador went on to appear in eight Pro Bowls and was a member of the NFL's all-1960's team. A 7th round draft pick, he was voted the Rams' Defensive Rookie of the Year. Meador was a force in the Rams secondary throughout his career and still holds team career records for interceptions (46), opponents fumbles recovered (18) and blocked kicks (10). Meador was voted the Rams "defensive back of the year" seven times and was named to the Rams All-Time team in both 1970 and 1985. The late Merlin Olsen, a long-time teammate, said Meador "was one of the finest defensive backs I have ever seen. Outstanding in coverage and a fierce tackler, he had a remarkable nose for the football that allowed him to come up with big plays again and again during his career." Meador was awarded the Whizzer White Humanitarian Award and the NFL Father of the Year Award in 1969.
L.C. Greenwood
Statistics
Position: Defensive End
Teams: Pittsburgh Steelers 1969-81
Bio: Drafted by the Pittsburgh Steelers in the tenth round of the 1969 draft, L.C. Greenwood was one of the four members of the famous Steel Curtain defense of the 1970s ('Mean' Joe Greene, Ernie Holmes, and Dwight White). His height and quickness helped him block three of Fran Tarkenton's passes in Super Bowl IX. Greenwood earned six trips to the Pro Bowl in his 13 years in the league. He was named to the All-Decade team of the 1970s and the Steelers won seven division titles (they were tied with Cincinnati for the 1973 division title, but was in second place due to tiebreakers) and four Super Bowl championships during his tenure. He was named to the Super Bowl Silver Anniversary team and the Pittsburgh Steelers' All-Time team. According to records kept by the Pittsburgh Steelers, Greenwood retired with 73.5 sacks, good for second place behind Jason Gildon (77.0) and ahead of Greene (66.0). His best season was 1973 with eleven sacks. (These totals are unofficial). Greenwood also retired with 16 fumble recoveries, tied for fourth in Steeler's history.
Ray Wietecha
Statistics
Position: Center
Teams: New York Giants 1953-62
Bio:Ray Wietecha was in the middle of an excellent offensive line that included standouts Jack Stroud and all-time great Roosevelt Brown on many outstanding Giants teams. As center, Wietecha's responsibilities included calling blocking assignments at the line of scrimmage and he took great pride in the cohesion of New York's line. He was also well known around the NFL for being able to long-snap without looking. The prototype lunch-pail player, Wietecha never missed a game in his ten seasons as the Giants finished first five times and won one NFL championship. He was named to four Pro Bowls and earned consensus first team all-pro honors in 1958 as well as some second team honors in five other seasons. Though certain he likely could have played several more years, Wietecha retired after the 1962 season and embarked on a long second career as an assistant coach, the highlight of which was a stint with the Packers that included three consecutive championships in 1965-67. Wietecha passed away in 2002 at age 74.
Swede Youngstrom
Statistics
Position: Guard
Teams: Buffalo All-Americans/Bisons (1920-25), Canton Bulldogs (1921), Cleveland Bulldogs (1925), Frankford Yellow jackets (1926-27)
Bio:Guard Adolf 'Swede' Youngstrom was the anchor of the forward phalanx that cleared the way for the great Buffalo All-American/Bison teams that amassed an overall 34-15-7 record in the NFL's first five seasons. Along the way, the All-Americans twice finished within one game of the league title (1920 and '21). Youngstrom was credited (unofficially) with blocking nine punts in 1920, and scored the game-winning touchdown after blocking Jim Thorpe's punt and recovering it in the end zone when the All-Americans defeated the Canton Bulldogs in the first pro game ever played in New York's Polo Grounds. Youngstrom was a three-time All-Pro (1923-25) and never missed a game in his six seasons in Buffalo. He also spent two seasons with the Frankford Yellow Jackets, winning a league title in 1926. He was, quite possibly, the best guard of his era, considering that the only guards in the Pro Football Hall of Fame who played during the 1920s - Mike Michalske and Walt Kiesling - actually played the majority of their careers in the 1930s.
Entire Hall of Very Good
Class of:
2022, 2021, 2020, 2019, 2018, 2017, 2016, 2015, 2014, 2013, 2012, 2011, 2010, 2009, 2008, 2007, 2006, 2005, 2004, 2003
*Voted into the Pro Football Hall of Fame after induction into the Hall of Very Good.