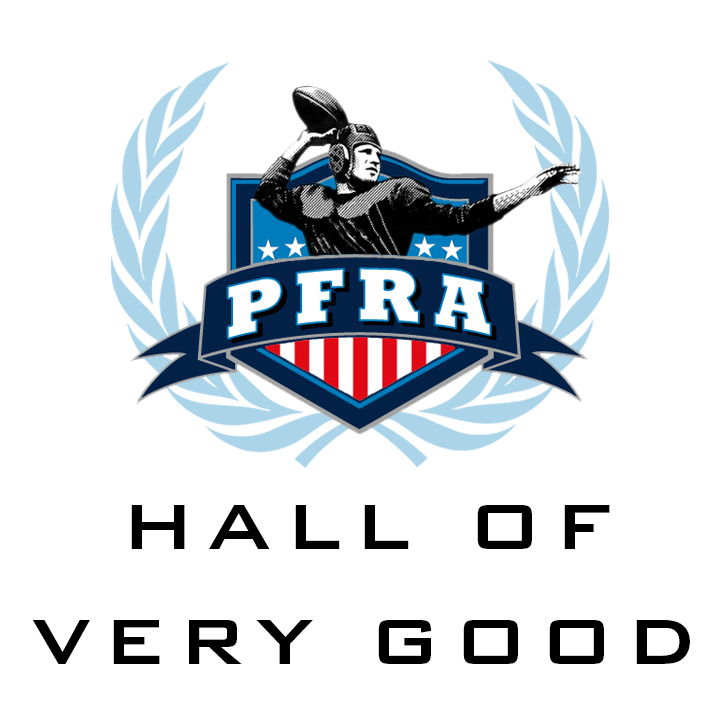 CLASS OF 2013
Begun in 2002, the Hall of Very Good seeks to honor outstanding players and coaches who are not in the Hall of Fame.
Erich Barnes
Statistics
Position: Defensive Back
Teams: Chicago Bears (1958–-60), New York Giants (1961–-64), Cleveland Browns (1965–-71)
Bio: Though he never played on a champion, Erich Barnes was no stranger to team success. Eight times during his career, his team finished in first place, and the winning percentage of the teams he played for was a sterling .675. Barnes was named to six Pro Bowls, including four in a row from 1961–64, was a regular on all-conference teams throughout his career, and is one of a handful of players named to the Pro Bowl with three different teams. Barnes intercepted 45 passes in his career, returned seven for touchdowns and led the NFL in interception return yards in 1961 on seven picks that included one of 102 yards. In all, he scored 10 touchdowns, including one in 1961 on one of his two career pass receptions, a 62-yarder from Y.A. Tittle. Barnes was also an ironman, playing in all but two games from 1958–1970.
Mike Curtis
Statistics
Scouting Report
Position: Linebacker
Teams: Baltimore Colts (1965–-75), Seattle Seahawks (1976), Washington Redskins (1977–-78)
Bio: When Mike Curtis moved from fullback to linebacker in 1966, he became one of the most feared defensive players of his era, both at outside linebacker and then in the middle. In 1968 he was selected to the first of his four Pro Bowls and earned first-team All-NFL honors as the Colts advanced to the Super Bowl. Curtis was moved to middle linebacker in 1969, where he would also excel, being named first-team all-conference in his first season at the new position. In 1970, Curtis was selected AFC Defensive Player of the Year by one news agency and led the Colts back to the Super Bowl. Against Dallas, he intercepted a pass with a minute left and the score tied to set up the game-winning field goal. Taken in the 1976 expansion draft by Seattle, Curtis was Seattle's first defensive captain and blocked a field goal to preserve the franchise's first win. He was second-team all-AFC three times and finished his career with the Redskins.
Roman Gabriel
Statistics
Position: Quarterback
Teams: Los Angeles Rams (1962–-72), Philadelphia Eagles (1973–-77)
Bio: Though he played well early in his career, it took Roman Gabriel five seasons to establish himself as the Rams' starting quarterback. The team's reluctance to make him the full-time starter is baffling considering the Rams went 11-11-1 in games he started from 1962–65 and 4-27-2 otherwise. Gabriel came into his own in 1966 under George Allen as Los Angeles posted its first winning season since 1958. Gabriel made three straight Pro Bowls from 1967–69 as the Rams went 32-7-3 and won two division titles. He capped off the decade by winning the NFL's MVP Award in 1969. His success continued into the 1970s with the Rams and, after a trade, the Eagles, as he led the league in passing yards and TD passes in 1973, earning the Comeback Player of the Year Award as well as his fourth Pro Bowl bid. Gabriel's size and strength made him very difficult to sack, and his 3.3 career interception percentage was the best of all time when he retired.
Cookie Gilchrist
Statistics
Position: Fullback
Teams: Buffalo Bills (1962–-64), Denver Broncos (1965 and 1967), Miami Dolphins (1966)
Bio: Cookie Gilchrist played six brilliant years in the CFL, where he was as versatile as he was talented, playing fullback, linebacker, placekicker, punter and kick returner. He was runner-up for the CFL's Most Outstanding Player Award in 1960 and was an all-star selection for five of his six CFL seasons. In his first year with the Bills, Gilchrist became the AFL's first 1,000-yard rusher and was named league MVP. Gilchrist set a single-game rushing record in 1963 with 243 yards and five TDs in leading the Bills to their first playoff appearance. He led the AFL in rushing again in 1964 and added 122 yards in the title game victory. After a trade to Denver, he finished second in rushing in the AFL in 1965. Gilchrist led the AFL in rushing TDs four years in a row, including a total of 25 in 1962–63, and he averaged 1,000 yards per season in those four years and was a unanimous all-AFL choice three times and a second-teamer once.
Bob Kuechenberg
Statistics
Positions: Guard/Tackle
Teams: Miami Dolphins (1970–-83)
Bio: Bob Kuechenberg is the only player to suit up for all five Miami Dolphins Super Bowl teams. He was a mainstay on the back-to-back world champions of 1972–1973, including the team that went 17-0 in the 1972 season, becoming professional football's last team with a perfect record and the only team to do so in the Super Bowl era. That year, Kuechenberg and his offensive linemates led the way as running backs Larry Csonka and Mercury Morris both reached the 1,000-yard rushing milestone, the first NFL teammates to do so in the same season. Kuechenberg was very durable during his long career. He played in every game in 12 of his 14 seasons and missed only five games total during his professional career. He was named to the Pro Bowl six times and to a variety of All-Pro and All-AFC teams in a number of seasons. "When I broke in," Hall of Fame guard Joe DeLamielleure once said, "Kuechenberg was the best in the business and I modeled my play after him."
Daryle Lamonica
Statistics
Position: Quarterback
Teams: Buffalo Bills (1963–-66), Oakland Raiders (1967–-74)
Bio: After four seasons in Buffalo as Jack Kemp's backup, Daryle Lamonica was traded to Oakland in what is still lamented as the worst trade in Bills history. Lamonica was only 25 and always seemed to play spectacularly in relief of Kemp. Many felt Buffalo had traded away its future and, based on his performance with Oakland, those feelings were justified, for as the Bills' fortunes declined, Lamonica and the Raiders flourished. In his very first year in Oakland, Lamonica became the Mad Bomber as he threw for 3,228 yards and 30 touchdowns, led the Raiders to a 13-1 record and a trip to the Super Bowl, and was named the AFL's MVP. In his first three seasons with the Raiders, he passed for 9,775 yards and 89 TDs and claimed a second MVP Award in 1969 as Oakland compiled a 37-4-1 record (.902). For his career, his record as a starter was 66-16-4 for an astonishing winning percentage of .784, second best in history behind Otto Graham's .810.
Lemar Parrish
Statistics
Position: Defensive Back
Teams: Cincinnati Bengals (1970–-77), Washington Redskins (1979–-81), Buffalo Bills (1982)
Bio: Eight-time Pro Bowler Lemar Parrish was one of the standout cornerbacks of the 1970s. He teamed with fellow defensive backs Ken Riley and Tommy Casanova to give the Cincinnati Bengals one of the best secondaries of the decade. He intercepted 47 passes in his professional career, five of which he returned for touchdowns. He also scored eight other touchdowns: five on kick returns and three on fumble recoveries. His pick total included seven interceptions in 1970 and nine in 1979, when he was second in the league. Parrish also played special teams and was a stellar return man, leading the NFL in punt returns in 1974 with an average of 18.8 yards and two touchdowns, including one of 90 yards. In addition to his Pro Bowl honors, he was a regular All-AFC selection while with Cincinnati. After being traded to the Washington Redskins, Parrish was a unanimous All-Pro in 1979 and a consensus choice in 1980. He finished his professional career with Buffalo in 1982.
Donnie Shell*
Statistics
Position: Defensive Back
Teams: Pittsburgh Steelers (1974–-87)
Bio: As an undrafted free agent out of South Carolina State, Donnie Shell first made his mark as one of the top special teams players in the league. Earning the nickname the "Human Torpedo," he gained the respect of his teammates and coaches and was named the first special teams captain in Steelers history in 1976. After becoming a starting safety for Pittsburgh's famed Steel Curtain defense the following year, Shell was selected to the Pro Bowl five consecutive times (1978–1982), and he was a first-team All-Pro three times, a second teamer twice. Shell was a vicious tackler and excellent in run support, but it's his 51 career interceptions that stand out. When he retired in 1987, he led the league in interceptions from the strong safety position, and only one NFL player had more interceptions in the same period (1974–1987). He was the Steelers MVP in 1980 and was named to both the franchise's 50th and 75th anniversary all-time teams. In addition, he played on four Steelers Super Bowl –winning teams and was named to the Silver Anniversary Super Bowl team in 1990.
Jim Tyrer
Statistics
Position: Tackle
Teams: Dallas Texans/Kansas City Chiefs (1961–-73), Washington Redskins (1974)
Bio: At 6'6" and 280 pounds, Jim Tyrer was the prototype of the huge offensive linemen that dominate the game today. He used his size and strength to great advantage in becoming one of the best offensive tackles of all time. The Texans won the AFL championship in 1962 and again in 1966 and 1969, after the franchise moved to Kansas City. That run culminated with a rousing victory in Super Bowl IV, when Tyrer and his linemates dominated Minnesota's great defensive front four that included Hall of Famers Alan Page and Carl Eller. Tyrer was selected to play in seven AFL All-Star games as well as the first two Pro Bowls after the 1970 merger. In addition, he was a fixture on All-AFL teams, earning first-team honors eight straight years from 1962–69, and was named to the combined All-AFL/NFL first team in 1969. Tyrer, who died in 1980, was also a unanimous first-team All-Pro in 1970 and 1971 and was named one of the offensive tackles on the AFL's all-time team.
Entire Hall of Very Good
Class of:
2022, 2021, 2020, 2019, 2018, 2017, 2016, 2015, 2014, 2013, 2012, 2011, 2010, 2009, 2008, 2007, 2006, 2005, 2004, 2003
*Voted into the Pro Football Hall of Fame after induction into the Hall of Very Good.