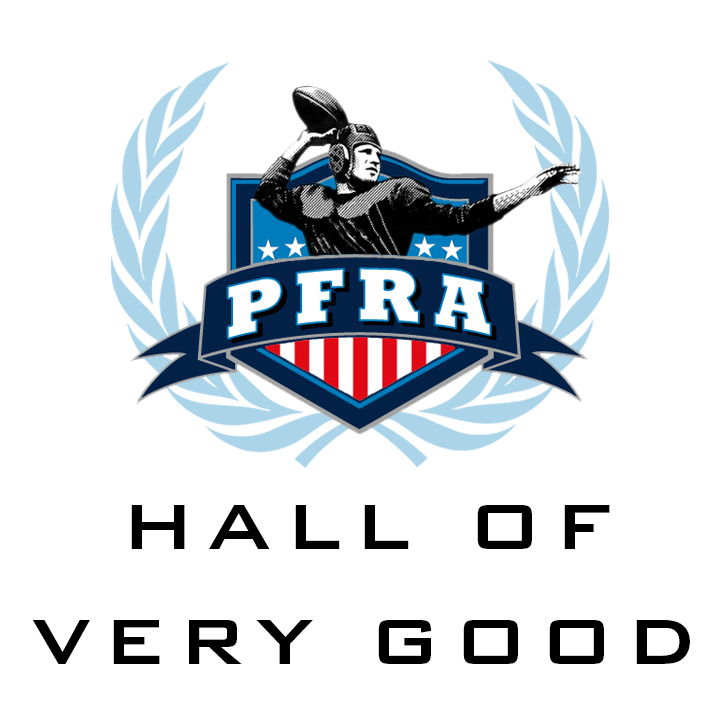 CLASS OF 2014
Begun in 2002, the Hall of Very Good seeks to honor outstanding players and coaches who are not in the Hall of Fame.
Larry Brown
Statistics
Position: Running Back
Teams: Washington Redskins (1969-76)
Bio: Brown rushed for a team record 888 yards his rookie season, earning his first of four consecutive Pro Bowl nods. He topped that by leading the NFL in rushing in 1970 and then led the league in yards from scrimmage and earned MVP honors in 1972 as the Redskins had their best season since the 1940's. Brown was a fearless runner who never avoided contact and that style served him well for five years. After leading the NFL in touchdowns in 1973, however, his production diminished and he retired after eight seasons. Along the way, he was a unanimous 1st team all-pro in 1970 and 1972 and a 2nd teamer in 1971. Brown is one of 46 members of the Redskins Ring of Fame.
Nolan Cromwell
Statistics
Position: Defensive Back
Teams: Los Angeles Rams (1977-87)
Bio: Nolan Cromwell was named to four consecutive Pro Bowls (1980-83) and was a consensus 1st team all-pro in three of those seasons during his 11-year career with the Los Angeles Rams. When he retired, Cromwell held the team record with 671 interception return yards on 37 picks, four of which he returned for touchdowns. The Rams won four division titles during his career, were a wildcard team four other times and made it to three NFC Championship Games as well as Super Bowl XIV. Cromwell played in over 100 straight games from the start of his career and missed only six games in his career. He was named to the second team of the NFL's All-Decade Team of the 1980s as well as the Los Angeles Rams all-time team named by the Los Angeles Times in 1985. After retiring as a player, Cromwell went into coaching, with stints with the Rams, Packers, Seahawks and Browns, among others.
Larry Grantham
Statistics
Position: Linebacker
Teams: New York Titans/Jets (1960-72)
Bio: Larry Grantham was a regular on the AFL all-league teams throughout the decade of the 1960's including four straight years as a unanimous 1st team selection (1961-64). He also played in five AFL All-Star Games in a 13-season career with the New York Titans/Jets in which he missed only three starts. Grantham intercepted 24 career passes from his OLB position. In Super Bowl III, Grantham and the Jets defense dominated the powerful Baltimore Colts offense to bring home the only championship in franchise history. He was named to 2nd team of the All-Time AFL team and was part of the second class named to the Jets Ring of Honor in 2011.
Charley Hennigan
Statistics
Position: Wide Receiver
Teams: Houston Oilers (1960-66)
Bio: Charlie Hennigan was an integral part of the glory years of the Houston Oilers as the team won the first two AFL championships (1960-61) and made it to the title game in 1962. In seven years with the Oilers, Hennigan led the league in receptions once (1964, with a major league record 101 receptions) and in receiving yards in 1961 with 1,746 yards (also a major league record that stood for 34 years) and 1964 with 1,546 yards. Hennigan was named to five straight AFL All-Star Games and was a unanimous All-AFL first teamer three times. When the AFL's all-time team was selected, he was named to the second team. Nearly five decades after his last game, he still holds several Oiler/Titan franchise receiving records.
Harlon Hill
Statistics
Position: Wide Receiver
Teams: Chicago Bears (1954-61), Detroit Lions (1962), Pittsburgh Steelers (1962)
Bio: Harlon Hill was a sensation when he broke in as a 15th round draft choice out of little known North Alabama University in 1954. In his rookie season, Hill set a Chicago Bears team record for receiving yards with 1,124 while leading the NFL with an eye-popping average of 25 yards per catch and 12 TD catches (one per game). He led the league in touchdowns again in 1955 and yards per catch in 1956. For his injury-shortened career, Hill averaged 20.2 yards a catch and one TD grab for every 5.8 receptions, marks that are both among the best all-time. Hill's accomplishments earned him three straight Pro Bowl selections (1954-56) and two unanimous and one consensus first team all-pro selection for the same years. In 1955, he won the NEA's NFL Player of the Year award and was also named by The Sporting News to the Bears all-time team. Esteemed football writer Paul Zimmerman once called Hill the Lance Alworth of the 1950's.
Winston Hill*
Statistics
Scouting Report
Position: Tackle
Teams: New York Jets (1963-76), Los Angeles Rams (1977)
Bio: Hill started 174 consecutive games on his way to four AFL All-Star Games and four Pro Bowls in a 15-year career. His consecutive game streak was good for tenth all-time when he retired. Not only was he known for his durability, but his abilities landed him to the AFL All-Time second team. Hill was the lynchpin of the Jets offensive line as they won back to back AFL East titles in 1968-69 and Super Bowl III. When the Jets began their Ring of Honor in 2010, Hill was part of the first class honored, along with Joe Klecko and Hall of Famers Weeb Ewbank, Joe Namath, Don Maynard and Curtis Martin.
George Kunz
Statistics
Position: Tackle
Teams: Atlanta Falcons (1969-74), Baltimore Colts (1975-80)
Bio: After a stellar career at Notre Dame where he played on the 1966 NCAA national champions, George Kunz was drafted second behind O.J. Simpson in the combined 1969 NFL/AFL draft. During his six seasons with the Falcons, Kunz was one of Atlanta's few bright spots, as he received some all-pro and all-conference honors three straight years (1972-74). He was traded to the up and coming Colts, who won the AFC East in his first three seasons in Baltimore (1975-77), years in which Kunz earned more all-pro honors including consensus first team in 1975. When Kunz missed all but one game in 1978 because of injuries, the Colts fell to 5-11 and last place. All told, he was named to eight Pro Bowls and he's one of a small number of players named to three or more with two teams (five with the Falcons and three with the Colts). Seven of those Pro Bowl selections were consecutive (1971-77).
Ken Stabler*
Statistics
Position: Quarterback
Teams: Oakland Raiders (1970-79), Houston Oilers (1980-81), New Orleans Saints (1982-84)
Bio: During his 15-year career, Ken Stabler led the NFL in a number of passing categories. He finished first in touchdown passes in 1974 and 1976, completion percentage in 1973 and 1976 and in yards per attempt in 1976. In addition, he ranked first in passer rating in 1976, a year he led the Raiders to their first Super Bowl victory. In Stabler's first five seasons as Oakland's starting quarterback, the Raiders won four AFC West titles and earned one wildcard berth. The AP and NEA named Stabler MVP/Player of the Year in 1974 and the Pro Football Writers of America did likewise in 1976. He was first team all-pro twice including unanimously in 1974 and was also named to four Pro Bowls. When the Hall of Fame voters named the all-1970's team, Stabler was picked as the second team quarterback.
Entire Hall of Very Good
Class of:
2022, 2021, 2020, 2019, 2018, 2017, 2016, 2015, 2014, 2013, 2012, 2011, 2010, 2009, 2008, 2007, 2006, 2005, 2004, 2003
*Voted into the Pro Football Hall of Fame after induction into the Hall of Very Good.