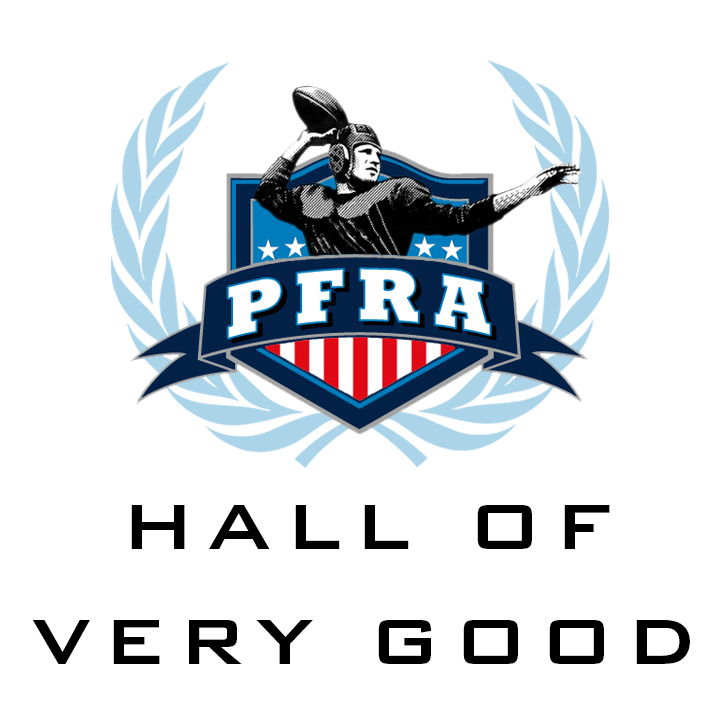 Begun in 2002, the Hall of Very Good seeks to honor outstanding players and coaches who are not in the Hall of Fame.
CLASS OF 2015
Alan Ameche
Statistics
Position: Fullback
Teams: Baltimore Colts (1955-60)
Bio: After winning the Heisman Trophy in 1954 at the University of Wisconsin, Alan Ameche was selected by the Baltimore Colts with the third overall pick in the 1955 draft. He had the ideal combination of speed and power for an NFL fullback and ran 79 yards for a touchdown on his first NFL carry. Ameche went on to lead the league in rushing yards, yards from scrimmage, touchdowns and rushing touchdowns as a rookie and was selected to the all-pro first team by all the major media outlets. He was fourth in rushing yards in 1956 and second in 1958, and was also a receiving threat who caught more passes than any NFL fullback in both 1955 and 1956. As the Colts added Raymond Berry, Lenny Moore and John Unitas, Ameche became less central to their offense but remained a regular on the all-pro teams for four years after 1955 and was selected to the Pro Bowl in four consecutive seasons (1955-58). The Colts rose from doormats to contenders in 1957 when they were in contention in the Western Conference until the final day, and then won NFL championships in 1958 and 1959. Ameche scored one of the most famous touchdowns in football history, the championship-winning score in overtime against the Giants in the 1958 title game. Ameche played in 70 straight games from the start of his career until suffering what turned out to be a career-ending injury in 1960. The Colts were in first place that year in pursuit of a third straight title when he tore his Achilles tendon. Baltimore fell out of contention and Ameche retired after just six seasons. He was named to the NFL's all-decade team of the 1950s.
Rick Casares
Statistics
Position: Fullback
Teams: Chicago Bears (1955-64), Washington Redskins (1965), Miami Dolphins (1966)
Bio: Selected 18th overall by the Chicago Bears in the 1954 NFL draft, Rick Casares made an immediate impact in Chicago in 1955 after finishing a stint in the military. He scored on an 81-yard touchdown run on his very first NFL carry and led the league in yards per rush with 5.4 as a rookie. Casares led the Bears in rushing yards each season from 1955 through 1960 and topped the NFL by a wide margin in 1956 when he amassed 1,126 yards good for 4.8 yards per carry. He also led the league that year with 14 touchdowns and 12 rushing touchdowns. His yardage total was just 20 yards shy of the NFL single-season rushing record and the Bears won the Western Conference, though they lost to the Giants in the NFL title game. Casares spent ten years with the Bears and was the team's all-time leader with 5,657 rushing yards and 49 rushing touchdowns until Walter Payton. He was also a productive receiver whose receptions and yards were among the best among NFL fullbacks during his prime years, with highs of 32 catches and 290 yards in 1958. He made five consecutive Pro Bowl appearances, was a first team all-pro in 1956 and a second team all-pro several other times. The Bears were contenders for much of his stay in Chicago and in 1963 he provided veteran leadership as the team won the NFL championship. He went on to play one season each with the NFL's Washington Redskins and the AFL expansion Miami Dolphins. When the Bears marked their centennial in 2019 by naming the 100 best players in franchise history, Casares was 29th, ahead of a number of Hall of Famers.
Bill Forester
Statistics
Positions: Linebacker/Middle Guard
Teams: Green Bay Packers (1953-63)
Bio: The 1950s were bleak times for the Green Bay Packers and linebacker Bill Forester was one of their few bright spots. He was only 20 years old when he was drafted in the third round by the Packers, and he earned a starting job as a rookie in 1953. From his outside linebacker position, Forester was equally adept at stuffing the run and defending the pass. He intercepted 21 passes in his career and in 1955 and 1957 led all NFL linebackers in picks with four each season. When the Packers became contenders in 1959, Forester began to earn postseason honors as he was named to four straight Pro Bowls (1959-62). He was also a first team all-pro three straight years (1960-62) and earned second team honors in 1959 and 1963. Forester, Dan Currie and Ray Nitschke were an outstanding linebacking trio and the heart of a Green Bay defense that led the NFL in a number of categories during Forester's prime years including fewest points allowed (1962), fewest passing yards allowed (1962), fewest rushing touchdowns allowed (1960, 1962) and fewest passing touchdowns allowed (1962, 1963). The Green Bay defense did not allow a single offensive score to the high-powered Giants in either the 1961 or 1962 Championship Games. Forester and his defensive mates were especially dominant in the 1961 title game as they allowed just 31 rushing yards and 99 net passing yards while pitching a 37-0 shutout. Green Bay posted a 50-15-1 record from 1959-63 and came within a half game of winning four straight conference crowns when they posted an 11-2-1 record in 1963, Forester's last season. in his last four seasons. Forester was elected to the Packers Hall of Fame in 1974.
Rich Jackson
Statistics
Positions: Defensive End/Linebacker
Teams: Oakland Raiders (1966), Denver Broncos (1967-72), Cleveland Browns (1972)
Bio: The trading of Rich Jackson was one of the few personnel mistakes Al Davis ever made. Undrafted out of Southern University, Jackson played five games for the Oakland Raiders in 1966. He was traded the following year to the Denver Broncos and soon became one of the best defensive ends in the American Football League and in the post-1970 merger NFL. The esteemed Paul Zimmerman, a long-time football writer for Sports Illustrated, has called Jackson one of the very best DEs he's ever seen. Jackson's accomplishments while he was healthy bear out that judgement. He was all-AFL in 1968 and 1969 including to all of the all-league teams in 1969 and was picked to play in the AFL All-Star game both seasons. Jackson continued his elite play in 1970 when he was picked to every all-pro team and for part of 1971. He suffered a severe knee injury halfway through the 1971 season, however, and was never the same. He was traded to the Cleveland Browns during the 1972 season and retired at the end of the year.
Chuck Knox
Statistics
Position: Head Coach
Teams: Los Angeles Rams (1973-77), Buffalo Bills (1978-82), Seattle Seahawks (1983-91), Los Angeles Rams (1992-94)
Bio: Chuck Knox was a believer in sound, fundamental football, including a run-first, ball-control offense that observers labeled "Ground Chuck." He combined his conservative offensive approach with aggressive defenses to compile a career head-coaching record of 186-147-1 and seven division titles in 22 seasons. Knox is the only coach in league history to win a division title with three different teams and he won Coach of the Year honors three times (1973, 1980 and 1984). In 1973, Knox coached the Rams to a superlative 12-2 record in his first season as a head coach one year after they finished 6-7-1. The Rams also posted a 12-2 record in 1975, finished first in the NFC West in all five of Knox's years in Los Angeles and advanced to the NFC Championship Game three straight years (1974-76). In the playoffs, Knox's teams scored road victories over higher-seeded opponents in 1981 and 1983. With the Rams, he experienced the disappointment of three playoff losses to teams with inferior records (1973, 1975 and 1977). Overall, his postseason record was 7-11 including 0-4 in conference championship games. He was enshrined in the Seattle Seahawks Ring of Honor in 2005.
Ted Nesser
Statistics
Position: Head Coach/Center
Teams: Columbus Panhandles (1920-21)
Bio: The Nesser brothers were among the biggest stars of pro football during the 1900s and 1910s. Six of them were long time members of the Columbus Panhandles, and some historians have argued that Ted Nesser may have been the best player of the bunch. He played just about every position during his career, most notably at tackle. All of the brothers were renowned for their toughness, but Ted may have been the toughest of the bunch. During a 1908 contest, he broke his arm in two places. He didn't want to leave the field, despite the fact that the bone was protruding through the skin. He claimed to have broken his nose eight times. Nesser was also considered a great leader and an innovator. He developed several plays – the triple pass, the criss-cross, and the short kickoff – that quickly became part of the standard playbook. By the time the NFL was formed in 1920, Ted was 37-years old. He spent two more years as the Panhandles' player coach. He was the team's center in 1921, snapping the ball to his son Charlie, the starting tailback.
Gene Washington
Statistics
Position: Wide Receiver
Teams: San Francisco 49ers (1969-77), Detroit Lions (1979)
Bio: Gene Washington was an integral part of the 49ers transformation from a sub-.500 team to division winners for the first time in franchise history 1970. Possessed of outstanding speed, Washington was an immediate deep threat and remained one for most of his career. As a rookie, he finished in the top ten in receptions, the first of many times he would be among the league leaders in the important receiving categories. He made the Pro Bowl, was a second team all-pro and was named to The Sporting News all-rookie team. Washington's best season was probably 1970 as the 49ers won the NFC West and he finished first in receiving yards, fourth in touchdowns, second in receiving touchdowns and seventh in yards per catch. He again made the Pro Bowl and was a first teamer on all the all-pro squads. Washington had another excellent season in 1971 when he ranked fifth in receiving yards and among the leaders in other categories. He was named first team all-NFC, second team all-pro and to the Pro Bowl, and his 78-yard touchdown catch was the big play in a playoff win over Washington. Washington had another big year in 1972 when he led the NFL in touchdown receptions, finished third in receiving yards and fifth in yards per catch with a stellar 20.0 mark, earning first team all-pro and Pro Bowl honors. The 49ers won the NFC West in both 1971 and 1972 for the second and third straight times. He had outstanding career marks in yards per catch with 17.8 and in TDs per catch with one every 6.25 receptions. Washington enjoyed a second career as an actor and was for many years the NFL's Director of Football Operations.
Entire Hall of Very Good
Class of:
2022, 2021, 2020, 2019, 2018, 2017, 2016, 2015, 2014, 2013, 2012, 2011, 2010, 2009, 2008, 2007, 2006, 2005, 2004, 2003
*Voted into the Pro Football Hall of Fame after induction into the Hall of Very Good.