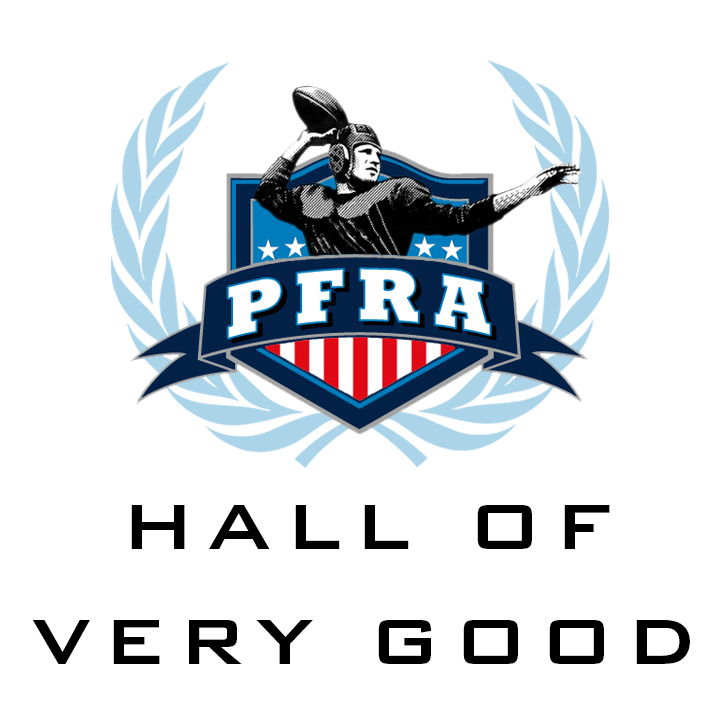 CLASS OF 2016
Begun in 2002, the Hall of Very Good seeks to honor outstanding players and coaches who are not in the Hall of Fame.
Gary Collins
Statistics
Positions: Wide Receiver/Punter
Teams: Cleveland Browns (1962-71)
Bio: The fourth overall pick in the 1962 draft, Gary Collins established himself as a top receiver in 1963 when he set a Cleveland Browns' team record with 13 touchdown receptions, a total that led the NFL. He next made his mark in the 1964 NFL Championship Game when he caught three touchdown passes of 18, 42 and 51 yards, and five passes in all good for 130 yards as Cleveland defeated the Baltimore Colts, 27-0. Collins also caught touchdown passes in the 1965 and 1969 title game defeats to the Green Bay Packers and Minnesota Vikings. In the 1965 regular season, Collins caught 50 passes good for a 17.7 yard average and 10 touchdowns, was selected to the first of his two Pro Bowls and was also named a first team all-pro by both the UPI and the New York Daily News. Tall at 6'4" and sure-handed, Collins had his best season and again made the Pro Bowl in 1966 as he finished seventh in the NFL with 56 receptions good for 16.9 yards per catch. His 12 touchdown catches was second best in the NFL and marked the third of four times in his career that he was in double digits in scoring receptions. In 1969, Collins was selected to the first team of the AP and UPI's all-pro teams after grabbing 54 passes and 11 touchdowns. For his career, Collins averaged one touchdown every 4.7 receptions. He was also Cleveland's punter for his first six seasons and led the NFL in 1965 with a 46.7 gross average. Collins is a member of the NFL's all-decade team of the 1960's and was inducted into the Browns Ring of Honor in 2004.
Gale Gillingham
Statistics
Position: Guard
Teams: Green Bay Packers (1966-76)
Bio: The most heralded new Packers in 1966 were running backs Donny Anderson and Jim Grabowski, hailed at the time as the heirs to Jim Taylor and Paul Hornung, but the best player to join Green Bay that year was probably guard Gale Gillingham. A Wisconsin native, Gillingham became a Packer in the last years of their dynasty of the 1960's as Green Bay won Super Bowls I and II in his first two seasons. He shared duty with Fuzzy Thurston as a rookie before taking over at left guard for the injured Thurston in 1967. Gillingham moved to right guard in 1969 after Jerry Kramer's retirement and led the Packers sweep as well as either of his famed linemates. He remained a standout as the Packers went into decline, making the playoffs only once more during his career. Gillingham was one of a few players of his era who was an avid weightlifter and it showed in his strength as a blocker. He began as a rookie at 255 pounds and bulked up in his career to 275. He had all the other attributes of an elite guard: quickness, good balance, smarts and an explosive start that made him adept at both pulling and pass blocking. Gillingham missed all but two games in 1972 to injury after being switched to defensive tackle, sat out 1975 because of a contract dispute and retired after the 1976 season. He was named to five Pro Bowls, earned first team all-pro honors in 1969 (AP, NEA), 1970 (AP, NEA) and 1974 (NEA) as well as second team and all-NFC honors in several other seasons. He was inducted into the Packers Hall of Fame in 1982.
Jim Katcavage
Statistics
Positions: Defensive End/Defensive Tackle
Teams: New York Giants (1956-68)
Bio: Legend has it that Giants' fans of the late 1950's were the first to exhort the home team with chants of DE-FENSE and Jim Katcavage was a big part of the defensive unit's success. Though overshadowed by fellow defensive end Andy Robustelli and middle linebacker Sam Huff, Jim Katcavage was nonetheless a key part of that defense from his left end position. Sack totals from Katcavage's era are considered unofficial but he posted outstanding numbers during his peak years including consecutive years in 1962-63 when he led the NFL with 17 and 20.5. John Turney, a football historian and leading expert on defensive line play, believes Katcavage would have contended for Defensive Player of the Year in 1963 had the award existed. He also ranked fourth with 13.5 sacks in 1964 and had 10 in 1961 and 9 in 1967. The Giants won the East six times and the NFL title in 1956 during Katcavage's career. Along the way, he was instrumental in New York's leading the NFL in fewest points in 1958, 1959 and 1961, fewest yards in 1956 and 1959, fewest rushing yards in 1956 and 1959, fewest passing yards in 1958 and 1959 and most sack yardage in 1956 and 1963. The 1959 Giants are one of only a handful of teams to rank first in both fewest rushing and passing yards allowed in the same season. Katcavage was a consensus first team all-pro in 1961 (AP, UPI, New York Daily News), 1962 (UPI, NEA) and 1963 (AP, UPI, New York Daily News) and was selected to the Pro Bowl the same three years. He played in all 112 games of the last eight seasons of his career.
Joe Klecko
Statistics
Position: Defensive Line
Teams: New York Jets (1977-87), Indianapolis Colts (1988)
Bio: Not your average Joe, Joseph Edward Klecko was an extremely talented athlete who was a two-time NCAA club heavyweight boxing champion at Temple, as well as a football standout. Part of the famed New York Sack Exchange, he was a force for the Jets at end, tackle and nose tackle. Klecko had an unofficial 10.5 sacks at end in 1980 and then had a landmark season in 1981 when he led the NFL with 20.5, was named first team on all of the all-pro teams, to the Pro Bowl and as Defensive Player of the Year by the NEA and Pro Football Weekly. The Jets 66 sacks and 518 sack yards led the NFL by large margins and they made the playoffs for the first time since 1969 and did so three more times in his time with the team, advancing to the AFC title game in 1982. After missing most of 1982, Klecko moved to tackle and made the Pro Bowl in 1983 and 1984 and again as a nose tackle in 1985 when he was also a first-teamer on virtually all of the all-pro teams. He was a stalwart against the run while playing inside, often demanding the attention of two or three blockers and thus allowing his linemates, Mark Gastineau in particular, to go full tilt after the passer. Klecko and Frank Gifford are the only two players named to the Pro Bowl at three different positions. He missed much time to injury in 1986 and 1987 and finished with the Colts in 1988. Klecko was the third player in Jets history to have his number retired and one of the inaugural class of the Jets Ring of Honor in 2010, a group that included four Hall of Famers.
Harvey Martin
Statistics
Position: Defensive End
Teams: Dallas Cowboys (1973-83)
Bio: Durable Harvey Martin missed exactly one game in his 11-year NFL career. He became a full-time starter in 1975, his third season, as the young Cowboys surprised the NFL and made it to the Super Bowl. He had a break-out season in 1976 with 14.5 sacks, fifth best in the NFL, and was selected to the Pro Bowl as Dallas won the NFC East with an 11-3 mark. Martin had 20 sacks in 1977, most in the NFL, and was again named to the Pro Bowl, to the first team of all of the major all-pro teams, and as the NFL's Defensive Player of the Year by the AP, NEA and Pro Football Weekly. He also earned co-MVP honors in Super Bowl 12 with linemate Randy White as Dallas held Denver to 156 yards and a mere 35 net passing yards in a 27-10 Cowboys victory. Martin had another great season in 1978 with 14.5 sacks, fifth best in the league, as Dallas made it to the Super Bowl for the third time in his four years as a starter. The Cowboys led the NFL in fewest rushing yards allowed that year and also led in fewest yards allowed per rush once (1974) and fewest total yards allowed once (1977) during Martin's career. He had 12 sacks in 1980 for sixth best in the league, and eight in the strike-shortened 1982 season to place fifth. In 22 post- season games, Martin had 17.5 sacks and four fumble recoveries as Dallas made the playoffs in 10 of 11 seasons with a 116-43 record (.730) in his career. In all, he was named to four straight Pro Bowls, 1976-79, as well as to the second team of the all-1970's team by the Hall of Fame.
Don Perkins
Statistics
Position: Running Back
Teams: Dallas Cowboys (1961-68)
Bio: Don Perkins played in college for Marv Levy, who has called him one of the greatest players he ever coached. Perkins was one of few bright spots in the early years of the Cowboys, earning a spot in the Pro Bowl in each of his first three seasons and all-conference honors in 1961 and 1962. A slashing runner, Perkins was very effective running inside and was a tremendous blocker despite weighing only 200 pounds. As measured by yards from scrimmage, he had his best year as a rookie when he ranked sixth in the league with 815 yards rushing and an additional 298 on 32 receptions. He posted 1049 yards from scrimmage in 1962 including 945 rushing that ranked fifth in the NFL as he was named to the first team of the AP and NEA's all-pro teams. Perkins was still going strong in 1966 when the Cowboys won the East, as he placed eighth in the NFL with 726 rushing yards and returned to the Pro Bowl. He rushed for 111 yards and a key touchdown in a big Thanksgiving Day victory over Cleveland, and 108 yards in the title game loss to Green Bay. He was fifth in rushing with 823 yards in 1967, added 74 and two TDs in a playoff rout of the Browns and was the leading ground gainer in the Ice Bowl. In 1968, Perkins was sixth in rushing with 836 yards and was named to the Pro Bowl for the sixth time. He ranked sixth on the all-time NFL rushing list when he retired and is third behind only Emmitt Smith and Tony Dorsett on Dallas's all-time list. He was inducted into the Cowboys Ring of Honor in 1976.
Duane Putnam
Statistics
Position: Guard
Teams: Los Angeles Rams (1952-59 and 1962), Dallas Cowboys (1960), Cleveland Browns (1961)
Bio: Overlooked historically, as offensive linemen often are, Duane Putnam may be the greatest overlooked player of what Mickey Herskowitz called the golden age of pro football. He was also overshadowed by the many outstanding teammates on the Los Angeles offenses of that era including Bob Waterfield, Tom Fears, Elroy Hirsch, Norm van Brocklin, Jon Arnett aand Ollie Matson. Putnam served two years in the army after high school and was thus 24 when he began his NFL career. Lighter than many guards of his era at 230 pounds, he displayed tremendous speed and quickness while leading sweeps. The Rams led the NFL in many offensive categories during his eight years with the team including points (1952, 1957), total yards (1954, 1957), yards per rush (1953, 1956, 1959), passing yards (1956, 1958), rushing yards (1957), and fewest yards lost on sacks (1952, 1953, 1954). Overall, the Rams had the most yards and points during those eight seasons. Putnam's postseason honors speak volumes about his abilities, starting with the five consecutive Pro Bowls he was named to in 1954-58. He was also named to the first team of at least one of the major all-pro squads in five consecutive seasons (1955-59) including being selected to every team in 1957 and 1958 and as a consensus choice in 1955 and 1956. Teammates Dan Towler (1952) and Jim Brown (1961) won rushing titles running behind Putnam. He never played on a champion but the Rams won the West in 1955 and tied for first with the Lions in 1952 before losing in a playoff. Putnam was an offensive line coach for 12 years for the Falcons, Eagles and Cardinals as well as in 1974 for the Philadelphia Bell of the World Football League.
Isiah Robertson
Statistics
Position: Linebacker
Teams: Los Angeles Rams (1971-78), Buffalo Bills (1979-82)
Bio: First round draft choice Isiah Robertson made an immediate impact as a rookie with the Los Angeles Rams in 1971, winning Defensive Rookie of the Year awards from both Pro Football Weekly as selected by the Pro Football Writers of America and the Associated Press. He was also selected to the Pro Bowl and to The Sporting News' and Dr. Z's all-NFC teams. Possessed with blazing speed, he was a rugged defender from his outside backer position as well as a playmaker whose 25 interceptions are tied for 13th among linebackers in pro football history. He scored four regular season defensive touchdowns and another in a 1974 playoff win over Washington. Robertson was very durable, playing in every game in 11 of his 12 seasons, 168 of a possible 171 games in his career and 13 playoff games. During his peak years from 1973-78, the Rams posted a 66-19-1 record (.773), won the NFC West all six seasons and played in four NFC Championship Games. The Rams led the NFL in numerous defensive categories during that time including fewest rushing yards allowed twice, fewest first downs against three times and fewest points allowed twice including a mere 9.6 per game in 1975. In those six seasons, Robertson was named to five Pro Bowls and as a first team all-pro by the AP in 1973, the Football News in 1974, the Newspaper Enterprise Association and Pro Football Weekly in 1975 and the AP in 1976, as well as to numerous all-NFC and second team all-pro teams. Robertson was re-united with former Rams head coach Chuck Knox in Buffalo after a 1979 trade and the Bills made the playoffs in all three of his seasons with the team.
Louis Wright
Statistics
Position: Cornerback
Teams: Denver Broncos (1975-86)
Bio: A perfect blend of size and speed. Athletic, physical and a shutdown corner who was excellent in run support. These words describe a premier cornerback of his time, Louis Wright. Wright was a standout in football and track and field at Bakersfield High School. He was inducted into the school's football Hall of Fame in 2007 as well as the Kern County Sports Hall of Fame. After stints at Arizona State and Bakersfield College, he attended San Jose State and played two seasons of football and ran track. After his senior season, Wright was selected 2nd-team All-American and played in the East-West Shrine Game, Senior Bowl and Chicago All-Star Game. He is a member of the San Jose State Sports Hall of Fame and Spartan Stadium Ring of Honor. Wright was drafted in the 1st round by the Broncos in 1975 and spent his entire career with Denver on teams that made six playoff appearances, won four AFC West titles and made it to two Super Bowls. He was one of the best defenders on Denver's famed Orange Crush defense, earning 1st-team all-pro honors in 1978, 1979, 1983 and 1984 and 2nd-team honors in 1977, the same year he was chosen Football Digest's Defensive Back of the Year. He was 1st-team all-AFC in 1977, 1978, 1979, 1984 and 1985 and was 2nd-team all-AFC in 1980 and 1981. He was also a five-time Pro Bowl selection and was voted second-team on the 1970s All-Decade team. Denver led the NFL in fewest rushing yards in 1977 and 1979, fewest yards per rush in 1977 and 1979, and fewest points in 1977. Wright was selected to the Broncos Ring of Fame in 1993.
Entire Hall of Very Good
Class of:
2022, 2021, 2020, 2019, 2018, 2017, 2016, 2015, 2014, 2013, 2012, 2011, 2010, 2009, 2008, 2007, 2006, 2005, 2004, 2003
*Voted into the Pro Football Hall of Fame after induction into the Hall of Very Good.