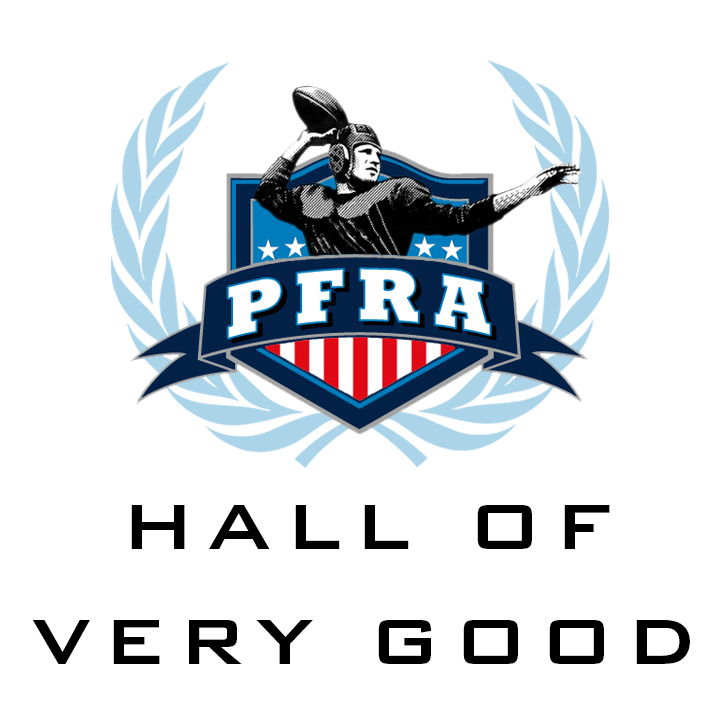 CLASS OF 2018
Begun in 2002, the Hall of Very Good seeks to honor outstanding players and coaches who are not in the Hall of Fame.
Lyle Alzado
Statistics
Position: Defensive End
Teams: Denver Broncos (1971-78), Cleveland Browns (1979-81), Los Angeles Raiders (1982-85)
Bio: Lyle Martin Alzado was a boy who worked most of his life to support his family and played defensive line in high school. Alzado received no scholarship offers and walked on at NAIA Yankton College in South Dakota. Because Alzado was undersized, he had to work harder than everyone else to succeed. He was drafted in the fourth round, 79th overall, in the 1971 NFL Draft by the Denver Broncos. Alzado led the team in tackles in 1972 with 91, and had an impressive 31-game sack streak, from 1975-75. The Broncos rose to a top ten defense in 1976, led by Alzado, and the unit earned the famed moniker, "Orange Crush." In 1977 Denver made the playoffs for the first time, reaching Super Bowl XII. Alzado teamed with Rubin Carter, and the duo recorded two sacks in each of their postseason games. Alzado also earned All-Pro and Pro Bowl honors that year, and was named the AFC Defensive Player of the Year. He was Pro Bowl worthy again in 1978, but Denver traded him to the Browns in 1979 for draft picks. In Cleveland, Alzado retained his All-Pro form in 1980 as he led the Browns with nine sacks in 1980 and 8.5 in 1981. In 1982, Alzado was traded back west to th eLos Angeles Raiders, earning the NFL Comeback Player of the Year honors. Alzado anchored a stout Raider defense in 1983, recording seven sacks, part of a team effort 57, second in the league. The Raiders rode that defense to a Super Bowl XVIII championship. Alzado recorded six sacks in 1984, but his 1985 season was cut short due to an Achilles injury. He finished his 15-year career with 112.5 sacks and 24 forced fumbles in 197 games.
Dick Anderson
Statistics
Position: Safety
Teams: Miami Dolphins (1968-77)
Bio: Richard Paul (Dick) Anderson was a stalwart strong safety who had a decorated NFL career with the Miami Dolphins. Anderson played collegiate ball at the University of Colorado, where he earned consensus All-American status and set a school record with 14 interceptions. Anderson was selected by the Dolphins in the third round, 68th overall, in the 1968 AFL Draft. As a rookie, he had an eye for the ball, nabbing eight interceptions, earning him AFL Defensive Rookie of the Year honors. In 1970, Anderson again hauled in eight interceptions as Miami notched its first winning season, going 10-4. Miami rose to a top five defense in 1971, making a playoff run that led to being Super Bowl VI runner-up. Anderson was named to the Pro Bowl and voted as First Team All-Pro in 1972, aiding the Dolphins to a perfect 17-0 season and Super Bowl VII championship. The next year was a special season for Anderson, as he became the seventh player in NFL history to intercept four passes in a game, with two returned for scores. Anderson also led the league with eight interceptions, sending him to th ePro Bowl and First Team All-Pro honors once again. Miami repeated as Super Bowl VIII champions. Anderson was again chosen to the Pro Bowl in 1974. He missed all of 1975 due to injury and his final two seasons in 1976 and 1977 were also cut short due to injuries. While hurt, Anderson served as the NFLPA president through his retirement in 1977. Among his other accolades, Anderson was named to the NFL's All-Decade Team of the 1970s and elected to the Miami Dolphins Honor Roll in 2006.
Ken Gray
Statistics
Positions: Defensive End, Guard
Teams: Chicago/St. Louis Cardinals (1958-69), Houston Oilers (1970)
Bio: Kenneth Don Gray was born March 10, 1936 in San Saba, Texas and developed a lifelong passion for football at a young age. Gray was a standout running back and defensive lineman at Llano High School and was awarded a scholarship to Howard Payne University. He was a four-year letterman from 1954-1957 and earned All-Lone Star Converence, All-Texas College and Little All-American honors. He graduated with a bachelor's degree in history and was inducted in the HPU Sports Hall of Fame in 1986. He was drafted in the sixth round, 62nd overall, of the 1958 NFL Draft by the Green Bay Packers. After being released by the Packers as one of the final cuts, he was contacted by multiple NFL teams before deciding to sign with the Chicago Cardinals. He spent the early part of his career playing on both sides of the line before settling at offensive guard. Gray would go on to earn six Pro Bowl selections, receive All-NFL recognition as first-team, second-team or honorable mention every year between 1962 and 1969 and also finish third in the 1964 Outstanding Blocker Award voting. Following his retirement, Gray remained in football as a coach. He was the head coach for his high school alma mater from 1973-75. He also coached in the professional ranks as the Denver Broncos offensive line coach in 1977 and 1978. Gray finished his coaching career spending two seasons as the head coach of Rockdale High School in 1987 and 1988. He was inducted into the Texas Sports Hall of Fame in 2016.
Lee Roy Jordan
Statistics
Positions: Linebacker
Teams: Dallas Cowboys (1963-76)
Bio: Not to be confused with the internet meme of Leeroy Jenkins, Lee Roy Jordan came into the NFL as an All-American linebacker for Alabama, and his career is still a beacon to strive for among the Cowboys lineup. A five-time Pro Bowler (1967-1969, 1973, 1974) and All-Pro (1969), he had a fourteen-year career with the Dallas Cowboys and now runs a family lumber company. An outstanding fullback at Excel High School in Alabama, he was recruited to the Crimson Tide as a linebacker and center under the tutelage of Paul "Bear" Bryant and was inducted into the College Football Hall of Fame in 1983. In the 1963 draft, Jordan was selected sixth overall by the NFL Cowboys and fourteenth overall by the AFL's Boston Patriots. He chose Dallas, and was the first rookie to start a season opener for the franchise. He teamed up with Chuck Howley and Dave Edwards to form an enviable linebacking corps and was nicknamed "Killer," making team captain for the defense. His contract included a projector for his home to study game film. In 1973, he intercepted three passes from the Cincinnati Bengals' Ken Anderson, which went on to become a top ten play in Texas Stadium by ESPN in 2008. He had a career 743 solo tackles, 18 fumble recoveries, and 32 interceptions. He was selected to the Cowboys' Silver Season All-Time team in 1989 and was the first player to be inducted by Jerry Jones into the Dallas Cowboys Ring of Honor.
Earl Morrall
Statistics
Position: Quarterback
Teams: San Francisco 49ers (1956), Pittsburgh Steelers (1957-58), Detroit Lions (1958-64), New York Giants (1965-67), Baltimore Colts (1968-71), Miami Dolphins (1972-76)
Bio: Earl Morrall played 21 seasons, and was his team's nominal starting quarterback on many of them, going 63-36-3 as a starter.However, it was his role as a backup signal caller that made the Muskegon Michigan native a legend. Morrall spent his first 11 seasons in and out of the starting role before landing in Baltimore as Johnny Unitas' understudy. When Unitas was knocked out in th epreseason with an elbow injury, Morrall stepped in and guided the Colts to a magical 13-1 season that was spoiled by what many consider the greatest upset in league history, as the AFL's New York Jets beat Baltimore in Super Bowl III. Morrall was named league MVP in 1968 and finally earned a Super Bowl Ring with the Colts in 1970 as he led two second-half scoring drives, including the game-winning field goal with seconds left. Don Shula, who had been the Colts head coach in 1968, took over the Miami Dolphins in 1970. In need of a reliable backup to Bob Griese in 1972, Shula brought in Morrall, and it proved a masterstroke. With Griese sidelined by injury, Morrall started nine regular season games as the Dolphins posted the NFL's first 14-0 season. He earned his second Super Bowl ring and notched a third in 1973 when Miami repeated as Super Bowl champions. Shula proclaimed Morrall "the perfect backup for the perfect team." He also earned All-Pro honors twice, in 1968 and 1972, and was selected to the Pro Bowl in 1957 and 1968.
Ralph Neely
Statistics
Position: Offensive Tackle
Teams: Dallas Cowboys (1965-77)
Bio: Standing 6'6", 265 pounds, much like the fictional character "Wreck-It-Ralph," Ralph Neely wrecked opposing defensive fronts as a member of the Dallas Cowboys for thirteen seasons. Neely discovered his love for football in high school, starring as an All-State tackle in New Mexico. He was recruited to Oklahoma, where he earned Big Eight All-Conference and All-American status in 1963 and 1964. Originally drafteed by the Baltimore Colts in 1965, Neely was traded to Dallas for Billy Lothridge and a 1966 fourth round draft selection. He made an immediate impact starting at right tackle, earning NFL All-Rookie honors. As Dallas rose to prominence, Neely was named to four consecutive All-Pro teams, from 1966 to 1969, and two Pro Bowls in 1967 and 1969. He anchored the line, and opened running lanes for backs Walt Garrison, Calvin Hill, and Duane Thomas. By 1969, the Cowboys had the NFL's top-ranked rushing attack, retaining it again in 1970, as the Cowboys reached Super Bowl V. Because of his versatility, the Cowboys shifted Neely to right guard that year. Neely played in only seven games in 1971 when he suffered a fractured leg in a motorcycle accident, but Dallas went on to win Super Bowl VI. Neely returned in 1972 filling in at left tackle due to the departure of Tony Liscio in the trade that brought Lance Alworth to Dallas. Neely retired after the 1977 season, as Dallas beat Denver in Super Bowl XII. Upon his retirement, Neely was selected to the NFL's 1960s All-Decade Team.
Fred Smerlas
Statistics
Position: Nose Tackle
Teams: Buffalo Bills (1979-89), San Francisco 49ers (1990), New England Patriots (1991-92)
Bio: A fearless, animated lad, Frederic Charles Smerlas was a high school standout in both football and wrestling. His athletic versatility led him to collegiate football at Boston College, molding him into a stout defensive lineman. Smerlas was selected with the 32nd pick in the 1979 NFL Draft by the Buffalo Bills, anchoring the defensive line at nose tackle. Smerlas turned around the Buffalo defense in 1980, earning the first of five Pro Bowl selections (1980-83 and 1988) and the first of four All-Pro picks in just his second season. As a result, the Bills rose to the league's top ranked defense, yielding only 256 yards per contest. Buffalo improved from 7-9 to 11-5, notching its first division title since 1966. Smerlas went on to team with linebackers Shane Nelson and Jim Haslett to form the famed "Bermuda Triangle." The trio engulfed opposing ball carriers attempting to run, combining for 269 tackles. Smerlas was best remembered for his field goal block against the New York Jets that led Buffalo to a division-clinching vistory in 1988. His contract was not renewed by the Bills after the 1989 season, and he signed with San Francisco as a free agent, where he played just six games in 1990. Smerlas finished his career playing the 1991 and 1992 seasons with the New England Patriots, starting in just one contest. Smerlas was loved by the fans of Buffalo and helped the Bills emerge from cellar-dwellers to four playoff appearances in 1980, 1981, 1988, and 1989, while starting 110 consecutive games. He was inducted into the Greater Buffalo Sports Hall of Fame in 2000.
Entire Hall of Very Good
Class of:
2022, 2021, 2020, 2019, 2018, 2017, 2016, 2015, 2014, 2013, 2012, 2011, 2010, 2009, 2008, 2007, 2006, 2005, 2004, 2003
*Voted into the Pro Football Hall of Fame after induction into the Hall of Very Good.