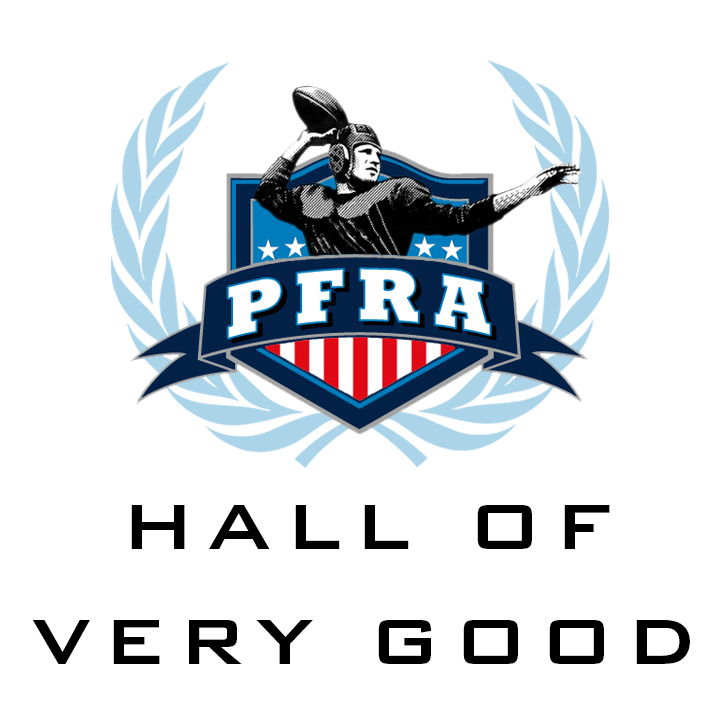 CLASS OF 2019
Begun in 2002, the Hall of Very Good seeks to honor outstanding players and coaches who are not in the Hall of Fame.
Joey Browner
Statistics
Position: Strong Safety
Teams: Minnesota Vikings (1983-1991), Tampa Bay Buccaneers (1992)
Bio: Hailing from a family that produced six NFL players, Joey Browner starred as an All-American in high school, an honor that led him to play college ball at the University of Southern California. In four seasons at USC, Browner led the Trojans to a 36-8-1 mark, including team MVP honors during his senior season in 1982. Browner was drafted in the first-round by the Minnesota Vikings, nineteenth overall, in 1983, where he starred on special teams in his first two seasons. Browner moved to strong safety in 1985, racking up 137 tackles, forcing four fumbles, and earning the first of his six consecutive Pro Bowl selections. From 1986-1990, Browner averaged 104 tackles and five interceptions per season. He had great range, solid tackling skills, and his super strong hands often slammed ball carriers to the ground. The Vikings often used the SAM linebacker to set the edge, so Browner could fill the hole, which he did well. Browner's hard work earned him three first-team All Pro selections in 1987, 1988, and in 1990. He anchored a top 10 defense that made a Conference Championship Game appearance in 1987, and an 11-5 mark in 1988. Browner finished his career with the Tampa Bay Buccaneers in 1992. In total, Browner was a Second-Team All-Decade in the 1980s, nabbed 37 career interceptions, and finished his career with over 1,100 total tackles. In 2013, Browner was inducted into the Vikings' Ring of Honor and named one of the 50 Greatest Vikings.
Deron Cherry
Statistics
Position: Free Safety
Teams: Kansas City Chiefs (1981-1991)
Bio: A two-time AP All-East honor recipient at Rutgers University in 1979 and 1980, Deron Cherry starred as a free safety and punter on the football team. Cherry went undrafted after life at Rutgers, despite his great range, outstanding versatility, and aggressive ball skills. In 1981, he signed with the Kansas City Chiefs as a free agent. Cherry served as a backup safety for the first two years of his career and was a valuable special teams player. In fact, Cherry had to lobby head coach Marv Levy to stay on the team by expressing, "I can play both safety positions and I can punt" essentially saying he can save roster space by being versatile. Levy was convinced. Cherry broke out in 1983, totaling 93 tackles, picking off seven passes, forcing a pair of fumbles en route to earning first-team All-Pro honors. Over the next three seasons, Cherry averaged 100 tackles, 20 passes defensed, and just over seven interceptions, culminating in two more first-team All-Pro selections (1986 & 1988). In 1988, Cherry forced 13 total turnovers. Cherry's success hinged on his study of opponent tendencies, reading the quarterback without peer, finishing his career with 50 passes intercepted. Cherry earned Pro Bowl honors on six occasions (1983-1988) and was named First or Second-Team All-AFC seven times. He was also Second-Team All-Decade of the 1980s, elected to the Kansas City Chiefs Hall of Fame, and recipient of the Byron "Whizzer" White NFL Man of the Year Award in 1987.
Roger Craig
Statistics
Positions: Running Back
Teams: San Francisco 49ers (1983-1990), Los Angeles Raiders (1991), Minnesota Vikings (1992-1993)
Bio: Roger Craig was drafted in 1983 by the San Francisco 49ers in the second round with, appropriately, the 49th pick (their first in that draft). Fast and elusive with excellent hands, he was the ideal back for coach Bill Walsh's "West Coast Offense." Playing at fullback for four years before switching over to halfback, Craig won Pro Bowl honors at both positions. From either position, his signature play was the swing pass, catching a perfectly timed Joe Montana throw, and turning up the sideline for positive yardage. Craig's trademark running style, churning his knees as high as his waist, was instantly recognizable on his signature run, made against the Rams on October 16, 1988. Roger eluded or ran through several tackles en route to a 46-yard touchdown, on a day in which he carried for 190 yards, and scored all three touchdowns in a 24-21 San Francisco victory. Perhaps his greatest achievement came in 1985 when he became the first player in NFL history to exceed 1,000 yards both rushing and receiving. Other career highlights include scoring three touchdowns (the first to do so) in Super Bowl XIX, AP Offensive Player of the Year and first team All-Pro honors in 1988 and, of course, he won three Super Bowls as a member of the San Francisco 49ers. Roger finished his 11 year career (1983-90 with the 49ers, 1991 Raiders, 1992-1993 Vikings) with 8,189 yards rushing, 4,911 yards receiving and 73 TDs. He was elected to the NFL's All-Decade Team for the 1980's.
Abner Haynes
Statistics
Positions: Running Back
Teams: Dallas Texans (1960-1963), Kansas City Chiefs (1963-1964), Denver Broncos (1965-1966), New York Jets (1967), Miami Dolphins (1967)
Bio: Abner Haynes was the newly founded AFL's first star, winning the rushing title, Rookie of the Year, and Player of the Year awards in 1960. That year, Abner ran for 875 yards, totaled 576 receiving yards, led the league in punt return yards (215), and returned kicks for another 434 yards. Haynes topped the league in combined yards at 2100, leading the Texans to a 8-6 record and second place in the AFL West. In 1961, the Texans fell to 6-8 (still good for 2nd place in the AFL West) but Abner continued to star with a combined total of 1,865 yards. On November 26, 1961 he scored five touchdowns, four of them rushing as the Texans walloped the rival Raiders 43-11. In 1962, Abner rushed for 1,049 yards and 13 touchdowns with a total of 1,622 yards from scrimmage and 19 touchdowns (then a pro football record), leading the Texans to the AFL championship. Abner played eight years in the AFL (1960-64 with the Texans/Chiefs, 1965 and 1966 with the Broncos and 1967 with the Jets and Dolphins) and retired as the AFL's career leader in all-purpose yards (12,065), including 4,630 rushing (with 46 TDs), 3,535 receiving (20 TDs), 3,025 returning kick offs (1) and 875 returning punts (1). He was all AFL 4 seasons (1960-62 and 1964), elected to the All-Time AFL Team at running back and his number has been retired by the Chiefs. In 1991, he was inducted into the Kansas City Chiefs Hall of Fame.
Joe Jacoby
Statistics
Position: Tackle
Teams: Washington Redskins (1981-1993)
Bio: Known by some as the greatest Washington Redskin to not be a member of the Pro Football Hall of Fame, Joseph Erwin Jacoby was a stalwart of the reknown "Hogs" offensive line throughout the 1980s and early 1990s. Jacoby teamed with Jeff Bostic, Mark May, George Starke, and Russ Grimm to form one of the greatest front fives in NFL history. Undrafted out of the University of Louisville, Jacoby signed a free agent contract with the Redskins in 1981. Over a thirteen year career with Washington, Jacoby contributed to the success of the Redskins' run game. Prior to his arrival, Washington ranked 13th in the league in rushing yards and posted a 6-10 record. Two years later, Washington climbed to a Top 10 rushing attack, and an 8-1 mark, becoming Super Bowl XVII champions. It was Jacoby's pivotal block on John Riggins' 43-yard touchdown run that gave the Redskins a 20-17 lead, en route to a 27-17 victory. The Hogs largely contributed to such a ranking they would maintain for four of the next five seasons. In 1991, Washington won Super Bowl XXII, rushing for a record 280 yards behind Jacoby and the Hogs. Jacoby enjoyed a decorated career as a Redskin, playing on three Super Bowl winners. He was selected to four consecutive Pro Bowls, from 1983 to 1986. Jacoby also earned first team All-Pro honors in 1983, 1984, and 1987. After his retirement in 1993, Jacoby was named to the NFL 1980s All-Decade Team, and inducted as a member of the Redskins Ring of Fame.
Art Powell
Statistics
Position: Wide Receiver
Teams: Philadelphia Eagles (1959), New York Titans (1960-1962), Oakland Raiders (1963-1966), Buffalo Bills (1967), Minnesota Vikings (1968)
Bio: Art Powell was the prototype receiver NFL scouts are looking for today—big, strong, aggressive, fast, great hands—the 6'3", 211-pounder eventually blossomed into one of the premier receivers in the history of the American Football League. After two non-descript seasons in the CFL, the Philadelphia Eagles drafted Powell in 1959 and used him exclusively as a returner. The Eagles, failing to recognize Powell's vast potential, released him after that single season. Powell signed on with the New York Titans of the AFL and quickly established himself, leading all receivers with 14 touchdown catches and recording his first of five 1,000-yard seasons (1,167). After three stellar seasons, Powell was sold to the Oakland Raiders, whose head coach Al Davis was looking for a deep threat who could stretch the field. Powell didn't disappoint, leading the league in both yardage (1,304) and TDs (16) in 1963 to help the team improve its record by nine victories over the previous year. Powell recorded over 1,000 receiving in four of his five seasons with the black and silver. In desperate need of a young, strong-armed quarterback, Davis traded Powell along with aging quarterback Tom Flores to the Buffalo Bills in exchange for Daryle Lamonica and washed-up receiver Glenn Bass. Powell's one season in Buffalo was cut short by injury, but he still managed to catch 20 passes and four touchdowns in six games. He played one game for the Vikings in 1968 before calling it a career. Third on all-time AFL list in receiving yards with 8,015. Eighty-one career TD receptions. Led AFL in receiving yards (1962, 1963) and in touchdown receptions (1960, 1963). Five 1,000-yard seasons (1960, 1962-1964; 1966). Two-time All-AFL (1960, 1963). Four time AFL All-Star.
Everson Walls
Statistics
Position: Cornerback
Teams: Dallas Cowboys (1981-1989), New York Giants (1990-1992), Cleveland Browns (1992-1993)
Bio: One of the great ball-hawks in football history, Everson Walls first played football during his senior year at Lloyd V. Berkner High School in Richardson, Texas where he led the district in interceptions. He continued his football journey under legendary coach Eddie Robinson at Grambling where he led the nation as a senior and set a Tigers school record with 11 interceptions, leading to a 1-AA All-American selection. Walls signed as an undrafted free agent with the Dallas Cowboys. During his rookie season in 1981, he led the NFL in interceptions with 11. He was also selected to the Pro Bowl and was named to the All-Rookie Team. In his nine seasons with the Cowboys, Walls led the team in interceptions a team-record five times and set a NFL record by leading the league in interceptions three times. He was a four-time Pro Bowl (1981-1983, 1985) selection and was a three-time All-Pro (1982, 1983, 1985). In 1990, Walls signed with the New York Giants. He made an immediate impact leading the team in interceptions and helped the Giants win Super Bowl XXV. Walls again led the Giants in interceptions the following season, in 1991. In 1992 he was released by the Giants after 6-games and signed with the Cleveland Browns. He played his final season in Cleveland in 1993. In 13 NFL seasons Walls had 57 career interceptions in the regular season and 4 post-season interceptions. At the time he retired, he was ninth on the career interceptions list. He now ranks 13th. He was selected to the Dallas Cowboys 25th Anniversary team, as well as being awarded the Tom Landry Legends Award.
Ed White
Statistics
Position: Guard, Tackle
Teams: Minnesota Vikings (1969-1977), San Diego Chargers (1978-1985)
Bio: After being named an All-American as a defensive middle guard at the University of California in 1968, Ed White was selected in the second round of the 1969 NFL draft by the Minnesota Vikings. He was moved to offensive guard, where he joined Mick Tingelhoff, Ron Yary, and Grady Alderman on a line that, though overshadowed by the Vikings' great defensive line, was outstanding in its own right. The Vikings scored the most points of any team in the AFL and NFL in White's rookie season. In his nine seasons in Minnesota, the Vikings made the playoffs eight times, and he played in all four of their Super Bowls. White earned All-Conference and All-Pro honors from 1974-1977, and was named to three Pro Bowls. He was traded to the Chargers in 1978, and joined San Diego's high-powered Air Coryell offense. The Chargers made four straight playoff appearances (1979-1982), and advanced to two AFC Championship Games in White's first five years with the team. San Diego led the NFL in numerous offensive categories during that time, and he was named to his fourth Pro Bowl. He missed only six games in his 17-year career, and held the all-time record (broken since) for most games by an offensive lineman with 241, when he retired. White was named to Minnesota's 25th and 40th anniversary teams and as one of the 50 Greatest Vikings in 2010. He was also named to the Chargers' 40th and 50th Anniversary teams and to the Chargers Hall of Fame. White was also inducted into the College Football Hall of Fame in 1999.
Entire Hall of Very Good
Class of:
2022, 2021, 2020, 2019, 2018, 2017, 2016, 2015, 2014, 2013, 2012, 2011, 2010, 2009, 2008, 2007, 2006, 2005, 2004, 2003
*Voted into the Pro Football Hall of Fame after induction into the Hall of Very Good.