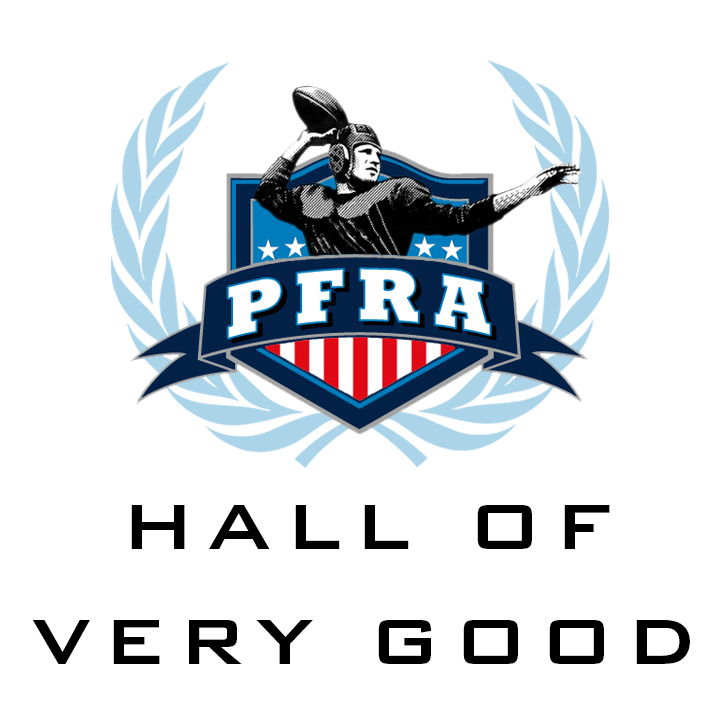 CLASS OF 2020
Begun in 2002, the Hall of Very Good seeks to honor outstanding players and coaches who are not in the Hall of Fame.
Ottis Anderson
Statistics
Position: Running Back
Teams: St. Louis Cardinals (1979-1986), New York Giants (1986-1992)
Bio: No matter where Ottis Anderson played, he was one of the most outstanding players. He set rushing records at the University of Miami and still ranks second on the school's career rushing list more than 40 years after his last game. He was also the key offensive player on the Cardinals for seven years and a Super Bowl MVP with the Giants. A two-time Pro Bowl running back, Anderson was drafted eighth overall in 1979. He possessed tremendous power as a runner, along with exceptional speed. As a rookie, he finished third in the NFL with 1,605 rushing yards. Anderson was named the NFL Offensive Rookie of the Year by all the major selectors and also earned first team all-pro honors. In every one of his years with St. Louis, the Cardinals had a top ten rush offense. He was third again in rushing yards in 1980 and was named second team all-pro. In 1981, he was fifth in rushing yards. He had five 1,000 yard seasons in six years, all except the strike-shortened 1982 campaign. Anderson was also a very capable receiver, with highs of 70 receptions and 611 yards in 1984. Traded to the Giants in 1986, he earned a ring when New York won Super Bowl XXI. He regained top form in 1989 when he scored 14 rushing touchdowns, gained 1,023 rushing yards and won the NFL's Comeback Player of the Year award. Anderson won Super Bowl XXV MVP honors in New York's narrow 20– 19 win over Buffalo as he ran for 102 yards and a touchdown in the win. When he retired, Anderson ranked eighth all-time in the NFL in rushing yards, seventh in rushing touchdowns and ninth in total yards from scrimmage.
Jay Hilgenberg
Statistics
Position: Center
Teams: Chicago Bears (1981-1990), Cleveland Browns (1992), New Orleans Saints (1993)
Bio: Jay Hilgenberg was the leader of the Bears offensive line during Chicago's great run in the 1980s. An undrafted free agent out of Iowa in 1981, he took over as the Bears starting center in 1983. Hilgenburg was part of a core group of standouts who led the Bears in 1984 to their first division title since the 1970 realignment and upset Washington in the playoffs. In 1985, Chicago went 15–1 and capped their Super Bowl championship run with three postseason victories by a cumulative score of 91–10. The Bears won their third, fourth and fifth consecutive division titles in 1986, 1987 and 1988 and posted a cumulative 62–17 record from 1984 through 1988 when Hilgenberg was in his prime. He was an outstanding run blocker who, together with his linemates and the great Walter Payton, propelled the Bears to lead the NFL in rushing yards four straight years (1983–86). The great running game continued after Payton's retirement in 1987 as Chicago was third in rushing yards in 1988 and second in 1989 and 1990. The Bears were 11–5 in both 1990 and 1991, Hilgenberg's finals seasons in Chicago, and dropped precipitously in the standings and the running game after his departure. Hilgenberg was named both first team all-NFC and to the Pro Bowl seven times, all consecutively (1985–91), during his career. He made the first team of The Sporting News' all-pro team in 1987, made every first team in 1988 and was a consensus choice in 1989. When the Bears named the 100 best players in franchise history on the occasion of the team's centennial in 2019, Hilgenberg ranked 18th, ahead of a number of legendary players and Hall of Famers.
Ed 'Too Tall' Jones
Statistics
Positions: Defensive End
Teams: Dallas Cowboys (1974-1978, 1980-1989)
Bio: Nicknamed by a college teammate who thought him "Too Tall" for football, Ed Jones proved his friend wrong by excelling in multiple sports including football at Tennessee State where he led the Tigers to black college football national championships in 1971 and 1973 as an All-American defensive tackle. In 1974, Dallas selected Jones number one overall and moved him to defensive end where he became a part of one of the best defensive units of the era. In 1977, Dallas led the NFL in fewest total yards allowed and the NFC in fewest rushing yards allowed, while in 1978 they led the NFL in fewest rushing yards allowed and the NFC in fewest points allowed. In Jones' first five seasons, the Cowboys played in three Super Bowls capped by a dominating defensive effort in a Super Bowl XII win over Denver. After retiring for a season to box, Jones enjoyed his greatest personal success after returning to Dallas in 1980. He was named to the Pro Bowl three consecutive years (1981–83) and received all-pro mention those same years including first team in 1982. The Cowboys made it to the NFC Championship Game all three years, though they lost each time. According to football historian John Turney, Jones had 106 sacks in his career to go along with 19 fumble recoveries and three interceptions. In 15 seasons, he never missed a game and retired with the since-broken record for most games played by a Cowboy with 232. Though the Cowboys fell on hard times in the latter part of Jones' career, they made the playoffs nine times while he was with the team and won 71% of their games in his first 11 seasons with a 114–47 record.
Ron McDole
Statistics
Positions: Defensive End
Teams: St. Louis Cardinals (1961), Houston Oilers (1962), Buffalo Bills (1963-1970), Washington Redskins (1971-1978)
Bio: Defensive end Ron McDole enjoyed an unusually long career that spanned 18 seasons with four different teams and he has the rare distinction of being named to all-time teams for two different franchises (Buffalo and Washington). During his time with Buffalo, he anchored a smothering defense that led the Bills to three straight AFL title games (1964–66) and claimed back-to-back championships in 1964 and '65. Buffalo led the league in many defensive categories during McDole's tenure with the team including fewest points (1964, 1965, 1966), fewest total yards (1964), fewest rushing yards (1964, 1966), fewest yards per rush (1964, 1965, 1966), fewest rushing touchdowns (1964, 1965, 1966), fewest passing yards (1967) and once went 17 straight games without yielding a rushing touchdown. For Washington, the man who teammate Sonny Jurgensen nicknamed "Dancing Bear" played a key role in the famed Over-the-Hill Gang's run in the early-to-mid 1970s to five post-season berths including an appearance in the Super Bowl in the 1972 season. He played in 240 regular season games, the sixth most in pro football history when he retired and still the third most among defensive linemen. McDole recorded 82 career sacks (unofficial), 47 passes defensed, 14 fumble recoveries, 18 blocked kicks (fifth all-time) and 12 interceptions (most all-time among defensive linemen). He was selected first team all-AFL by at least one major media outlet five times (1965–69), was named to two AFL All-Star games (1965 and '67) and to the AFL's all-time second team by the Pro Football Hall of Fame in 1970. McDole was also named to the Bill's 25th anniversary all-time team in 1984 and as one of the 70 greatest players and coaches in the history of the Washington franchise in 2002.
Karl Mecklenburg
Statistics
Position: Linebacker
Teams: Denver Broncos (1983-1994)
Bio: Karl Mecklenburg was a defensive standout at multiple positions and a three time AFC champion on the defense-first Denver Broncos teams of the 1980s. Once a walk-on at Augustana College, he transferred to Minnesota and was chosen in the 12th round as the 310th pick in the 1983 NFL draft. Despite being drafted so low, he was optimistic: "Don't give up, don't quit. That's the difference between successful people and those who aren't." The Broncos' coaches utilized him in seven different positions. Perhaps his biggest strength was his ability to rush the passer from the inside. From 1985 to 1987, he recorded an impressive 29.5 sacks, forced eight fumbles, and intercepted three passes. His famous, huge hit in 1984 that knocked Marcus Allen on his rear is still revered by Denver fans. He played in just nine games during 1988 but rebounded to be an all-pro in 1989. Over the next six seasons, he totaled 39.5 sacks. In his 12 seasons, the Broncos qualified for the playoffs seven times, one of the best runs in team history. They played in four AFC Championship Games and three Super Bowls. Mecklenburg had 79 career sacks, third most in franchise history. He earned Pro Bowl honors six times (1985, 1986, 1987, 1989, 1991, 1993), first-team all-pro by at least one major media outlets four times (1985–87, 1989) and was named AFC Player of the Year by The Football News in 1986. Mecklenburg is one of three Broncos to record four sacks in a game, which he did on two separate occasions. He played in 180 games and totaled 1,118 combined tackles. In 2001, Mecklenburg was inducted into the Broncos Ring of Fame.
Richie Petitbon
Statistics
Position: Safety
Teams: Chicago Bears (1959-1968), Los Angeles Rams (1969-1970), Washington Redskins (1971-1972)
Bio: Richie Petitbon was an all-Southeastern Conference quarterback at Tulane in 1958 but was selected in the second round of the 1959 NFL draft by the Chicago Bears to play defensive back. For 14 seasons, he was one of the best safeties in the NFL, going to four Pro Bowls and being selected first team all-pro in 1963 and second team on two other occasions. The NFL champion 1963 Bears featured one of football's best ever defenses and Petitbon was a prime member of that unit. He recorded eight interceptions that year that he returned for 161 yards, good for third and fifth in the NFL, respectively, plus one touchdown. In the 1963 NFL Championship Game, he intercepted a Y.A. Tittle pass in the end zone with ten seconds left in the game to preserve the Bears 14–10 victory. Petitbon was traded to the Rams in 1969 where he played for George Allen and a Los Angeles team that won the Coastal Division. After Allen took over in Washington, he traded for Petitbon in 1971 and Petitbon became a part of the Over-the-Hill- Gang. Washington made the playoffs in 1971 and made it to the Super Bowl in 1972 where they lost to the undefeated Miami Dolphins. From 1981–92, Petitbon was defensive coordinator for Joe Gibbs as Washington played in four Super Bowls, winning three. He served one year as Washington head coach in 1993 before retiring from football. Petitbon's career highlights include 13 fumble recoveries and 48 interceptions for 803 return yards and three touchdowns including one of 101 yards. He also recovered two fumbles and intercepted two passes in the postseason. Petitbon was named one of the 100 best players in Bears history in 2019.
Sterling Sharpe
Statistics
Position: Wide Receiver
Teams: Green Bay Packers (1988-1994)
Bio: From his very first season in the NFL in 1988 when he was named to the first team of the UPI's all-rookie team, Sterling Sharpe was one of the game's elite wide receivers. He followed that up in 1989 by leading the NFL with 90 receptions, the first Packer since Don Hutson to do so. Sharpe also finished second that year behind Jerry Rice in receiving yards and touchdown receptions and was named a first teamer on all the major all-pro teams. Possessing good speed, Sharpe was perhaps best known for his toughness, his willingness to catch passes over the middle and his ability to run just about kind of pass pattern effectively. He led the NFL in 1990 with 16.5 yards per catch and was fifth in receiving yards. Teaming with newcomer Brett Favre, Sharpe had his greatest season in 1992 when he won the receiving Triple Crown by finishing first in receptions (an NFL record 108), receiving yards (1,461) and touchdown catches (13). It was only the sixth time in NFL history a player had accomplished that feat and he was again named first team on all the major all-pro teams. He broke his receptions record the very next year when he led the league for the third time with 112 while also finishing third in receiving yards and touchdown receptions, and again was a first team all-pro. Sharpe led the league in touchdown catches and finished fifth in receptions in 1994 but a serious neck injury that year forced him to retire at the end of the season. In addition to his all-pro honors, Sharpe was named to five Pro Bowls in his seven seasons. He was elected to the Packers Hall of Fame in 2002.
Buddy Young
Statistics
Position: Fullback, Halfback
Teams: New York Yankees (1947-1949), New York Yanks (1950-1951), Dallas Texans (1952), Baltimore Colts (1953-1955)
Bio: At the University of Illinois, the electrifying 5' 4" Claude "Buddy" Young won NCAA track and field titles as a sprinter and was a standout halfback in football. Young joined the New York Yankees of the All- America Football Conference in 1947 and finished fifth in rushing yards with 712 while averaging 6.1 yards per carry, fourth best in the league. The Yankees posted an 11–2–1 record and advanced to the AAFC title game while Young was selected second team all-AAFC by several media outlets. After an injury-marred 1948 season, he bounced back in 1949 to again place fifth in rushing yards and second in yards per rush with a 6.5 mark. The Yankees made the AAFC playoffs and Young was named first team all-AAFC by the United Press and the New York Daily News. Playing for the New York Yanks in 1950, Young again received second team all-league recognition from the UP. In addition to his ball-carrying exploits, Young was a dangerous receiver and kick returner. He averaged as many as 22.4 yards per reception in a season and finished his career with a 15.1 mark. He was consistently among the league leaders in punt returns and kickoff returns, averaging as high as 19.3 in the former in 1951 and 34.4 in the latter in 1953. Young also broke down barriers as the first black player to play for a major league football team in New York City and one of several blacks who were the first to play for the Colts. He was also one of several blacks to play for the Dallas Texans in their one NFL season when Texas was still officially segregated. He also worked in the Colts' front office and for the NFL.
Entire Hall of Very Good
Class of:
2022, 2021, 2020, 2019, 2018, 2017, 2016, 2015, 2014, 2013, 2012, 2011, 2010, 2009, 2008, 2007, 2006, 2005, 2004, 2003
*Voted into the Pro Football Hall of Fame after induction into the Hall of Very Good.