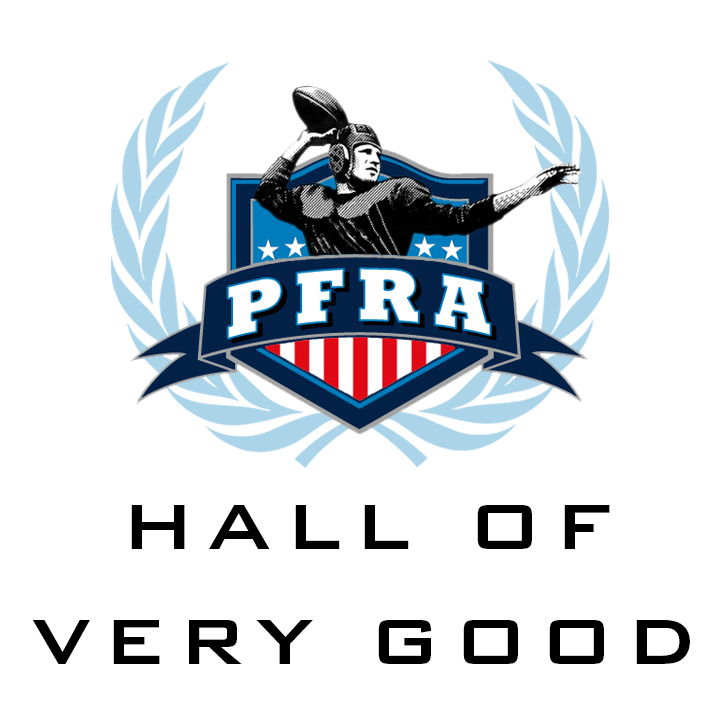 CLASS OF 2021
Begun in 2002, the Hall of Very Good seeks to honor outstanding players and coaches who are not in the Hall of Fame.
Grady Alderman
Statistics
Position: Tackle, Guard
Teams: Minnesota Vikings (1960-74)
Bio: Drafted in the 10th round out of the University of Detroit by the Detroit Lions in 1960, offensive tackle Grady Alderman went on to play 15 seasons in the NFL. Fourteen of those seasons were with the Vikings after Minnesota selected him in the 1961 expansion draft. Alderman was a superb technician who was one of Minnesota's few bright spots during their formative years. He was named to the Pro Bowl five consecutive times (1963-67) and six times overall while also earning second team all-pro honors from the Associated Press in 1965. In the first half of his career when quarterback Fran Tarkenton was at his scrambling finest, Alderman and his linemates had to be disciplined and persistent during Tarkenton's long improvisations. Alderman frequently made multiple blocks on such plays. By 1969, the Vikings were the highest scoring team in pro football and NFL champions. Beginning in 1968, with Alderman still going strong, the Vikings won six division titles in the seven years until the end of his career. They played in four Super Bowls while compiling a 72-26 (.735) record and posted or tied for the best record in the NFL in 1969, 1970, 1971 and 1973 and the NFC in 1974. Though the Vikings didn't win any of those four Super Bowls, Alderman and his linemates led them to some dominating offensive playoff performances such as in 1969 against Cleveland (222 yards rushing), in 1973 versus Dallas (203 yards rushing) and in a 1974 win over the Cardinals (199 yards rushing). Alderman missed only three games in his 14 years with the Vikings. He was named to Minnesota's 25th anniversary team in 1985 and as one of the 50 greatest Vikings on the occasion of the team's 50th anniversary in 2010.
Russ Francis
Statistics
Position: Tight End
Teams: New England Patriots (1975-80, 1987-88), San Francisco 49ers (1982-87)
Bio: When the New England Patriots began a dramatic transformation in 1976 after nine consecutive non-winning seasons, second year tight end Russ Francis was an integral part of that process. A first round pick out of Oregon in the 1975 NFL draft, Francis took over the starting job as a rookie and posted an outstanding mark of 18.2 yards per reception. The following year, the Patriots improved from 3-11 to 11-3 and came within a controversial call of winning their divisional playoff game against the Raiders and advancing to the AFC Championship Game. Francis was a terrific blocker on a run-oriented New England team. He never put up the kind of numbers that AFC contemporary tight ends like Kellen Winslow and Ozzie Newsome did but was still named to three consecutive Pro Bowls (1977-79) because of his tremendous all-around skills. The Patriots went 9-5, 11-5, 9-7 and 10-6 in the rest of his time in New England, winning the AFC East in 1978 and leading the NFL in in yards per rush in 1976, in total yards, rushing yards, rushing touchdowns and yards per rush in 1978 and the AFC in points in 1980. Francis sat out the 1981 season because of disagreements with New England management and was traded to the San Francisco 49ers in 1982. The 49ers made the playoffs in five of his six seasons in San Francisco and in 1984 won Super Bowl XIX, a game in which Francis caught five passes for 60 yards. Francis contributed to the San Francisco offensive juggernaut with both his pass catching and blocking as the 49ers were consistently among the NFL's leaders in a variety of categories throughout his time with the team.
Mike Kenn
Statistics
Positions: Tackle
Teams: Atlanta Falcons (1978-94)
Bio: An All-American at the University of Michigan and All-Big 10 in 1976 and 1977, Mike Kenn was a first-round pick by the Atlanta Falcons in 1978. He earned the starting left tackle job as a rookie and kept it for 17 seasons, playing in 251 games and missing just ten non-strike games. In NFL history, only Kenn and Lomas Brown have started 17 straight seasons as an offensive lineman (Bruce Matthews was a starter for 19 seasons but only started six of the twelve non-strike games in 1987). Kenn was all-rookie in 1978 and consensus first team all-pro in 1980 and again eleven years later in 1991. Only Matthews (twelve) has been all-pro more seasons apart. Kenn was also second team all-pro several times and was named to five Pro Bowls (1980-84). Kenn played in two distinctively different offensive styles while garnering those honors. From 1979-86, the Falcons were a power running team with William Andrews and Gerald Riggs that ranked fourth in rushing yards and third in yards per rush in that span. Under Jerry Glanville and June Jones, Kenn played in a pass-first offense (the Run-and-Shoot) and the Falcons were third in passing yards and second in passing touchdowns from1990-94. Kenn drew praise from opponents like Bubba Baker who said, "Kenn became the best tackle I ever faced, technically perfect. Kenn was number one, Anthony Munoz second and Jim Lachey third." Defensive end Leslie O'Neal called him a "human text book" in pass blocking. Kenn was active in the NFLPA for many years including seven as president. During his tenure, the players got unrestricted free agency and a guaranteed percentage of gross revenues, things the union had sought since the 1970s. Kenn certainly left the game better than he found it.
Tony Latone
Statistics
Positions: Back
Teams: Pottsville Maroons (1925-28), Boston Bulldogs (1929), Providence Steam Roller (1930)
Bio: Taking his deceased father's spot in the northeastern Pennsylvania coal mines at 11, Tony Latone took what lessons he could from the School of Hard Knocks and tried to escape a similar fate. Latone excelled at his region's brand of sandlot football, its brutalness familiar, earning a spot with the Edwardsville Lithuanian Knights in 1915 where he made local headlines until answering the call to serve in World War I. After returning from the Navy in 1919, "pushing coal cars around for eight or nine hours a day" fortified his climb up the local grid ranks from Edwardsville to Pine Brook to Mount Carmel to Wilkes-Barre. By 1924, he was an All-Anthracite League halfback for the league champion Pottsville Maroons. The Maroons joined the NFL in 1925 and one writer reported how their 28-year-old rookie "hit the line like a locomotive plowing into an automobile at a grade crossing - and with the same result." Leading the league in touchdowns and unofficially finishing second in rushing yardage impressed another who noted: "any All-National League team which doesn't include Latone is as incomplete as a powerhouse without a generator." Others eventually agreed and he earned first team All-Pro honors in 1926, a spot on Ralph Scott's "power attack" team in 1927, second team honors in 1828 and an honorable mention in 1929. David Neft's research made him the half-decade leader in interceptions (20) and the decade leader in yards rushing (2,365). The Pro Football Chronicle named him to their 1920s All-Decade Team and legends like Halas, Grange, and Blood considered him one of the greats. Long ago buried under dirt, dust and culm banks, Latone brought pride to a city and a region, repayment of his debt to the game that brought him salvation.
Stanley Morgan
Statistics
Position: Wide receiver
Teams: New England Patriots (1977-89), Indianapolis Colts (1990)
Bio: Born in Easley, South Carolina, Stanley Morgan helped lead his hometown Easley High School to the 1972 state football championship in his senior season. At the University of Tennessee, Morgan made an impact at multiple positions. In addition to returning kicks and punts, he moved from wide receiver to running back to wingback over the course of his four-year collegiate career. Excelling anywhere he lined up, Morgan earned All-SEC honors at both running back and receiver in 1974 and again at both running back and receiver after his senior season of 1976. A first round selection, 25th overall by the New England Patriots in the 1977 NFL Draft, the "Stanley Steamer" was an immediate starter at wide receiver. Blessed with world class speed, Morgan averaged over 20 yards per reception in each of his first six seasons as a pro. He led the league in yards per reception for three consecutive seasons (1979-81) and also led the NFL in touchdown receptions in 1979. The Patriots were often a competitive team during Morgan's career with playoff appearances in 1978, 1982 and 1985 when they advanced to Super Bowl XX. He was a four-time Pro Bowl selection, two-time first-team all-conference selection and in 1986 was named a first-team all-pro by The Sporting News. Morgan finished his career with 10,716 yards receiving and his career 19.2 yards per reception is evidence of his status as one of great deep threats in pro football history. Morgan was inducted into the Tennessee Sports Hall of Fame in 2000, the Patriots Hall of Fame in 2007, the South Carolina Football Hall of Fame in 2016 and the University of Tennessee Athletics Hall of Fame in 2016.
John Niland
Statistics
Position: Guard
Teams: Dallas Cowboys (1966-74), Philadelphia Eagles (1975)
Bio: John Niland was the left (pulling) guard for the Dallas Cowboys during their first era of excellence. He was an all-state fullback in high school, an All-American Guard at the University of Iowa and was selected in the first round (fifth overall) of the 1966 NFL Draft by the Cowboys. Offensive linemen are often judged by the success of their team and in this regard Niland excels. In his nine years in Dallas, the Cowboys won the NFC East seven times and went to the playoffs eight times. They played in six NFL/NFC Championship Games, appeared in two Super Bowls and won Super Bowl VI. During that stretch, the Cowboys were 91-33-2, led the NFL in rushing three times, finished second two times and were in the top five in eight of nine seasons. Niland made his name clearing running lanes and leading sweeps for such Cowboys notables as Don Perkins, Walt Garrison, Calvin Hill and Duane Thomas. He was traded to the Eagles in 1975 and played a year in Philadelphia, retiring before the 1976 season due to a knee injury sustained in training camp. Career highlights include three AP first team All-Pro awards (1969, 1971 and 1972) and numerous All-Conference and/or All-Pro Second team selections. He was selected to six consecutive Pro Bowls (1968-73). In 1972, Niland scored the sole touchdown in his career on a fumble recovery in the end zone versus the rival Eagles. The University of Iowa named Niland to its all-time team in 1989 and in 2006 he was inducted into its Hall of Fame. He is generally regarded as one of the 2-3 best guards in Cowboys' history along with all-time great Hall of Famer Larry Allen and current standout Zack Martin.
Clark Shaughnessy
Statistics
Position: Head Coach
Teams: Los Angeles Rams (1948-49)
Bio: Clark Daniel Shaughnessy was best known for his strategic innovations to NFL offenses and defenses, namely the T-formation. While studying George Halas' Chicago Bears in the 1930s, Shaughnessy experimented with placing halfbacks in motion and designed specific personnel requirements as his personal touch. After college coaching stints at Tulane, Loyola, Chicago, Maryland, Stanford and Pittsburgh, Shaughnessy earned his first NFL head coaching gig in 1948 with the Los Angeles Rams. He implemented a three receiver set that boosted the success of Elroy Hirsch and Tom Fears, coaching the Rams to a 14-7-3 record including an NFL Championship Game berth in 1949. Shaughnessy was then hired by the Chicago Bears where he stayed from 1951 to 1962, working as a technical advisor and defensive coach under Halas. Shaughnessy developed a quarterback centric version of the T formation that vastly improved the Bears offense: Chicago earned three second place finishes, one conference title and a berth in the 1956 NFL Championship Game. He also devised a 5-3-3 defense that consisted of man coverages, linebacker blitzes and alignments to shut down opposing run offenses. The complexities of his offenses and defenses routinely confused the opposition. Along his journey, Shaughnessy mentored countless players including Bill George, Fred Williams and Richie Petitbon. He also had excellent success at the collegiate level, compiling a 150-117-17 record. Shaughnessy won two conference titles at Tulane and a national championship in 1940 at Stanford. On the 1940 Stanford club, dubbed the Wow Boys, he coached future NFL stars Frankie Albert, Norm Standlee, Vic Lindskog and Hugh Gallarneau. He was inducted into the College Football Hall of Fame in 1968 and has been a finalist for the Pro Football Hall of Fame three times (1970, 1975, 1976) since he passed away in 1970.
Bill Stanfill
Statistics
Position: Defensive end
Teams: Miami Dolphins (1969-76)
Bio: An Outland Trophy winner at the University of Georgia, Bill Stanfill was a vital cog on the Dolphins "No Name Defense" of the early 1970s. Miami went to three consecutive Super Bowls and won two in a row after the 1972 and 1973 seasons. During Stanfill's peak years from 1970-75, the Dolphins went 67-16-1 (.807). Selected by Miami in the first round of the 1969 draft, Stanfill made a big splash in his first year as he was selected to the AFL All-Star Game and tied for second in the AFL Rookie of the Year voting. His best year was probably 1973 when he led the NFL in sacks with 18½. Sacks were unofficial and not known by the media, however, and he missed out on the Defensive Player of the Year Award that year to teammate Dick Anderson. Stanfill's 18½ sacks are tied with Jason Taylor for the most by a Dolphin, something Stanfill did in a 14-game season while Taylor did it in 16. His two 5-sack games are also tied for the most in team history and his eight sacks in 1969 are the most ever by a Dolphins rookie. He ranks third in team history with 69.5 career sacks and is tied for the team record with two interception returns for touchdowns in a season (1969). In addition to being an AFL All-Star in 1969, Stanfill was named all-AFC and to the Pro Bowl four straight years (1971-74), was a first team all-pro in 1972 and 1973 and a second team all-pro in 1974. A tough player who played through many injuries, neck problems brought his career to a premature end after eight seasons. Stanfill was named to Miami's all-time team in 2007 and inducted into the Dolphins Honor Roll in 2010.
Bob Vogel
Statistics
Position: Tackle
Teams: Baltimore Colts (1963-72)
Bio: Bob Vogel was another in a long line of great offensive linemen from Ohio State in the late 1950s and early 1960s who, like predecessors Jim Parker, Dick Schafrath, Jim Tyrer and Ernie Wright, had an outstanding career in pro football. Selected in the first round of the 1963 NFL draft by the Baltimore Colts, Vogel made such an impression as a rookie that the Colts moved perennial all-pro Parker to guard to open the left offensive tackle spot for Vogel. Vogel gained recognition as one of the game's best tackles in his second year as he was named first team on the Newspaper Enterprise Association's 1964 all-pro team as well as to the Pro Bowl. The Colts 12-2 record was the best in the NFL that year as well as the best in franchise history to that point, though they lost the title game to the Browns. Somewhat undersized at 240 pounds, Vogel relied on excellent technique, balance and quickness against men much bigger than him. The Colts were consistently one of the best offenses during his career and at left tackle, Vogel had among his jobs protecting John Unitas's blind side. He did so superbly as Unitas and his 1968 replacement Earl Morrall were consistently among the least-sacked quarterbacks in the NFL and won a combined three NFL Most Valuable Player awards in a five season span. Vogel was named to numerous all-pro, all-conference and Pro Bowl teams from 1964 through 1971 as Baltimore posted a 84-23-4 record and .785 winning percentage during that stretch, capped by a victory in Super Bowl V. He started every one of Baltimore's 140 regular season games during his career, along with ten playoff contests, and was named to the Colts 50th anniversary team in 2003.
Abe Woodson
Statistics
Position: Defensive back, kick returner
Teams: San Francisco 49ers (1958-64), St. Louis Cardinals (1965-66)
Bio: When Abe Woodson turned the corner, he typically left the defense in the dust. His 28.7 yards per kick return average ranks in the top five all-time. A unique player and one of the best returners of his time, Woodson's versatility proved valuable to the 49ers who selected him in the second round of the 1957 NFL draft. Despite the team never winning more than seven games during his time, Woodson was an electric player to watch as well as one of the team's top players. In 1959 against the Rams, Woodson went the distance on a 105-yard kick-off return. Starting from the end zone, he ran to the far sideline, then veered all the way back across the field, dodging two Rams' defenders before he trotted the rest of the way for the score. He returned five career kicks for touchdowns, a 49ers franchise record that still stands. His speed was an uncanny natural gift. In college at the University of Illinois, Woodson was an All-Big Ten sprinter on the track team, in addition to playing at an All-American level on the football team. In his seven years with San Francisco, he made the Pro Bowl five times (1959-63) and was a five-time first team all-pro selection (1959-63). Woodson holds numerous franchise records including kickoff return yardage (4,873), kickoff return average (29.4) and longest kickoff return (105 yards). Woodson rounded out his NFL career with the St. Louis Cardinals for two seasons when he was traded for John David Crow and finished his career with over 6,800 all-purpose yards. On defense, Woodson picked off 19 passes and recovered 15 fumbles. Upon retiring he worked in the insurance industry for over three decades. He passed away in 2014 at the age of 79 while previously working as a prison minister.
Entire Hall of Very Good
Class of:
2022, 2021, 2020, 2019, 2018, 2017, 2016, 2015, 2014, 2013, 2012, 2011, 2010, 2009, 2008, 2007, 2006, 2005, 2004, 2003
*Voted into the Pro Football Hall of Fame after induction into the Hall of Very Good.