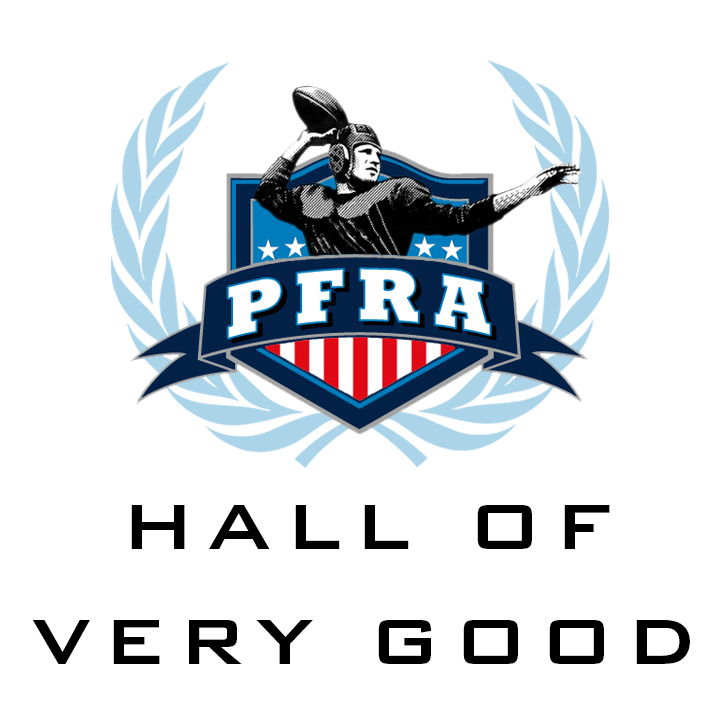 CLASS OF 2022
Begun in 2002, the Hall of Very Good seeks to honor outstanding players and coaches who are not in the Hall of Fame.
Mark Bavaro
Statistics
Position: Tight End
Teams: New York Giants (1985-90), Cleveland Browns (1992), Philadelphia Eagles (1993-94)
Bio: Mark Bavaro is one of the most beloved players in New York Giants history. His pure physical style of play included toughness as a run blocker and athleticism as a pass catcher that was accompanied by a quiet, humble attitude. Drafted 100th overall in the 1985 NFL draft out of Notre Dame, he made an immediate impact, earning the starting tight end spot as a rookie while being named to the PFWA all-rookie Team. In subsequent seasons, he was a two-time consensus first-team all-pro and Pro Bowl selection (1986, 1987). San Francisco 49ers head coach Bill Walsh called him "the premier tight end" in the league after seeing him carry nearly seven 49ers defenders roughly 20 yards on a pass play, including future Hall of Famer Ronnie Lott. Bavaro was a key cog on two Super Bowl winning (XXI, XXV) clubs that featured a tenacious defense led by Lawrence Taylor and a steady offense of which he was an important part. In his six seasons with the Giants, the team made four playoff appearances and won three NFC East Division titles. He was especially productive in the postseason, as he caught 30 passes for 366 yards and three touchdowns in eight playoff games. Bavaro sat out the 1991 season as a result of a knee injury, then followed defensive coordinator Bill Belichick to Cleveland where he played the 1992 season. He finished his career with the Philadelphia Eagles with 43 receptions in 1993, then retired following the 1994 season. He played in 126 games, making 123 starts that included 4,733 career receiving yards on 351 receptions. Bavaro was named to the New York Giants Ring of Honor in 2011 and earned the George Halas Award in 1993, given to the player or coach who succeeds in the face of adversity.
Matt Blair
Statistics
Position: Linebacker
Teams: Minnesota Vikings (1974-85)
Bio: Matt Blair was never short on work ethic. He chose to attend Iowa State because head coach Johnny Majors told him, "I would be fourth on the team and that I would have to work my way up to the first team. And that was something I always appreciated." Blair was a second-team All-American in 1972 and MVP of the 1971 Sun Bowl. After being selected in the second round of the 1974 NFL draft, he developed into one of the greatest linebackers in Minnesota Vikings history. Blair was named to the NFL's all-rookie team in 1974 by the Associated Press, the Newspaper Enterprise Association, the Pro Football Writers of America and Football Digest. He was selected to six consecutive Pro Bowls (1977-82) and was a two-time all-pro (1980, 1981). In the early part of his career, Blair played on one of the most feared defenses of the 1970s that also featured Carl Eller, Jim Marshall, Paul Krause and Alan Page and that led the NFL or NFC in numerous defensive categories. In Blair's 12 seasons, the Vikings won six NFC Central Division titles (1974-78, 1983) and made two Super Bowl appearances (IX and XI), losing both. One of Blair's intrinsic characteristics was his speed. In Super Bowl IX against the Steelers, he blocked Bobby Walden's punt that led to a defensive touchdown. His 20 blocked kicks ranks third in NFL history. He also recorded 16 interceptions and 23 unofficial sacks, as there was never a play he could not make. Blair made 130 starts in 160 career games and totaled 1,452 tackles, second most in team history. He was named one of the 50 Greatest Vikings in 2010 and to the franchise's 25th and 40th Anniversary teams. In 2012, he was named to the Minnesota Vikings Ring of Honor.
Mark Gastineau
Statistics
Positions: Defensive End
Teams: New York Jets (1979-88)
Bio: Mark Gastineau combined great speed with a dedicated weightlifting program that made him a physical mismatch for offensive linemen. He did so with gusto, punctuating sacks with a dance that infuriated some and was eventually outlawed. As a pure pass rusher, Gastineau stands with the best. He led the NFL twice in sacks and his total of 22 in 1984 was the NFL record until 2001. If unofficial stats kept by the New York Jets are included, he totaled 107.5 sacks in his ten NFL seasons including three seasons of 19.0 or more. Gastineau was an improbable story who played community college football and then for Arizona State and East Central Oklahoma State University. In the Senior Bowl, he impressed the Jets staff coaching the North squad so much that they drafted him in the second round in 1979. By 1980, he had bulked up to 280 pounds and was running the 40 in 4.56 seconds. Gastineau led the Jets in sacks and hurries in 1980 and rose to fame as part of the New York Sack Exchange in 1981 when the Jets had 66 sacks, one short of the NFL record, and made the playoffs for the first time since 1969. From 1981-85, he made five consecutive Pro Bowls and received some first team all-pro recognition all five years including two when he was a consensus choice. In 1982, he was named the Most Valuable Defensive Player by the Newspaper Enterprise Association. After that, injuries and off-field controversies limited his effectiveness and ultimately ended his NFL career in 1988. He retired after an unsuccessful comeback in the Canadian Football League in 1990. Gastineau was elected to the Jets Ring of Honor in 2012 and will long be remembered as a flamboyant player with an elite knack for pressuring quarterbacks.
Keith Jackson
Statistics
Positions: Tight End
Teams: Philadelphia Eagles (1988-92), Miami Dolphins (1993-94), Green Bay Packers (1995-96)
Bio: Keith Jackson's accomplishments at the University of Oklahoma were many including All-American honors in both his junior and senior years, playing on a national champion in 1985 and being named OU's Offensive Player of the 20th Century. Jackson did not disappoint after being the first round pick of the Philadelphia Eagles in 1988 as he immediately established himself as one of the NFL's best tight ends in his rookie season. He led all tight ends in receptions and receiving yards and was a first teamer on virtually all of the major all-pro teams. Jackson was also named Rookie of the Year by The Sporting News and Offensive Rookie of the Year by Pro Football Weekly and Football Digest and capped his inaugural season with 142 receiving yards in a losing effort in the Divisional Playoffs. Jackson again led NFL tight ends in receptions in 1989 and was a consensus first team all-pro that year and again in 1990 as the Eagles made the playoffs both years. After a contentious holdout at the start of the 1992 season, he was traded to the Miami Dolphins and earned first team all-pro honors from The Sporting News and Football Digest. The Dolphins made the playoffs in two of Jackson's seasons in Miami including a losing appearance in the 1992 AFC Championship Game. Jackson was traded to Green Bay in 1995 and helped the Packers to an 11-5 record and a losing appearance in the NFC Championship Game despite missing considerable time due to injuries. He bounced back and played all 16 games in 1996, catching a career-high 10 touchdown passes. Jackson earned Pro Bowl honors for the fifth time as the Packers won Super Bowl XXXI. He was inducted into the College Football Hall of Fame in 2001.
Bucko Kilroy
Statistics
Position: Tackle, Defensive Tackle, Guard, Middle Guard
Teams: Philadelphia/Pittsburgh Eagles/Steelers "Steagles" (1943), Philadelphia Eagles (1944-55)
Offensive Line Coach, Player Personnel Director: Philadelphia Eagles (1956-61)
Director of Player Personnel: Washington Redskins (1962-64)
Scout: Dallas Cowboys (1965-70)
New England Patriots Executive: Personnel Director (1971-78), General Manager (1979-82), Vice-President (1983-93), Scouting Consultant (1994-2007)
Bio: Francis "Bucko" Kilroy devoted his professional life to pro football. Born and raised in Philadelphia, he attended Temple University, then served in the Merchant Marines during World War II. Kilroy returned to Philadelphia in 1943 to play for the Steagles/Eagles for 13 seasons and was a first team all-pro four times, a second teamer three times and was selected to three Pro Bowls. He was a fundamental part of two Eagles' championship squads in 1948 and 1949, the only teams to win back-to-back shutout Championship Games. Kilroy played middle guard on defense and when dropping back from there in the 5-2 "Eagle" defense became a part of the evolution of the middle linebacker position. On offense, he helped Steve Van Buren to three consecutive rushing titles (1947-49), the first time that feat was ever achieved. Kilroy considered himself a "heavy hitter" but others' opinions varied, with Art Donovan calling him "dirty" and Otto Graham saying he was "the bad boy." When Life magazine published an article implying he was one of the NFL's "ornery critters," Kilroy sued and won an award of $25,000. He acted as player-coach, becoming the Eagles offensive line coach after he retired. He was one of the first scouts in the NFL and participated in the creation of the Scouting Combine. In 1971, he began a 36 year-long association with the New England Patriots in various capacities including scout and general manager. As personnel director, Kilroy drafted Hall of Famers John Hannah and Mike Haynes. Later he was instrumental in drafting many of the players that contributed to New England's dynasty years. Bill Belichick said Kilroy was "one of the pillars of our league… a pure football man who did practically everything one person could do in the game, blazing trails every step of the way."
Bert Jones
Statistics
Position: Quarterback
Teams: Baltimore Colts (1973-81), Los Angeles Rams (1982)
Bio: Bert Jones experienced what few professional quarterbacks have throughout their careers: he was at the top of the league. Jones won the 1976 MVP and Offensive Player of the Year awards, led the NFL with 3,104 passing yards and ranked second with 24 touchdown passes. He also earned first-team all-pro and all-conference honors by the Associated Press and the UPI, and was selected to the Pro Bowl. Hall of Fame quarterback Joe Namath commented on Jones' success, saying, "If you asked me to pick the No. 1 quarterback in the league I'd pick Bert Jones, who else?" Jones featured a very strong arm and the rumor was that he could throw the ball over 100 yards in the air. The son of Cleveland Browns standout Dub Jones, he was selected second overall in the 1973 NFL draft by the Colts following a stellar career at Louisiana State University where he was a consensus All-American. After taking over the starting job, he led Baltimore to three consecutive AFC East division titles from 1975 to 1977. During his prime years, Jones threw few interceptions and led the NFL with a 2.3 interception percentage in 1975. He was also one of only three quarterbacks to post a passer rating above 100, along with Roger Staubach and Ken Stabler. A shoulder separation in a 1978 preseason game was the first of a series of injuries that caused Jones to miss 25 games over two years. He bounced back to have respectable seasons in 1980 and 1981, but there was little in the way of a supporting cast and the Colts finished a combined 9-23. He retired after playing one season with the Rams in 1982. Jones received the George Halas Award in 1978 and was inducted to the College Football Hall of Fame in 2016.
Clay Matthews
Statistics
Position: Linebacker, Defensive End
Teams: Cleveland Browns (1978-93), Atlanta Falcons (1994-96)
Bio: Durability and consistency were Clay Matthews Jr's calling cards. He was Cleveland's first round draft choice in 1978 out of the University of Southern California where he was an All-American pick his senior year by the NEA and The Sporting News. He spent 16 seasons with Cleveland and played 232 games, most in team history, before playing three seasons with the Atlanta Falcons. His 278 career games is the most by a linebacker in NFL history and his 19 total seasons is second most by a linebacker behind Junior Seau. Matthews was a complete linebacker who excelled on run downs and as a defender on passing downs either playing pass coverage as well as any linebacker in the game or rushing the passer with the best. He played at such a consistently high level that one NFL scout who evaluates NFL players every year said, "(I)n 19 seasons he was never below [grade] red. In other words, he never had a bad game. So how amazing is that? Never a bad view." Matthews did not always get the recognition he deserved because he played in an era when linebackers who got lots of sacks garnered most of the all-pro and Pro Bowl nods. Matthews could rush the passer well when called on and even recorded 12.0 sacks in 1984, but his skill set was more akin to Jack Ham than a pure pass rusher like Lawrence Taylor. Matthews was named all-pro in 1984 and to four Pro Bowls (1985, 1987-89). Cleveland made the playoffs eight times with him and advanced to three AFC Championship Games. Matthews finished his career with 16 interceptions, 14 fumble recoveries and two touchdowns, and unofficially 1,595 tackles, 82.5 sacks, and forced 28 fumbles. He was inducted into the Cleveland Browns Ring of Honor in 2019.
Lionel Taylor
Statistics
Position: Tight End, Split End
Teams: Chicago Bears (1959), Denver Broncos (1960-66), Houston Oilers (1967-68)
Bio: An undrafted free agent from Division II New Mexico Highlands, Lionel Taylor played sparingly for the Chicago Bears in 1959 before signing with the Denver Broncos in 1960 for the inaugural season of the American Football League. He immediately became one of the best receivers in the AFL's early years and his accomplishments with the Broncos are particularly impressive because the team had at best a mediocre supporting cast during his years in Denver. Taylor has long credited Mac Speedie, both an assistant and a head coach with the Broncos, for helping with his development. Still, Taylor did lead the AFL in receptions in 1960 a year before Speedie's arrival in Denver, the first of five times he did so. It was also the first of four occasions that Taylor was a first team all-AFL selection. While possessing good speed, Taylor's outstanding attribute was his moves. He caught 92 passes in 1960 despite missing two of Denver's 14 games and then became the first receiver in major league pro football history to catch 100 passes in a season in 1961. He caught 508 passes from 1960-65, an average of 83 per season. Taylor was part of the inaugural class of the Broncos Ring of Fame in 1984 but was surprisingly not named to either the first or second teams of the official all-time AFL team. Taylor was also a coach for many years. Most noteworthy is his 1970-76 stint as the Steelers receivers coach when he mentored Lynn Swann and John Stallworth during the first part of the Pittsburgh dynasty. Despite that success and 14 total years as an NFL assistant, plus five years as the head coach at Texas Southern University, Taylor hit up against the NFL's head coaching color barrier and was never offered a top NFL job.
Entire Hall of Very Good
Class of:
2022, 2021, 2020, 2019, 2018, 2017, 2016, 2015, 2014, 2013, 2012, 2011, 2010, 2009, 2008, 2007, 2006, 2005, 2004, 2003
*Voted into the Pro Football Hall of Fame after induction into the Hall of Very Good.