Posted: June 9, 2016
2016 PFRA Meeting
Itinerary Posted
Read More...
Dates: July 8-10, 2016
Location: Lambeau Field

---
Posted: June 3, 2016
The 1966 Green Bay Packers: Profiles of Vince Lombardi's Super Bowl I Champions
Purchase Your Copy
The 1966 Green Bay Packers were one of the greatest teams in professional football history. Led by legendary head coach Vince Lombardi and 10 future Hall of Famers--including Bart Starr, Jim Taylor, Forrest Gregg, Willie Davis and Ray Nitschke--they were the decisive winners of Super Bowl I, defeating the Kansas City Chiefs and upholding the superiority of the National Football League over the upstart American Football League. This book tells the story of the hard-working '66 Packers on the gridiron and their legacy in Titletown, USA.


---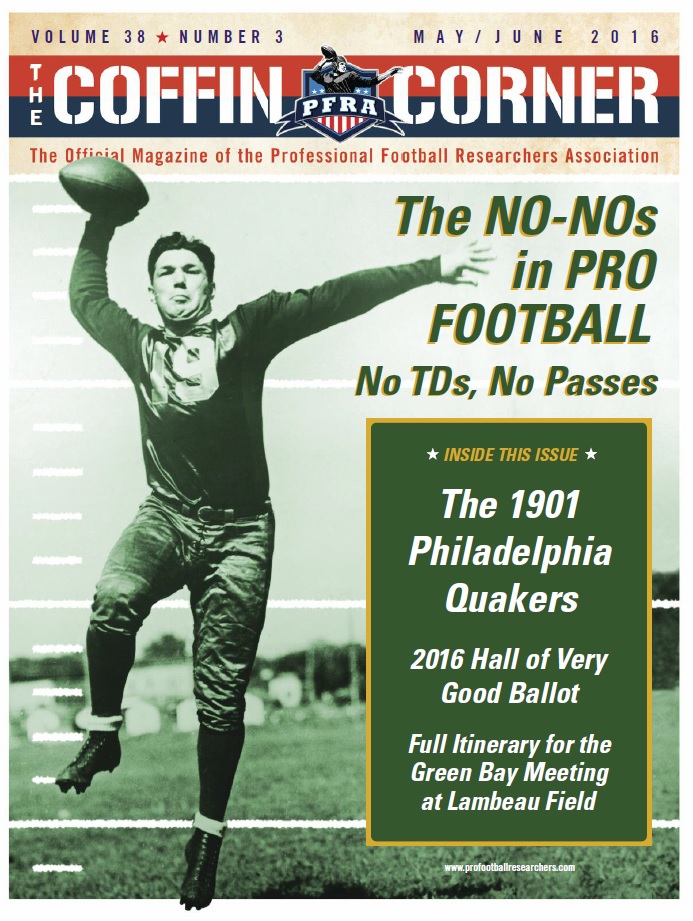 Posted: May 28, 2016
Coffin Corner Vol. 38, No. 3
Download: Members Only
PFRA-ternizing. A report from PFRA member Jeff Miller on the recent Western New York chapter meeting and an announcement on member Greg Tranter's donation of his large personal collection of Bills memorabilia to the Buffalo History Museum.

Official 2016 Hall of Very Good Ballot. (NOTE: Deadline for voting is October 31, 2016.)
The 1901 Philadelphia Quakers by Ken Crippen. A summary of the first (and last) season of the first all-professional football team in Philadelphia. The story of this club, captained by "Blondy" Wallace, includes box scores, rosters and scoring from each game that year as well as season statistics.

No-Touchdown Games by John W. Lesko. An examination of the rare occurrence of games from three leagues (APFA/NFL, AAFC and AFL) where no touchdown was scored. The various reasons why this happened is covered and stories from select games are included along with a complete list of the 269 touchdown-free contests.

Passing Thoughts: Clarifying History and the Philosophy of the Forward Pass by Bert Gambini. Five games in NFL history have been played without one team attempting a pass — or is it four? The author looks at all the matchups on this very short list and uncovers evidence that one of the games (Detroit Lions vs. Cleveland Rams, September 10, 1937) may not belong on the list at all.


---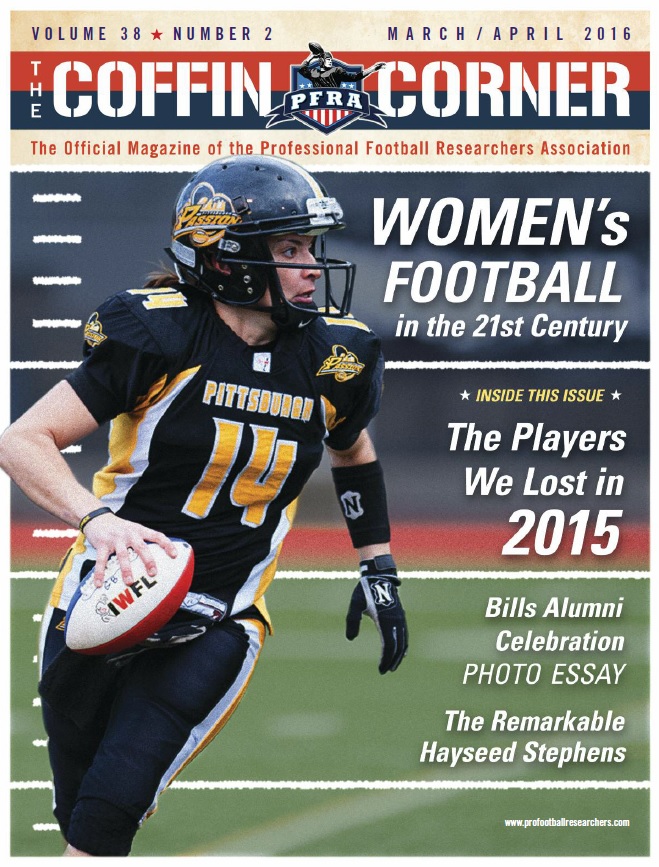 Posted: April 1, 2016
Coffin Corner Vol. 38, No. 2
Download: Members Only
2015 Buffalo Bills Alumni Celebration Photo Essay by Mark Palczewski. The official photographer for the PFRA captures in words and pictures the alumni event last fall that featured a reunion of 1964–65 Buffalo Bills teammates, winners of back-to-back AFL titles.

PFRA-ternizing. An announcement on the second book in the PFRA's Greatest Teams in Pro Football History series featuring the 1958 NFL champion Baltimore Colts and a call for writers and editors to help on the project. There is also an update on the 2016 Green Bay meeting itinerary including a list of speakers that features two members of the 1966 Packers team that won the first Super Bowl.
Passion for the Game: Women's Football in the Twenty-First Century by Neal Rozendaal. This brief history of women's professional football since 1999 looks at the explosion of leagues that took place in the early part of this century, the gradual winnowing process that has occurred since then and the rise and dominance of three leagues—the WFA, the IWFL and the WSFL—today.

The Remarkable Hayseed Stephens by William J. Ryczek. A short biography of Harold "Hayseed" Stephens, who played football for Sammy Baugh in college at Hardin–Simmons and went on to play briefly in the AFL for the New York Titans. His post-playing career included work as a boom-or-bust oil driller, an enthusiastic evangelist and, finally, as a questionable investor.

2015 Player Deaths. A list of the pro football players who died last year, including information on the team(s) they played for, the date and location of their death (if known) and their age when they passed away.

Remembering Chuck Bednarik: Better Than the Best by Jared Kraus. A look back at the Philadelphia Eagles triumph in the 1960 NFL Championship Game and the heroic role played by the aging Hall of Famer Chuck Bednarik, the last of the league's "Sixty-Minute Men."


---
Posted: March 5, 2016
2016 PFRA Meeting
More Guest Speakers Announced
Read More...
Dates: July 8-10, 2016
Location: Lambeau Field

---
Posted: February 18, 2016
2015 Gamebooks
Gamebooks from the 2015 season.
Download: Members Only


---
Posted: February 12, 2016
2015 Linescores
Linescores from the 2015 season.
Download: Members Only


---
Posted: February 12, 2016
WFL Interviews
Kenn Tomasch interviews of Gary Danielson, John Dockery and Bob Gladieux from 1994.
Download: Members Only


---
Posted: February 8, 2016
Coffin Corner Vol. 38, No. 1
Download: Members Only
PFRA-ternizing. The executive director gives his state of the PFRA address and looks ahead to 2016, including his thanks to the officers and management team of the PFRA. The 2015 PFRA award winners are also announced with Jack Clary as the Ralph Hay winner, Ted Kluck for the Nelson Ross and Doug Bigelow winning the Bob Carroll Memorial Writing Award.

The Hall of Very Good Class of 2015 by Ken Crippen, Matthew Keddie, Jeff Miller and Andy Piascik, with illustrations by John Richards. Mini-biographies of last year's class including Alan Ameche, Rick Casares, Bill Forester, Rich Jackson, Chuck Knox, Ted Nesser and Gene Washington.
Then and Now: The Demographics of the NFL in 1941 and Today by Kenn Tomasch. A comparative study between the population of NFL players from just before World War II to the players from the 2014 season, including statistics such as age, body size, college attendance and geographic factors.

The Hollywood Rams, Part II: The Sequel by Mark L. Ford. The author revisits his previous article on the film and TV careers of Hollywood's closest NFL team and presents his all-star lineup of the greatest entertainers and players for the Rams franchise while they were in Los Angeles from 1946 to 1979.


---
Posted: January 31, 2016
Pro Football Head Coaches Register.
John Daye has created the Pro Football Head Coaches Register. This is a listing of head coaches in all major pro football leagues.
Download: Members Only


---
Posted: December 31, 2015
2016 PFRA Meeting
Guest Speakers Announced
Read More...
Dates: July 8-10, 2016
Location: Lambeau Field

---
Posted: November 28, 2015
Coffin Corner Vol. 37, No. 6
Download: Members Only
2015 Pro Football Hall of Fame Enshrinement Festival Photo Essay by Mark Palczewski. Photographs from this year's Hall of Fame Weekend in Canton, Ohio by the official photographer of the PFRA.

PFRA-ternizing The results of the elections to the PFRA's offices, a reminder to renew annual memberships and an update on the 1966 Green Bay Packers book being prepared for next year's meeting, including a sneak peek at the cover.
Coffin Corner Extra Point A new feature of the magazine that highlights the short-form research of our members. This installment is a brief look at the football career of former St. Louis Cardinals quarterback Tim Van Galder and the long wait he endured before actually starting.

The Ten Greatest Games Never Played: Part II by Ed Gruver. An entertaining look (continuing a 2002 article in Volume 24, Number 1) at the potential epic clashes between dominant teams in football history that might have occurred were it not for a simple twist of fate.

The Norse Nightmare: A Biography and Interview of Gary Larsen by Matt Reaser. An up-to-date profile of the Minnesota Vikings defensive tackle, a feared member of the team's famed Purple People Eaters defense from the 1960s and 1970s.

PFRA Bookshelf: 2015 Edition by John Maxymuk. A bibliography of books on professional football (with a few notable exceptions) published or scheduled to be published in 2015, including highlighted titles by PFRA members.


---
Posted: November 7, 2015
Hall of Very Good Class of 2015 Announced
Class of 2015
All Inductees


---
Posted: November 2, 2015
ELECTION RESULTS
President: Ken Crippen
Vice President: Roy Sye
Treasurer: John Grasso
Secretary: Lee Elder
Term starts January 1, 2016 and lasts for two years
Congratulations to the new officers!!

---
Posted: September 29, 2015
Coffin Corner Vol. 37, No. 5
Download: Members Only
PFRA-ternizing. A reminder on the PFRA elections and the Hall of Very Good balloting (both deadlines are October 31), an update on the PFRA book about the 1966 champion Green Bay Packers and a report on a 1920s-era pro football game featuring a tribute to the Rock Island Independents organized by PFRA member Simon Herrera.

A Bright New Look or the Same Old Game? by Mark Speck. A comparison of offensive and special teams numbers between the more established National Football League and the upstart World Football League from 1973 (the year before the WFL started) to 1975 (the year the league folded).
An Alternate World (Football League) by Mark L. Ford. An amusing "what if" tale that imagines how pro football history might have changed had the financially troubled WFL been able to stay solvent past 1975 and the weird, but strangely familiar, events that may have occurred through the rest of the decade and into the 1980s.

"O Canada": Johnny Bassett's Coup by Denis M. Crawford. An account, chronicled with first-person interviews, of one of the founding owners of the WFL who lured three Miami Dolphins—Larry Csonka, Paul Warfield and Jim Kiick—up north to join the WFL in Toronto (then south to Memphis) in an effort to help jumpstart interest in the fledging WFL. His efforts, while initially successful, ultimately failed, as did the league itself.


---
Posted: September 21, 2015
Thanks to PFRA member Nick Webster:
1963 Detroit Lions Gamebooks.
Download: Members Only

---
Posted: August 5, 2015
Coffin Corner Vol. 37, No. 4
Download: Members Only
PFRA-ternizing. Detailed information on the upcoming 2016 PFRA meeting in Green Bay including cost and hotel information.

Official PFRA Elections Ballot. (NOTE: Deadline for voting is October 31, 2015.)

The Class of 2015 by the Pro Football Hall of Fame. Highlights, statistics and awards from the football careers of the eight members in this year's Hall of Fame class—Jerome Bettis, Tim Brown, Charles Haley, Bill Polian, Junior Seau, Will Shields, Mick Tinglehoff and Ron Wolf.
From Hollywood, It's the Los Angeles Rams! by Mark L. Ford. No other NFL team launched more acting careers than the Los Angeles Rams. A look back from 1946 to 1979, when the team played only ten miles from Hollywood and Vine, and players supplemented their salaries as guests on TV shows and in movies.

Running (and Passing) to Extremes: The Weather and Pro Football by Mark Wald. An analysis of the problems with historical data of pro football games and and a presentation of the research to correct the record. The author includes charts listing the coldest (both by air temperature and wind chill), hottest and windiest games on record and the number of outdoor games with significant rain or snow.


---